Personal Growth - Give yourself space
by Megha Bajaj
Megha Bajaj highlights the importance of providing spaces in your life

Download PDF Format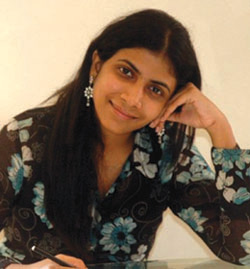 Megha is, above all, a seeker. These days she
is attempting to find herself in the role of a teacher
through the online writing course designed by her.
You can know more about her on
http://www.wonderofwords.org There is something about the word that I really like. Spaces. Say it. Spaces… Such an integral part of every aspect of our being. Spaces… feel it. A must, be it health, our professional world, relationships, or our spiritual growth.

Ask any person who has some understanding of food, and they will tell you – along with what you eat, what you do not eat plays an important role in making you healthier. The body, a microcosm of the universe, consists of the five elements – earth, water, fire, air, and space. It is said that when these five elements are in absolute balance you enjoy great health. Space can be created in the body, when you eat a little less than what you require – the emptiness actually helps in balancing everything else.

Importance of space

Even the little gap – between each breath – plays a significant role in making you healthier. That is when the body connects itself to the Source and recharges itself. The very objective of yoga is to slow down your breathing and widen the gap between each breath – so that you are connected, for large parts of the day, with the highest source of energy. If health is on your mind – space should become a part of your food and exercise. A candle can either give you light for just a single day and burn itself out, or continue giving you brightness for a month, depending on how you use it. And so it is with work. No matter how passionately you feel for your cause, or your profession, to do even better at it, you need to balance your 'doing' hours with your 'non-doing' hours.
| | | |
| --- | --- | --- |
| | | |
| | To realise just how much you love your loved ones – missing is a must | |
| | | |
A walk amidst nature after a day's hard work, a small drive with your loved one, some good music before you sleep, an outing with friends, a trek every now and then, a sip of the moonlight – all these little 'breaks' will give you the energy to go on and on, and work to your optimum.
Role in relationships
As for the role of spaces in relationships – its importance is invaluable, yet so little used. There is nothing like being with a loved one – talking, sharing, hugging, and loving. Yet, to realise just how much you love your loved ones – missing is a must. So many relationships fall apart not because two people got too little of each other, but because they had too much of each other. For a relationship to last a lifetime, take in a bit of each other at a time. Even if being together all the time is the most tempting thing to do, make the conscious decision once in a meanwhile to have time away. Unmatchable is the zest of the firefly when it meets the night, its lover, after a long wait through the day. Wondrous is the welcome of the flower that raises its drooping head to greet the sun after a night of longing. Miss, and be missed. Create enough spaces in your relationships.
Finally – spaces in spirituality. It is believed that when you are thinking, you are speaking to God, and when your thoughts are still, that is when you listen to God. Seekers over the centuries have tried various techniques to bring about this 'gap' in their thoughts. When you first begin to meditate, the mind churns and spits out a million thoughts a minute and yet, gradually with practice, it slows down a little, a little more and one fine day – when you are not even expecting it, that tiny glimpse of silence is bestowed upon you. And everything about life changes, in a moment.
See more articles on Personal Growth :
http://www.lifepositive.com/Articles/PersonalGrowth