Personal Growth - Grand parents
The unique role that grandparents play in a child's life can be a source of lasting joy, strength and nurturance

Download PDF Format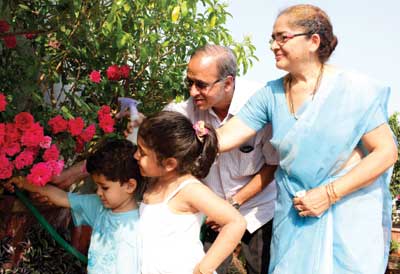 "Come on, dear. The loss of one bedspread is nothing compared to the tremendous talent Samyukta has displayed," said my mother-in-law when I admonished Samyukta, my then three-year-old daughter for not keeping her paints away from the new bedspread. Amma was right. In the process, of ruing the bedsheet, I had not even noticed Samyukta's wonderful painting.

Surely this is typical of the way grandparents defuse and give perspective to many potentially explosive situations between parent and child?

Satish Purohit, my colleague at Life Positive, says, "My father had not been very expressive of his love for me but he is very fond of my five-year-old daughter. She follows him wherever he goes and gets terribly upset if he refuses to take her along. My kids are very lucky to have my father as well as my mother living with us. My father tells her stories from mythology, teaches her bhajans and answers her countless questions. I am blessed to see them together." He adds, "I don't think anything or anyone can replace the role grandparents play in a child's life."

Uma Garimella, a teacher and writer, says that three of her siblings were brought up by her grandparents, while she stayed on with her parents in Nagpur. Her sister, Vani, one of the aforesaid siblings, says she learnt how to get along with people and handle difficult situations, thanks to her upbringing. She admits that she is close to them even now.

Suheil Merchant, a Mumbai-based Public Relations professional, was brought up by his grandmother, and reminisces fondly, "My grandmother, who I call Dadu, has shaped me into the person I am today. Her love has been unconditional and I was brought up with loads of positivity. I have some wonderful memories of my childhood with her. Once every year, Dadu used to take me shopping to the small lanes of Crawford Market in Mumbai and give me the liberty to buy toys and a dozen cricket rubber balls (which was the best gift at that time). She always allowed me to buy one foreign chewing gum which used to come in a toothpaste packing and was only gifted to me during this annual trip to South Mumbai. Later, she would take me to the Gateway of India to buy channa to feed the pigeons. Then came lunch at Café Olympia in Colaba where we would feast on non-veg food. Occasionally, she would take me to Regal Theatre to watch a movie. I remember seeing the movie, 101 Dalmatians, with her."

If grandparents add love and nurturing to the lives of their grandchildren, they, in turn, are richly rewarded by the joy they experience in playing an active role in the lives of their grandchildren.

Sujata Pandit, a Mumbai-based homemaker, whose nine-year-old granddaughter Kavya stays with her, admits that it is a labour of love and joy. "She makes me see the world with new and refreshed eyes," she says.

Sudha Murthy, the well-known chairperson of infosys Foundation and wife of Narayan Murthy of Infosys, used to read a column to her grandmother every time a weekly magazine came to their house. One week, she went for a wedding and her grandmother was deprived of her weekly stimulation. Sudha Murthy then slowly but firmly taught her grandmother how to read and wrote it all down as a story in the book titled, How I taught my grandmother to read. She writes in the book that the experience taught her how important it was for everyone to be educated and empowered and it played a formative role in influencing her later to open many libraries and schools all over India.

Often, the bond they share with their grandchildren can be vastly different from the one they shared with their children. "I have to get this toy car for my grandchildren," said my uncle determinedly while we were window shopping in Delhi. As a parent, he had never indulged his children, but today he can deny nothing to his grandchildren.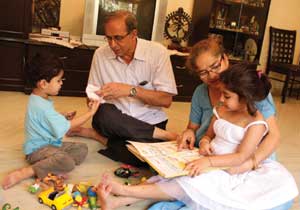 Grandparents feel fulfilled in the company of their grandchildren Values

Their special contribution is in the field of imparting values and a sound sense of tradition. Inculcating beliefs and values is not as easy as it was 50-60 years ago. With changing times and changing outlooks, children have started to question the authenticity of everything. They do not believe until they are convinced. Globalisation has eroded the sense of belonging and identity with their roots, and science and technology has them questioning everything. Parents who are already fighting constantly with time are hard put to inculcate these values. Grandparents appease, soothe, and impart values with tremendous ease.

My grandfather, who was a musician, was absolutely inspiring and uplifting. He taught me to appreciate music from any school of thought. When it came to religion, he picked the essence of each and always taught me to only focus on the values. I surely would not have been what I am today if it weren't for his guidance.

Satish says, "My maternal grandfather passed away very early, it was my grandmother who brought up the kids, got them married and took care of the ancestral property. She had never left the mountains. She did not speak any language other than Garhwali. She was very devout, very diplomatic and very compassionate. She always shared what she had. I remember her telling us what nice people Muslims were. Once, I was standing on the bus to Rudraprayag and a Muslim offered me his seat. "They are very good people," she said of the only Muslim she saw in her life. He continues, "I also remember her saying, "There are as many gods as there are people. How can all of them be the same?"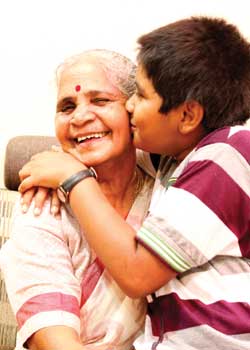 Bringing up baby

A study in the UK suggests that parents should consider handing over the upbringing of their children to their own parents if they want them to be happy. The study has revealed that children grow up happier under the care of grandparents. In addition, grandparents can help keep children calm during crises such as their parents' divorce, the study found.

The researchers from Oxford University and Institute of Education, London, came to the conclusion after analysing a survey of 1,500 kids in Britain, according to a report in The Daily Telegraph.

"What was especially interesting was the link between involved grandparents and adolescent well-being. Closeness was not enough: only grandparents who were bringing up their grandchildren had this positive impact on them," lead researcher Ann Buchanan of Oxford University was quoted as saying. The survey revealed that one grandmother in three regularly looked after a grandchild. The researchers encountered one teenager who claimed that his grandmother "taught us to read and write" and another whose grandparents discussed with him what universities he should apply to and what career to take. A 12-year-old girl said her grandmother comforted her when she was being bullied at school. Grandparents who were healthy, lived in less-deprived areas and had regular contact with their grandchildren were found to have most involvement in their upbringing. The children questioned said it did not matter how far away their grandparents lived, because they could keep in touch using technology such as mobiles and email.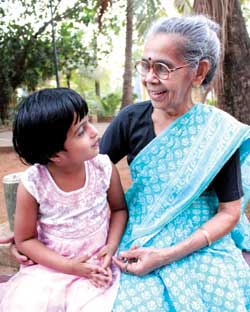 The issues

Does this mean children can perhaps be brought up by the grandparents? The idea has been brought up in New Age circles. The argument goes that grandparents have more wisdom and patience than parents and are therefore uniquely equipped to bring up the young.

That may be so but the presence of parents in a child's life is so crucial that it cannot be ignored. Veenu Banga, a homemaker and caregiver to her 88-year-old mother, who now researches on holistic health practices, admits that she was brought up by her grandparents with love and wisdom. Yet, the situation had its tricky moments such as when the other grandchildren came over and felt that she was being given more attention.

Uma Garimella recounts how her siblings missed being with their parents in Nagpur. Her father was in a senior position and their house had a lot of comforts that were missing in their grandparents' home in Nagpur. Vani, who now looks after her grandson, insists he is with his mother in the evenings.

Ameeta Shah, a counseller, remembers that one of her clients was given to her grandparents for upbringing, which traumatised her. "Her grandparents could not put up with her open rebellion triggered by her sense of being rejected by her parents." The reverse can also be true. "Some retain a very strong bond with their grandparents and regard them as their true parents if they have spent the majority of their years growing up with them and can reject their parents. Another family seems to have found the perfect balance. The boys grew up with both sets of grandparents, but also had very good times with their parents on holidays and the bonds everywhere were strong. The grandparents brought a lot of maturity to the children."

She surmises that when children are handed over to grandparents because of marital discord between parents or because they are too caught up at work, children can often experience rejection, especially when one sibling remains with the parents. Parents would need to find a way to stay connected to their child and explain the situation. "Much like parenting, grandparents would also need to handle these parenting challenges," she advises.

Joint enterprise

Perhaps the combination that works best is when both parents and grandparents live under the same roof and care for the young jointly. With both parents working and with increased pressure at work this arrangement can be doubly desirable in modern times. Children grow up secure and cared for by a genuinely loving person. They get a sense of their history and a deeper understanding of how life's challenges have been handled from stories of their childhood as well as stories of their parent's childhood. Family stories and memories get passed down. Growing up in a boarding school or under the tutelage of staff can make a child feel lonely, abandoned or neglected. With grandparents, children learn customs, traditions, prayers and socio-cultural history too! Grandparents are often able to give the children patience that they may not have given their own children with the stage of life they are in. There is a great mutual meeting of needs.

Having said this, grandparents today can also resent being handed over the charge of their grandchildren without taking into consideration that they lead busy and active lives. So there has to be mutual respect and consideration between parents and grandparents to set this up the right way.

Some people seem to have achieved just that. Dolly Gurbaxani, a qualified doctor and acupuncturist, who lives in the same building as her daughter, has a close bond with her grandchildren and a life of her own with her husband and her practice. Everyone notices how caring and sensitive her grandchildren are and she revels in this wonderful bond while she too remains connected with the world throughher clinic and practice.

The magic of grandparenting is wonderful. As in all areas of life, this has to be tempered with parental love, when possible. When this is impossible due to circumstances, one can and should do one's best and leave the rest to the Almighty, who will indeed take care.

See more articles on Personal Growth : http://www.lifepositive.com/Articles/PersonalGrowth