Personal Growth - Grounded !
by Chitra Jha
Though an unexpected visit from her mother threw her schedule into disarray, Chitra Jha discovered that the experience put her in touch with herself, 'grounding' her in the process

Download PDF Format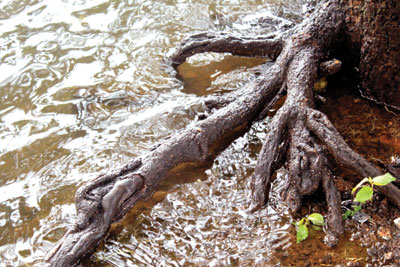 When we moved base from Srinagar to Bangalore this July, the one thought uppermost in my mind was, "Bangalore is the spiritual and training capital of India." As a spiritual trainer, I could not have asked for a better place. My friends and family echoed similar sentiments, and sure enough, soon after we moved in and even before we settled down, opportunities came flooding in, from both the corporate world and the spiritual world. It was almost overwhelming, and I frequently remembered the famous dialogue immortalised by Jack Nicholson, from the Hollywood film, Batman, "So much to do, and so little time!"

I was looking forward to my growth through more and more reaching out and expansion, when one fine morning my mother called. She said, "Anu and family are planning to visit Bangalore shortly, and she is asking me if I would like to come along, but I told her that Chitra is so busy and I don't like to stay alone anymore."

Anu is my younger sister and our almost 80-year-old mother (our surviving parent) has been primarily staying with her for the past few years, while I have moved from one exotic place in the Himalayas to another (Shimla-Ladakh-Srinagar) with my soldier husband.

Ma's words elicited an instant reaction from me, "Ma, you said you would come in October and I had planned my work-schedule accordingly." She answered, "This is what I was telling Anu. Fine, I shall come in October but on the condition that you won't leave me alone at home."

As soon as I put the phone down, my husband said, "When a mother calls a child to ask if she could visit her, she only expects an enthusiastic 'Yes.'
| | | |
| --- | --- | --- |
| | | |
| | Her coming here has literally and metaphorically grounded me, and I feel certain that this is what I needed right now | |
| | | |
When is Ma planning to come?" I told him about my commitments, and even though he understood my dilemma, he reiterated, "Tell her that she is most welcome." In an instant, the cloud of doubt cleared and with a newfound clarity, I called her.
Ma was touched by her son-in-law's open invitation, and agreed to move to Bangalore, to grace our new home.
Happy times
It has been almost a month since she came here, and this month has been by far the happiest time of my life. Her coming has literally and metaphorically grounded me, and I feel certain that this is what I need right now.
We learnt the literal meaning of the expression, 'being grounded,' while we were in school/college, and it was not fun. However, the metaphoric meaning of the word, especially in spiritual circles, denotes an elevated state. As I ask myself, "What does being grounded mean to me," many thoughts come to my mind, but the foremost amongst them is, "Being grounded means, being in touch with your roots, touching base with who you are."
As I happily move around doing my household chores (while singing non-stop), I feel fully present in my being, physically, emotionally, and energetically. There is a newfound sense of completion, as though I have done a full circle. I remember when we moved to Delhi in 1995, my sister-in-law, a highly successful corporate professional, told me, "Now that you are in Delhi, and as the children have grown up (nine and eight years old), you must take up some job." I looked at my husband for support and mumbled, "But I am so happy being at home and taking care of my family." I heard him say, "If everyone becomes happy like you, there will be no progress in this world. Everyone will just sit at home, there will be no discoveries, no inventions, and nothing new will be created." Tears rolled down my cheeks, and suddenly I felt inadequate.
Today, I feel very grateful to both, my husband and sister-in-law, because that conversation left a deep mark on me, and over the years propelled me towards growth, as I enthusiastically explored many dimensions of my multi-faceted personality, and availed all the opportunities that came my way.
That day also changed the way I defined
happiness
in my life; from 'being happy with what you have,' to 'being happy with what you have, while exploring what more is there in store.' The past month has seen me enjoy my domesticity with a confidence which comes when you have been there and done it, and know that you have so much more in you, but you are comfortable just 'being,' savouring each moment, without necessarily 'doing' something. This is what grounding means to me. Being in the present
As of now, my mind is not wandering or pulling my energy elsewhere. My
heart
and soul are not searching for something in the past or looking into the future. I am just present in what I am doing, which is serving my mother with the fullness of my heart.
Someone had once told me that when you are fully grounded, the highest spiritual energies of the universe flow freely through your energy field and make you connect with
angels
and masters. When I look at my mother, I feel the truth of this statement.
I am so much in tune with myself that I am becoming acutely aware of any reactive, defensive behaviour patterns of my ego and shadow consciousness, which show up every now and then (primarily with my husband). I immediately resort to deep breathing and cleansing my energies, but that is another story for another day.
See more articles on
Personal Growth
:
http://www.lifepositive.com/Articles/PersonalGrowth