Personal Growth - Happy birthday to me
by Shivi Verma
On the big day, Shivi Verma discovers that her happiness arises within her own heart; it does not depend on externals

Download PDF Format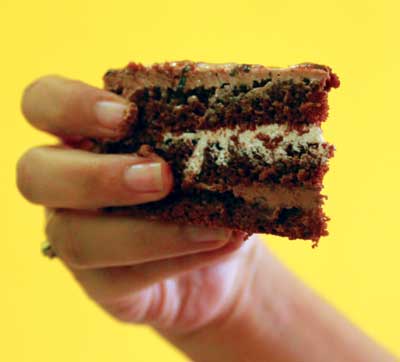 If we say that birthdays are only for children and do not matter to us, we are lying. We hate growing old but if left ignored or forgotten on the big day, we get hurt. Who, after all, doesn't like being made to feel special?

It was my first birthday after marriage. My husband's birthday had fallen earlier that year and I had celebrated it with much gaiety. There was a surprise delivery of cake, flowers and cards and a surprise party with close friends pouring in to wish him.

I had cooked his favourite dishes. Even though the maid had taken leave I did not let that come in the way of my plans. I simply wanted to make him happy.

Not surprisingly, I harboured expectations that he too would sweep me off my feet with a lovely birthday. Fed on anecdotes in women's magazines about readers getting pleasantly surprised by husbands with thoughtful gifts, my expectations ran high.

Finally, the day arrived. On the eve of my birthday, my husband woke me up in the middle of the night to a treat of assorted chocolates. I was happy. I concluded that the day held a lot of promise. It was a working day, so he had to go to work, but the evening was all ours.

I began my day with a visit to the temple and kept myself busy with household chores till he came home. He had already purchased a new outfit and I had laid it out. I planned to wear it on this special evening.

The doorbell rang. I ran to open it, full of anticipation and excitement. My husband entered the room. There was no dazzling bouquet in his hands. He looked tired. His walk was heavy and shoulders drooped. But he gave a broad smile and a birthday hug. I did not find it warm or robust enough.

As I went to fetch water for him he tossed his briefcase aside and sank into the bean bag.

"So today is your day, tell me where you would like to go," he asked with a weak smile.

I didn't like it. He was asking me. It meant that he did not have a plan.

"I want to go to a disco," I replied.

He blew his lid. "What do you mean? Do you know how far it is from here? We will not be able to come back before 3 am if we go now!"

"Okay okay...I am sorry, just go and get ready. We'll go out," he said calming himself on sensing that I was getting upset.

On our way out, he asked me to stop and wait till he came back from the ATM. "I need to withdraw some money," he said. I saw him walk away – again with heavy footsteps. "My God, does he not know how to pull off a surprise?" I thought.

Any other day I would have guessed that something was troubling his mind or had crushed his spirits. But so full was I of expectations that I only saw a man whose wife's birthday was either a chore or a burden to him.

When we were at the gas station, my patience ran out.

I let loose a barrage of tears and complaints. My birthday was no more than a burden for him, I told him. He was not excited at all. There were no cards, flowers, kisses or gifts to mark the event. He was merely doing what he was doing as a formality.

My husband stopped the car in the middle of the road. His hands froze on the steering wheel and his feet refused to obey his commands. He let out a cry of frustration and gave vent to his anger against my unreasonable ways. He called me impatient and selfish, with too many expectations.

"Do you know that I have a party planned for you? I am taking you there but you don't have an iota of patience. Do you have any idea how tough a day it has been for me at the office? All that you have are expectations that I am woefully short of meeting," he cried.

We spent the rest of our journey in stony silence.

When our car reached the highway, we saw the road leading to the party venue blocked by a hopelessly long line of trucks. Left with no choice, my husband reversed and turned the car in the opposite direction. We were now heading to a different location.

He pulled in at a familiar eating joint. "Oh no!" I thought.

We took our seats in our favourite corner. Dinner was ordered. I ended up ordering the worst things in the menu. In the meantime, I spotted another girl with a merry circle of friends celebrating her birthday just a few steps from me. My eyes trailed the big birthday cake being carried by the waiter to her table. There were loud cheers and clapping as she plunged the knife into the soft sponge.

There was a singer at one corner of the patio who was belting out melodies to entertain the guests.

I thought that if my husband would request a song for me, all my grouses would dissolve.
| | | |
| --- | --- | --- |
| | | |
| | Fed on anecdotes in women's magazines about readers getting pleasantly surprised by husbands with thoughtful gifts, my expectations ran high | |
| | | |
But I saw him mechanically swallowing food and looking far away into the dark night absentmindedly. Then suddenly it happened. The singer started to croon 'happy birthday to you' in the most melodious voice. Not for me but for the other girl. I strove hard to prevent my tears from rolling down, but failed.
Needless to say we returned home broken and messed up.
The issue got played over again and again between him and me with both of us accusing each other of callousness.
The year passed. A lot happened and both of us matured. My husband saw many of his ambitious plans bite dust. I saw myself in the role of a caregiver than a care-seeker and did what I could to pull him through the rough weather. But the litmus test awaited us. My birthday was approaching. I found him repeating that thought. I accurately guessed that he was going through 'birthdayphobia.'
Earlier I had expected that having learnt his lesson he would make me happy this time. Now I thought differently. He was going through his own struggles and peace of mind was something he needed most. Yes, I wanted a pleasant birthday but now the onus was on me. By accusing him of failing to meet my expectations I had reaped only unhappiness. I decided to give up on expectations. My happiness was my business. He surprised me by gifting a beautiful and expensive gift. I accepted it gracefully but told him later that money was not important. His love was what mattered. Then I opened the Bhagavat Gita. It was something he had been asking me to do since we got married but I had been putting it off. I chose one quiet corner of my room and sat down to read.
As I read verse after verse and turned the pages, I felt bliss enter my heart. Though the timeless words of Krishna were spoken thousands of years ago, they remain as relevant today.
'Man-mana bhava mad bhakto mad-yagi mam namaskuru
Mam evaisyasi satyam te pratijani priyosi me'
Always think of me, become my devotee, worship me and offer your homage unto me. Thus you will come to me without fail. I promise you this because you are my dear friend.
Brahma bhutah prasannatma, na socati na kamksati
Samah sarvesu bhuteshu mad bhaktim labhate param?
One who is thus transcendentally situated at once realises the supreme Brahmam and becomes fully joyful. He never laments or desires to have anything. He is equally disposed towards every living entity. In that state he attains pure devotional service unto Me.
The promise of delivering his devotees of suffering not only in this life but in the hereafter made me joyful. I felt an inner fount of happiness, locked heretofore, spring up in all force and carry me away in its mighty flow. I got up radiant and sprightly, infused with a fresh blood of life and vigour. The smile did not leave my face for more than a week. I had discovered the source of lasting happiness.
I had celebrated my happiest birthday till date.
See more articles on Personal Growth :
http://www.lifepositive.com/Articles/PersonalGrowth