Personal Growth - Honouring the self
by Megha Bajaj
Megha Bajaj says that we are so used to valuing people around us that we have forgotten to value our own selves

Download PDF Format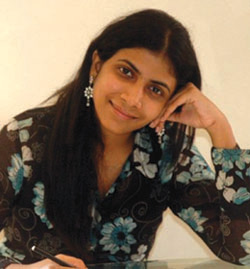 Megha is, above all, a seeker. These days she
is attempting to find herself in the role of a teacher
through the online writing course designed by her.
You can know more about her on
http://www.wonderofwords.org For a few years now, my most important passion has remained me, and the understanding of my inner world. How the thoughts ebb and flow fascinate me. How the emotions emerge and merge. How the inner-verse begins, in time, to reflect in the world outside. It seems like a never-ending exploration, and it thrills me no end.

In my interactions with people during workshops, I have always realised that one of the biggest challenges which many of us face is that we do not value ourselves enough. We value people around us, and relationships close and not so close, much more. Somehow, for too many of us what the other thinks of us continues to remain more important than what we think of ourself. We still depend on others to make us feel some of our key emotions – joy, peace, sadness, loneliness, jealousy, hurt, and excitement.

One evening, as I was taking out my favourite crockery for some guests, a thought struck me. Since it is my favourite crockery – and the very sight of it makes me happy and hungry, why was it that I only brought it out for guests? While I ate my food in regular, stainless steel utensils – why was it only for guests that I took out my best? Was it not subtle programming suggesting that I am not worth my best crockery – but guests are?

Amazed at the flow of realisation, I just sat crossed-legged in my balcony and let the wisdom share itself with me. How true – while many of us wear our best clothes in front of guests, and when we go out, at home we often wear our shabbiest clothes. Again, are you not subtly telling your subconscious that it is not worth dressing for you, and you alone? And that you should look your best only in front of others?

There are so many examples we can take from our lives, which tell us that others are more important to us. We may cook a seven-course meal for guests – but for just us, two-minute noodles may be enough.
| | | |
| --- | --- | --- |
|   | |   |
| | We do so much, in a day, to ensure people around us feel loved and cared for – but in a day, how many minutes do we invest in making sure we feel loved and cared for? | |
|   | |   |
We may take great efforts to choose a gift for someone we love, and yet how often do we buy something just for ourselves – because it makes us happy? We do so much, in a day, to ensure people around us feel loved and cared for – but in a day, how many minutes do we invest in making sure we feel loved and cared for?
I realised there was an urgent need for subconscious re-programming. My
guru
often states, "It does not matter where attitudes get shaped – once shaped, they become a part of you." When we begin with little shifts, little changes, it ultimately reflects in the very core of our
life
pattern. I have begun to cherish myself in small ways. Earlier, I used to eat because I had to eat. Now, each mealtime is special. I put flowers, sometimes candles, bring out my best crockery, and just make sure I feel deeply pampered at every meal.
So often even when I am at home, I wear my favourite jeans and top and just feel incredibly nice, for myself. I look at myself in the mirror and compliment myself when I like what I see – just as I would spontaneously praise another. I am growing, day by day, in
love
with me.
How beautifully Buddha put it, "You, as much as anyone else, deserve your
love
and respect."
See more articles on
Personal Growth
:
http://www.lifepositive.com/Articles/PersonalGrowth
Reader's Comments


Subject: Nice one - 3 October 2012
You have once again put forth a beautiful and simple thing that we just ignore ourselfes and give more emphasis to others. Really an eye opener. Thanks
by: Neha

Subject: Beautiful article - 2 July 2012
Thank you so muchh for this beautiful article.:-)
by: vishal