Personal Growth - How much is too much ?
by Megha Bajaj
A mundane task like cleaning her wardrobe makes Megha Bajaj wonder whether more and more stuff is the way to go

Download PDF Format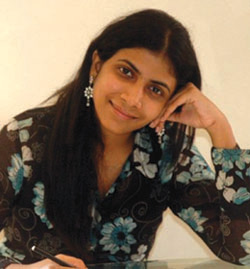 Megha is, above all, a seeker. These days she
is attempting to find herself in the role of a teacher
through the online writing course designed by her.
You can know more about her on
http://www.wonderofwords.org Today I decided to do something which I had been avoiding since a very long time. What had to be faced, had to be faced. I had to clean my wardrobe! It seemed a gigantic task because the clothes were in an absolute state of disarray. It had been a packed three-month schedule at work. There had simply been no time to organise, and the wardrobe showed every sign of the attention deficit.

As I began, I realised something. There were so many clothes in there. Somehow, I always felt I did not have enough – somehow I always felt nothing fit or looked good anymore – and I kept buying more and more clothes. However, in a few days, once again, those 'new' clothes would become 'old' clothes, and in my perspective, cease to fit or look good. I constantly felt the need to add more clothes to my wardrobe – and yet no matter how much I added, I always felt it was not enough and I needed still more.

Sitting there in between the strewn clothes, I had a 'wow' moment. Is it not true with life as well? We keep adding people and things to our life, hoping against hope, that there will be that one relationship or 'dimension' that will somehow complete us,
| | | |
| --- | --- | --- |
| | | |
| | We mindlessly add things hoping to complete that strange incompleteness. | |
| | | |
and make us feel a little less 'alone', a little less lost than many of us usually do. We keep adding
money
and power to our life, hoping that at last we will feel a little more peaceful and secure than we did before. Roles, responsibilities, routines –there is no end to what we add.
We 'add' to our
life
thinking that this will change everything, and for a while it does, until the 'new' loses its charm and novelty, soon falls into the basket of 'old,' and stops working its magic.
It dawned upon me that even without doing justice to what I already had in life, I kept adding more. What would the new
relationship
give me that the existing ones could not? What will the new home bring, that the old one did not? What will change in the new job, which could not change in the previous ones?
Life was always meant to be inside out, and not outside in. We know this, theoretically, and yet does it stop us from adding things to our life? We mindlessly add things hoping to complete that strange incompleteness. We believe 'more and more,' will make that incompleteness 'less and less.' However, the law of life, alas, says otherwise.
I experientially knew today that nothing outside of me would ever help me feel peace, bliss, and that eternal completeness. The journey had to be within. The milestones would have to be reached at from within. What I feel when I have Rs. 500 with me, is what I will continue to feel when I have Rs. 50,000. What I feel when I have three close friends, is what I will feel when I have 30 close friends. What I feel when I am the assistant editor of a magazine, is what I will feel when I become the editor. It is not the outside that I should try to conquer – but the inner world. I need to
work
on my weaknesses, enhance my strengths, find
happiness
for no reason, meditate, or do anything that makes me peaceful.
As I got back to cleaning my cupboard, I thought to myself, "What a day! What a realisation!" Holding an old, beautiful kurta against myself, I smiled to myself in the mirror. I liked what I saw.
See more articles on
Personal Growth
:
http://www.lifepositive.com/Articles/PersonalGrowth