Personal Growth - In love again
by Megha Bajaj
Megha Bajaj finds a way to bring back the magic in her marriage

Download PDF Format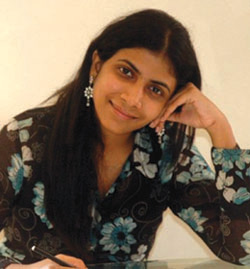 Megha is, above all, a seeker. These days she
is attempting to find herself in the role of a teacher
through the online writing course designed by her.
You can know more about her on
http://www.wonderofwords.org As much as all of us want to avoid the ugly side of love, the fact of the matter is, it is not always possible. Extra-marital affairs are a reality. Falling out of love does happen. Boredom, dissatisfaction, and a growing sense of 'pointlessness,' can develop in a relationship, even if it meant everything to you once upon a time. I was no different.

The plateau

I believe every relationship comes to a 'plateau point.' You feel that you know all that you have to know about the person. You have done what needs to be done, and said what needs to be said. That excitement, that skipping of heartbeats, and that desire to be with the person endlessly, ceases. Like a wall clock that has been hanging around the hallway forever, you accept it. It was not because you wanted it to be so.

My husband and I went through a phase like that recently. Sweethearts since we were in our early 20s, our relationship looked like any other. A few agreements, a few arguments, some 'wow' moments, and some 'I wish I could forget it' fights – yes, I had seen it all. While I did love and respect him immensely, something just seemed to be missing. We were there with each other, but it was more out of habit than choice. We lived in the same house, and yet in so many ways it looked like we were living different lives. There was still a connection, yet there was also a sense of disconnection.

On one of those evenings as I was sitting beside my window, just staring at the hills, cradling a cup of tea in my hands, my eyes fell upon a photograph from one of our initial holidays post marriage.
| | | |
| --- | --- | --- |
| | | |
| | There was still a connection, yet there was a sense of disconnection | |
| | | |
We both looked so happy, so in love. Although it was just four years ago, it seemed like eons. Without warning, tears began to fall. What had happened ?
I am not the sort to brood for long over what went wrong, but the sort to ask myself, how to set it right. After a good cry, I shook myself of all the negativity, and decided that no matter what, I was going to re-create my marriage. I was not going to allow it to become just one more role; it meant so much, and it could mean so much, right?
Avoiding routine – the key
I realised that most people give up at this 'plateau point.' I, however, was determined that we go up. If I could feel all those things for Arun once, I could surely feel them again. That evening when Arun came from work, I told him about my insights, and was surprised to see him nodding in agreement. We began with little steps. We planned an exclusive romantic holiday, instead of going with family and friends as we normally did. We strolled, held hands, spoke about the people we had become, and shared our dreams. Something began to change.
Instead of falling into a routine, we began to do fun things with, and for each other. For example, he would surprise me with my favourite dish, and I would light candles for no reason, and have a special dinner with him. Music, something that connected us so intimately and yet something we had forgotten, became a part of our lives again. Small changes lead to big transformations. And I am happy to tell you, I have arrived at the happy conclusion that it is possible to fall in
love
over and over again with the same person. It takes some patience… some efforts, but ah, it's worth it. Grinning from ear to ear,
love
you so much, Arun.