Personal Growth - India`s Big Brother
by Rukmini Shekhar
Meet Anna Hazare, whose clarion call for a corruption-free India has united the nation as nothing else in recent times. This 1991 interview by Rukmini Shekhar throws a searching light on his thoughts and motives

Download PDF Format
THE ANNA EFFECT
Even as we at Life Positive decided to carry this interview with Anna, the news broke about his success at getting the government to pass the Jan Lokpal bill in the Parliament. All of India
More >>
---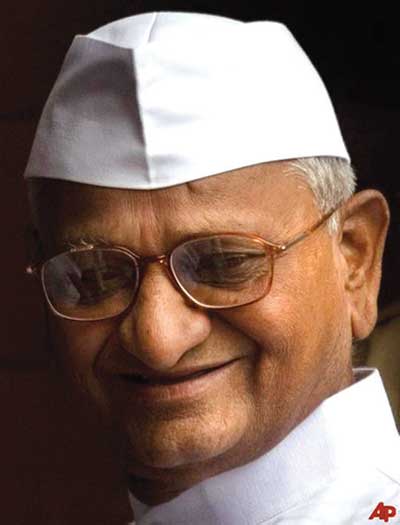 If there is one central idea that Anna Hazare represents, it is the victory of the moral over the material. Moral stature, like truth, simply is. It is the result of quiet inner work that requires no explanation, convincing or posturing but relentlessly pursues the understanding of what the purpose of life is. It is the triumph of the spirit over mere intellect, self-audit versus self-delusion, fearlessness backed up by truth, courage of conviction, simplicity of purpose and a sense of positive wonder rather than cynicism. Moral stature does not require external flamboyance, fluency in English, jugglery of articulation, a string of degrees, world travel, intellectual virtuosity, trappings of wealth and friends in high places. Moral stature comes from the unceasing pursuit of the truth and the back-breaking courage to surmount every single obstacle with integrity. I met Anna Hazare in 1991 and interviewed him for a magazine that I was editing at that time. He was recognised for his work in rural development, especially his watershed development projects and organic farming; transforming 2,200 acres of arid land into lush green productive fields using a strategy of voluntary work. Rather than focussing on his external achievements, this excerpt tries to understand the shaping of the inner journey of the man that was slowly making him a moral force to contend with.

Can you tell us how the process of transformation began in your life?

That process sort of began around 1962 while I was recruited in the army during the Indo-China war and was posted in Punjab. There was fighting all around me. I saw the hopelessness of it all. I started thinking – what is human life? Why do we live? Do we not, each and every one of us, face mortality? So then, why are we fighting? Overcome by depression, I wanted to commit suicide. But then, I had responsibilities too, I had to take care of my younger sister's marriage. So I decided to wait a little and took the train home on my furlough. On the train platform I saw a book by Swami Vivekananda. That book began to unravel in me a few threads of the meaning of life. It said that human beings were born to serve, that our souls needed that spirit of service to evolve. Service is not the worship of gods within four walls; instead it involves reaching out to the community.

I looked around and saw that even rich people were deeply unhappy. I began to feel that behind every material object there was a shadow of sadness. Swami Vivekananda's words that looking for happiness outside is futile began to take hold of me. I started looking inwards.

All this was reinforced when I was caught in a near-death experience at the age of 25. In 1965, in the middle of the Indo-Pak war, I was driving an army truck. Suddenly there was a rain of bullets around me, puncturing the vehicle that I was driving. Many people died. But why did I survive? Why was I saved? Was it just a matter of chance or did it have some other significance? At that very moment I decided to dedicate my life to the service of society. Subsequently, I also decided to stay unmarried so I could devote my entire life to service.

Having been imbued with this abstract idea of service, what practical leadership strategies did you begin with?

I knew I had to make changes first within myself, then family, village, community and nation. The first thing I realised was that you cannot give lectures to hungry people. Politicians are forever lecturing but make no impact. My village of Ralegan Sidhi was arid, with just 15 to 16 mm of rainfall in the area. As many as 15-20 per cent of people went to bed hungry. So, to supplement their incomes,
| | | |
| --- | --- | --- |
|   | |   |
| | The essence of leadership is that your speech and life have to be one. No amount of talking will change anything if you cannot translate that into your personal choices and life. | |
|   | |   |
they began to brew alcohol, resulting in at least, 40 breweries. Alcoholism was rampant. The village was in a very bad shape and I was distressed. I used the local temple as a rallying point because that was a sacred spot and a centre of devotion. Mosques, churches and gurdwaras are good starting points. I began to talk to various people. Soon a bunch of young people started dropping in. I saw that water was the most crucial thing to the development of this village and started enlisting their help to save every drop of water. I began to ask the youth whether they had even spared a thought regarding the state of their society and country. Slowly, the number of supporters increased.
How did you change people and gather them to hear you?
The key word is 'leadership.' When you take on such a role, you are very carefully watched. Your speech and life have to be one. No amount of talking will change anything if you cannot translate that into your personal choices and life. To my mind that is leadership. The next thing I realised was that nobility of thoughts alone does not bring about social transformation. People are always going to ask, "What's in it for me? Don't give me lectures, provide me with my basic needs."
The next thing I realised was that I should have the moral courage to face opposition and detractors. Opposition actually fuels good work, but it is important not to combat opposition with opposition. Just keep doing the work you are doing. I realised that work is its own guru and is the best teacher. In good leadership, there is no question of expectation or gratification. As it says in the Bhagavad Gita, "Open your heart and serve and the truth will protect you." Leadership is not a poster with a political face that says, "Vote for me and give me an opportunity to serve you!"
Young people have always been drawn to you, though scepticism is part and parcel of youthfulness. How do you convince them?
The other side of youthfulness is idealism. They are ready to absorb but need direction. Our political leaders are not paying enough attention to young people, concerned as they are with the political agendas of the day. Such short-sightedness is going to cost us dearly. Our neighbouring countries are aware that youth power is the real bank of change and flood our shores with drugs.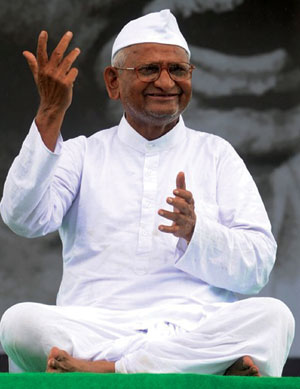 My biggest focus is the youth of the country. When people say to me, "Young people have no role models these days,"… I reply, "Why do you need a role model? Just be happy you are born in India with a legacy of the greatest saints and philosophers. Have we not inherited the finest thoughts and practices in the world? Why let man-made politics make a cynic out of you? Go for the best that this civilisation has to offer."
You have always upheld the view that voluntary work is the real spirit of service. Are we losing the spiritual value of voluntarism in a very material world?
Some amount of voluntary work is needed to lift the soul and give you the "ananda" that I have personally experienced. When we began the "shramdan" in three villages, the government did support us, but we told them not to interfere. With voluntary work, we were able to do in five years what the government could not accomplish in 44 years! That too, with a lot less money. The dalits in Ralegan Siddhi were neck-deep in debt and could never think of repaying it. The entire village rolled up their sleeves and did voluntary work in the fields belonging to the dalits and repaid the entire debt in a short time. This is real service.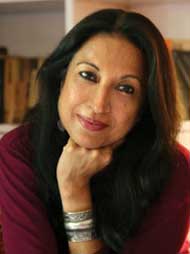 Rukmini Sekhar is an editor
and writer based in Delhi
With all the progress you have made, have you been able to stem the tide of rural people migrating to the cities?
Villagers should be made self-sufficient in their villages if they choose not to migrate to cities and live in slums. All their basic requirements should be met and their land should not be taken away from them. They should have work and they should have food. For this, the key is water. Develop water and you develop agriculture, which, in turn, provides food. Often, crime rates increase because of displaced village people in cities with no identity. Now those who migrated to cities earlier are coming back because of the prosperity. Who wants to live in a jhopad patti?
What is your message to the nation?
Remember that natural resources will perish if they are plundered. You can dam only that many rivers, because, just like humans that face death, every big dam faces death too. Respect nature and respect all life, including that of animals. They too have a right to live and not suffer from human cruelty.
See more articles on Personal Growth :
http://www.lifepositive.com/Articles/PersonalGrowth