Personal Growth - Inside out
by Megha Bajaj
When you heed the inner voice and obey its dictates, you will lead a life that is authentic and true, says Megha Bajaj

Download PDF Format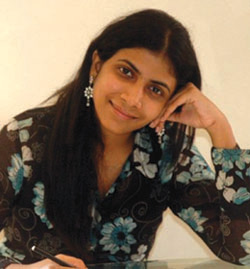 Megha is, above all, a seeker. These days she
is attempting to find herself in the role of a teacher
through the online writing course designed by her.
You can know more about her on
http://www.wonderofwords.org Recently, I was invited to an ashram in Pune to give a talk about my life. The brief given to me was, "Be yourself." Excited, I did just that. I shared incidents that I would not ever share in a public forum. I spoke of my thoughts and their transformations. I told the group about my innermost feelings and the changes they had been through. Instead of speaking of all that I had achieved, I spoke about how I was overcoming my deepest insecurities. I came back feeling a wonderful rush of energy and joy, which comes only when you have been true to yourself.

I wrote a note of thanks to the host on a public forum, and expected him to respond and keep in touch. Somehow, for whatever reasons, after that talk there was no communication from him at all. I was a little surprised, and all my sense of pride in being so honest – and well, just being me, in front of a group of strangers, started to wane.

I began to wonder if I had been too honest. I asked myself whether I should have shared more of my successes than failures – had I underplayed myself unnecessarily? Often I wanted to write to the host, and know what had gone amiss, and why there had been this complete silence from his end, but somehow I could not get myself to do so.
| | | |
| --- | --- | --- |
| | | |
| | I just needed some acknowledgment, something to say I had been okay | |
| | | |
I told myself it did not matter, but the truth was that I knew it did. I had spoken several times before an audience, large and small, but never had I ever been so 'me.' I just needed some acknowledgment, something to say I had been okay.
Realisation
That is when my Buddha moment happened. I realised a part of me was still
seeking
appreciation from the world outside. A part of me was still not convinced that I was beautiful as I was. It was indeed a revolutionary experience, as it made me aware of that part of me which still needed to be told that I was okay as I was. Somehow, the experience became one of the most 'free-ing' moments of my life. My voice – my inner voice – was so much more important than everything else that was out there. I had always known it. However, this was the first time that I really 'knew' it.
What did it matter what the host had thought? My intention was to go and be myself, and make a difference. I had done just that. I had met my brief. I had listened to the voice inside me, which had said that there is no need to prove yourself – just be yourself. Whether someone can accept that or not, is not my problem. It truly isn't.
The voice within
Too many of us stop listening to those whispers of the voice within, and give way to the rattle outside. In doing so, we may gain momentary appreciation; however in the long run, what you lose is much greater. For each time we do not heed that little voice within – it becomes a little softer. Then comes a day, where it silences altogether. In pleasing the world, I am not willing to displease that little voice within me, the voice that is me, the true me. No matter how difficult it may seem to hear it or do what it asks me to, I am going to listen. After all, of all voices, it is the one that matters the most.
Bio: Megha is, above all, a seeker. These days she is attempting to find herself in the role of a teacher through the online writing course designed by her. You can know more about her on www.wonderofwords.org
See more articles on
Personal Growth
:
http://www.lifepositive.com/Articles/PersonalGrowth