Personal Growth - It is one life
by Chitra Jha
When you realise that your life and every other life put together is one life, and the problem is inside you, you will find that no one and nothing troubles you any more, says Chitra Jha

Download PDF Format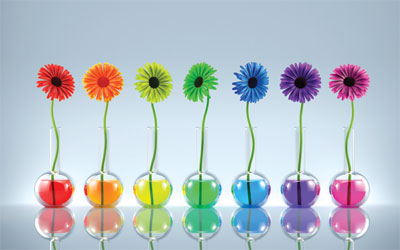 When I look back at the 54 years of my current embodiment on Planet Earth, I see my journey as a paradigm shift from 'It's my life' to 'It's one life.' How did this shift happen, and what does it mean in real, practical, living terms?

As most people my age (and of various other ages), I was living life as it comes – with its ups and downs, tears and laughter, failures and successes – without giving much thought to any why, how, and what. It was my life – perhaps the only life and I wanted to make the most of it. I did put in a sincere effort in everything that I did. Swear to God!

Even though I did not believe in God, I agreed that there was some unknown-to-me power, which influenced our lives in some unknown-to-me ways. I did not have any time or inclination to make an effort to know it. My philosophy was, 'Live your life in honesty and integrity. Let the unknown remain unknown, minding its own unknown business.' The irony was that I did not know what living a life of honesty and integrity truly meant. I believed in and followed my culture's moral tenor, and right code of conduct, which to me symbolised living a life of honesty and integrity. 'Don't tell lies. Be good. Do good. Help others. Do not steal. Do not bribe. Work hard. Stay clean. Do not cry. Do not get angry. Do not waste money. Do not envy the neighbour. Be satisfied with what you have. Be humble. Obey your elders.' These words were my moral compass. I tried to live by them and transfer them to my children, as best as I could.

Then, there were moments (far too many for my comfort) that made me deviate from this so-called life of honesty and integrity. Such moments carried fear, guilt, and shame, and made me feel not so good about my life and myself. I felt vulnerable. How could I deviate from my path? Surely, others were to blame? There was no dearth of others. They were all around me.

Like a vast majority of the people around me, I was outwardly focussed at the world. Everything happened to me. More often than not, I did not have a hand in it. Usually, most of the blame (and some of the credit) was heaped on other people, situations, circumstances, germs, bacteria, virus, fungus, animals, and inanimate objects. Whatever couldn't be figured out by my logical brain (which was a large chunk), always had something to do with the unknown, Mr. God, if you please! I only had to identify who was causing what and pin the blame on them. However, it wasn't that simple.

Many times, I did confront and blame directly, but most often, this was done in the form of gossip, backbiting, complaints, criticism, generalisation, indirect references, real or feigned illness (especially headache, stomach-ache, and various other aches), foul mood, resistance, retorts, anger, loaded silence, and non-cooperation. I was an innocent victim, who was not responsible (or not ready to take responsibility) for anything that had negative overtones (especially a physical sickness) that was happening to me. I lived in a 'them vs. me' paradigm; and everyone/everything in my life supported that paradigm.

Them vs. us

'Them vs. us' is the paradigm that gets reflected in our collective language. "He bothers me no end. He is so irritating. I get angry just by looking at her. She makes me uncomfortable. He has negative vibes. Don't make me feel guilty. You scare me. He is a pain in the neck. She gives me a headache. Something is seriously wrong with the world. I am not safe. I must protect myself. People have no sense of hygiene. All politicians, bureaucrats, policemen are corrupt. Indians can never change. They are greedy and unscrupulous." (I don't have to write it all here. You can hear it all around you. Please pay special attention to your own self-talk for more of it.)



Them vs us: A paradigm getting reflected
in our collective language It also gets reflected in most of our social, societal, financial, educational, political, economic, and healing systems. For example, the orthodox medical systems blame the micro-kingdom/environment; and biochemistry which responds or reacts to this environment for most of our ailments. They follow a military-like strategy for snaring, trapping, flushing out, maiming, and killing the enemy, along with some doctoring methods to re-establish the biochemistry, by adding or washing out some chemicals or hormones from the system. Everyone who has ever followed these methods knows that such things are only short-term fixes, more like fire fighting. If the enemy attacks again, we fight it again, and again and again. After all, there are so many enemies out there, and new ones keep popping up every day!

Our current problems of terrorism, rape, corruption, pollution, poverty too symbolise the same mentality: them vs. us. On the face of it, it does look like the most plausible, logical explanation to most of our problems. A majority of people subscribes to such a viewpoint, and their lives reflect such beliefs. I was one of them – and happy being so. After all, life was easy and passive. How easy it is to be able to blame someone (anyone) for your woes, and go to specialists who can fix you and your problems, when needed.

I realised that when I embarked upon the more difficult path of self-responsibility. I stumbled upon this path 'by chance' (now I know that nothing happens by chance), before the turn of the millennium, (it has only been 13 years, but feels like a lifetime).

My new role models told me, "The world is your mirror. A problem is never out there. It is within you. You are responsible for creating your own reality. Look within. The root cause lies there. No one can make you angry, happy, guilty, or sad, without your permission. You are love. You are light. That is your default state. Be who you are. You are multi-dimensional. Get out of the 3-D paradigm. Shift your attitude. Be the change you want to see in the world. Meditate more." To the 'seeker' in me these words rang true. I redoubled my efforts to meditate, eat right, make healthy lifestyle choices, smile more often, and pay attention to my thoughts and emotions. I sought like-minded company and attended umpteen workshops to explore my inner landscape.

Negativity reigns

I noticed that as long as I was in nature, meditation, workshop, like-minded company, and support group, all was well in my world. I stayed physically, mentally, emotionally healthy, happy and alive. I laughed, joked, and felt energised; but whenever I came back to my regular life (the one that I used to enjoy living), I observed inner negativity raising its head in anger, resistance, rejection, disgust, irritation, aches and pain, and the them vs. us paradigm. I couldn't wait to get away from it all, back to nature, meditation, workshops, like-minded company, support groups, and the seesaw (going back and forth) continued for a seemingly long time.

I began to get demoralised and frustrated. I felt guilty and wondered if something was wrong with me. Perhaps I was not trying hard enough. Perhaps I needed to try a different approach, a new modality, a new tool, a new teacher. I was told, "There are layers and layers of negativity inside us which have to be peeled one by one. You can't handle it all in one go. Don't worry. Things will get better. You are peace. You are love. You are light. Focus your attention on those thoughts. Remember, whatever you focus upon grows. Change your focus. Pay attention to what you want, not to what you do not want. You are the creator of your destiny. Go create beauty, love, peace, and joy. You can do it."

I got back to the battlefield (so-to-say). All set to love them and focus on their good qualities. Things remained hunky dory for a while. I congratulated myself, and thanked my tools. However, I couldn't completely get rid of all the negative thoughts, emotions, and actions.

Shift the focus

I looked at the radiant faces of gurus and teachers around me, and wondered what they were doing right, which I could not get into my head/heart. That is when I bestowed divinity upon them. I became convinced that they are different, specially blessed, and at a higher consciousness. I couldn't match them, at least, not in this life. They must have done some great tapasya in some past life. However, putting others on a pedestal, made me feel small and unhappy (not good enough), so I was back to the square one! Them vs. me.

Eventually I surrendered, "God, I have done all that I could possibly do. I am tired now. Please help me."

Suddenly, a new understanding dawned. It took birth in my own personal experiences. It told me that we are indeed multi-dimensional beings, but not separate from life itself.
| | | |
| --- | --- | --- |
| | | |
| | Usually most of the blame (and some of the credit) was heaped on other people, situations, circumstances, germs, bacteria, virus, fungus, animals, and inanimate objects. | |
| | | |
There is only one life, and each one of us is an interrelated, interdependent part of that whole. For the whole to be who it is, the parts have to engage in an ever-evolving dance with each other (something like what happens in our physical body, which is composed of trillions of individual cells, engaged in the dance of life).
In this ever-evolving, interdependent dance, each individual part depends upon the other parts to help it purge, cleanse, eliminate, release, let go of all that it is not; in other words to release and let go of all the negativities, all that is not love and light. So, the so-called-others (other parts of the whole), help, assist, and facilitate the purge, cleansing and elimination for the whole. Sometimes we do the work of cleaning, while at other times we do the work of facilitating, or triggering the process of cleaning. At any given time, we do what we are good at doing, engaging ourselves in the job, which will serve the whole in the best possible and most efficient manner.
With this understanding, now I look at everything and everyone, with new eyes. Whenever I become aware of negativity (however subtle) welling up, coming to surface in the realm of conscious experience, I become alert, all set to acknowledge, accept and release it, without any blame-game. After all, that is my job, my divinely ordained role, in the maintenance of the one life's well-being. It is no more about the tiny-whiny me! That 'me' is just a part of the whole, an important part, with a great important job to do.
It applies to every sentient being. Each one is a part of the same whole, working for the whole, in the most efficient manner. Each one of us is right where we need to be, doing right what we need to do, with just the right people, circumstances, and conditions. Nothing is out of place or sync with the whole. It cannot be, because the whole will not let it be.
Ever since I have understood it, I can truly say with full conviction in each cell of my being, that all is well. There is no one out there to get me, trouble me, hurt me, anger me, scare me, or sicken me. Each part is just doing its divinely ordained job, in the best possible manner, for the collective well-being of the whole.
My job is to remain aware of whatever comes up at each moment, and take the most appropriate action in full faith that I am in service to the whole, and so it is. Ah, the gratitude wells up, a sincere thank you for every other part of the whole (the whole world), which is also in divine service just as I am. After all, it is just one life.
See more articles on Personal Growth :
http://www.lifepositive.com/Articles/PersonalGrowth