Personal Growth - Knowing, playing, growing
by Satish Purohit and Nipun A Jacob
A rich brew of powerful workshops, illuminating discourses, retail therapy, free services and the presence of kindred spirits made the Life Positive Expo an experience of a lifetime

Download PDF Format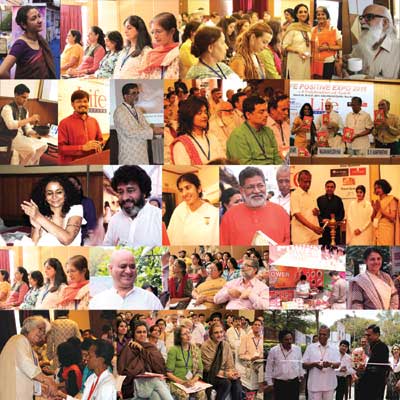 Excitement reigned at the India Habitat Centre on the morning of March 25. It was the beginning of the Life Positive Expo, the three-day body-mind and spirit fest organised by Life Positive Foundation and Life Positive magazine. Participants had arrived from as far afield as Muscat, Hyderabad, Chennai, Kerala, Jamshedpur, Mumbai, Chandigarh, and Ludhiana, united in their common passion for personal growth. There were many who were repeating the Expo for the second and third time. Sampriti Mukherjj, who has been attending the workshop for the last six years, wore an air of ineffable satisfaction as she confessed that she had had her cataract operation done on March 2nd just so she would be free to attend the Expo. "I don't let anything interfere with my attendance of the Expo," said she firmly.

Holistic author, Dr S Mohanambal, from Barcelona and a dedicated Life Positive reader, said that she was happy that she was attending the Expo. "I was drawn to the Expo and I am glad that I could make it. The workshops are doing me a lot of good," said Mohanambal.

Gunni Kamson, a beautician, travelled all the way from Shillong to New Delhi to attend the Expo. "It is my very first Expo. I am happy that I made it because I can use what I learnt at the acupressure workshop in my practice back home," Gunni said.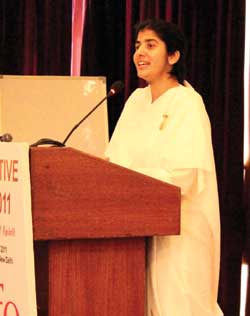 The Expo was flagged off on a sublime note with an inaugural address by B.K. Shivani, a Raj Yoga meditation teacher with the Brahma Kumaris, whose regular discourses on Aastha channel has earned her tremendous popularity. That the popularity is deserved became more than evident during her address: Feeling Great, No Matter What. Using the lamentable example of Japan's present trauma, she questioned, "Is it possible to feel good when one part of the world is enduring so much pain? And is it desirable? Should we feel good?" Through her hour-long discourse she went on to masterfully explain how and why we should indeed feel great, no matter what. When it came to Japan, she explained that the only way we could reduce their pain was by sending them positive vibes which could only be done from a stable and loving mind, free of pain.

Explaining that the transition from Kaliyug to Satyug required cleansing, she likened the tsunami to the annual Diwali cleansing. Tsunamis were needed, she said, and urged the participants to stay aware of their responsibility which was to create the New Age by changing their thoughts.

What better introduction could there be to an Expo committed to help make the move to the New Age?

Workshops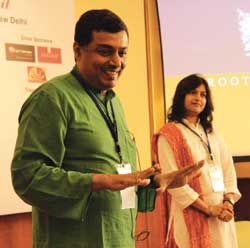 Looking in the mirror

Nilima and Vijay Bhat conducted the Enneagram workshop entitled Nine Psycho-Spiritual Paths to Presence on Day I of the Expo. Over 30 enthusiastic participants enrolled for the workshop that has transformed the lives of thousands across the word. The Enneagram, an ancient concept that affects transformation through knowledge of personality types, works like a psychometric test that has applications in areas like executive coaching, parenting and education. Participants responded to the facts that were revealed about them with questions like Who am I, Who can I be and Who am I not? There are nine personality types according to the Enneagram paradigm – challenger, enthusiast, peacemaker, loyalist, investigator, reformer, helper, achiever and individualist. The Enneagram tells us that we all have a unique place in this world and each of us is endowed with a gift. We need to align ourselves to our natural gifts in order to progress both individually and collectively.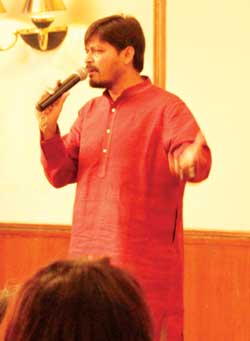 Learning from past lives

Newton Kondaveti's Past-Life Regression workshop on Day One revealed to over 35 participants our power to understand existing patterns of behaviour and that which we call fate as the fruits of our past lives. Newton revealed to the participants how he became a past-life regression therapist. Born to an atheist scientist father who chose to name his children after men and women of science (Curie and Einstein being the name of his siblings), he found himself a guru while at college, and notwithstanding his father, ventured into metaphysics rather than physics. A series of exercises designed to push participants beyond rational thinking into the enriching clue-filled world of intuition, enabled insights that proved to be remarkably illuminating. Participants, who came from a variety of backgrounds from business to medical sciences and even insurance, experienced how they were connected through a past life to other participants whom they had never met. Almost all participants reported seeing what their co-participants were about, their inner motivations and even what hindered their flowering across lifetimes.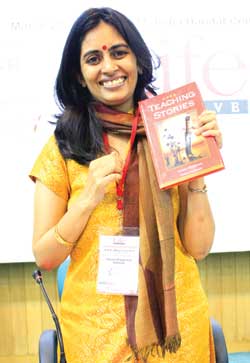 A book to look for

The closing of Day One of the Life Positive Expo 2011 saw the release of Life Positive Assistant Editor Jamuna Rangachari's selection of illuminating stories entitled More Teaching Stories. Present at the launch were author Rajiv Mehrotra, Islamic scholar Maulana Wahiduddin Khan, Life Positive President DR Karthikeyan and author and trainer Anil Bhatnagar. After the formal launching of the book, Ms Rangachari read out her favourite story – Savitri – from the book. She told the audience that she had been 13 when she first read the story. During the discussion that followed the launch the learned guests spoke on the power of the story to entertain, educate and illuminate. "While all stories are not great, the great ones are shortcuts to truth," said Mehrotra.

Day 2

The energies set into motion on the first day of the Life Positive Expo 2011 build up to a new high on day two. After a rejuvenating session of SKY yoga in the morning, the participants readied themselves for the day ahead.

Workshops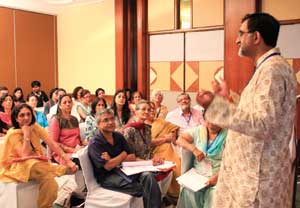 Getting the point

Acupressure therapist Ketan Shah was introduced to LP Expo 2011 participants as a trainer and workshop facilitator who gathers the most accolades at most events organised by Life Positive and elsewhere. He did not disappoint. To begin with, he shared how his seemingly incurable pain following a botched-up appendix operation, was cured by acupressure, which, in turn, made him explore the field himself. Today, after over a decade of practice behind him, Ketan Shah has travelled to 28 countries, where he has healed over 90,000 patients of a range of ailments.

In the first half, Dr Shah spoke of the theoretical basis of acupressure, its Indian origins, how it travelled to China and Japan via Sri Lanka and its return to India. "It is an Indian thing to appreciate things foreign. We do not appear to have appreciated it enough when we had it in India," said Dr Shah as the audience erupted into laughter.

The second half of the workshop was dedicated to practical demonstrations of the power of acupressure to heal where conventional medicine had failed. The participants, who included a cancer specialist, healers, several homemakers and Life Positive readers from all walks of life, enthusiastically plied him with questions on the points to be pressed to cure their ailments. Those suffering from chronic conditions were also administered healing on the spot.

For those who were unable to attend, there is a two-day workshop by Dr Ketan Shah entitled The Healing Touch scheduled for May 28 and 29 in New Delhi. Call Vijay Dhiman on 9873951104 for details.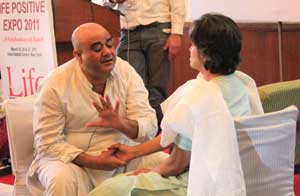 The Theta healing cure

When we are on the right path only then does true learning begin, said Theta Healer Sumant Kant Paul at his workshop on Day Two. Kaul taught how words determine our future and ways of experiencing, expressing and evolution. Theta healing is a meditation process which goes deep into human consciousness and heals the sufferer.

He spoke on the principles of psychic thought and explained that every thought has a psychic energy that affects health and happiness. The energy also attracts people and inanimate objects and affects us on the core, genetic, history, and soul levels of our being.

Sumeet Kaul, Sumant Kaul's son, described the theta state of mind which is obtained through our chakras when they are connected with God. Theta healing uses the five frequencies of brain waves: Beta, alpha, theta, delta and gamma. These waves are constantly in motion and are regulated by the frequencies of the brain waves. Theta healers work on the crown, throat, heart, sexual and base chakras for holistic healing.

Discourse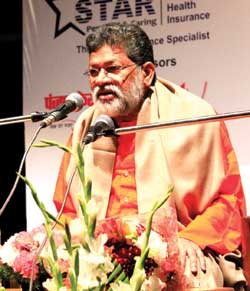 Ecstasy of the mystic

At the close of Day II, Swami Bodhananda spoke on how the path of the mystic and that of the meditator are one and the same. "A mystic is one rooted in the self and ecstasy is the transcending of the ego. This is only possible through meditation which involves watching the body and the mind and being aware of the rise and fall of breath," said the Swami.

Swami Bodhananda spoke on how people blindly react from memory. "A man will unthinkingly call his son the son of a donkey! The mind goes where we do. Which is why moving to the Himalayas does not help."

The Swami pointed to the value of doubt in spiritual life. "Positivists say that all self-doubt is destructive but I would describe self-doubt as the beginning of a spiritual journey. We need to put the brakes of doubt when we speed like mad men through life," he explained.

The Swami welcomed questions after his discourse.

Responding to a question on degradation of values in the contemporary world, the Swami said he did not think society was undergoing degradation. "People are getting more assertive. Children don't like being talked down to, wives will no longer put the husbands over themselves, chelas will not listen to their gurus with unquestioning obedience. Is this degradation? I don't think so. I think the change is positive," he said.

Day 3

Day Three at the LP Expo saw three path-breaking workshops, frenzied last minute buying at the 35 stalls at the exhibition and an insightful lecture by Alma Mater founder TT Rangarajan who spoke at length on Prem, Sat, Chit and Anand.

At the end of the day, participants dispersed with smiles on their faces that were tinged with sadness because it was curtains at the Exposition, a wonderful spiritual platform for growing, learning and sharing.

Workshops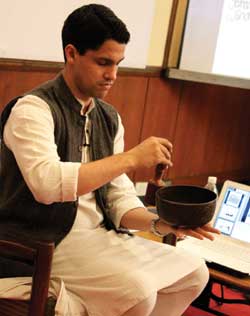 Nowhere to go but NOW

Nithya Shanti says he became a Buddhist forest monk in Thailand because his heart told him to and he gave up his robes for the same reason. At the Happiness Joyshop conducted by him at the Life Positive Expo 2011, he enthralled participants with his profound observations, ready wit and sunny smile. As the workshop progressed, a steady trickle of latecomers kept pouring in till the aisles were filled and there was no place to sit. People kept insisting on being allowed to enter even if it meant that they would have to stand through the programme. Some had to be turned away.

In the workshop, Nithya Shanti spoke on the need for being situated in the supreme attitude – gratitude. "There is nothing to attain, only gratitude to sustain. So let go of all strain, love all without restrain," he said.

As he related anecdotes, shared jokes and coaxed participants to open up, the participants' eyes became teary and the smiles more spontaneous. "We recognise the truth because we know it before others share it with us. All we need is within us. We have the power to make this the happiest day of our lives," he said.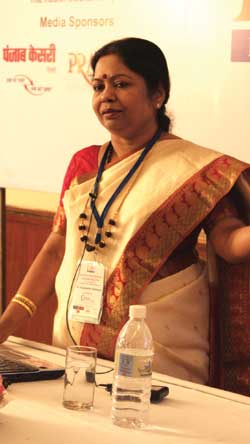 Change thoughts, change life

Dr Vijayalakshmi Panthaiyan's Alpha Mind Power workshop helped participants unwind, and offered tips on empowering their minds. Participants learnt different uses of mudras and meditative techniques to harness peace, tranquillity and forgiveness. She spoke on developing the power of the unconscious mind which can bring wonderful changes in our lives, and helped participants to tap into these powers through practice of Alpha Meditation. "Every thought form generates energy and true understanding comes from the individual's inner self," said Dr Panthaiyan.

She also advocated the use of colour for additional impact during visualisation of goals. "White dissolves and cleanses negative energy, green heals, pink spreads love, gold represents prosperity and violet embodies spirituality." Dr Panthaiyaan explained that meditation can be used to educate the mind for registering real happiness. "Though difficult to practice, meditation has impact and is easy to learn. Never let fear overtake your mind as it depletes the energy of the mind," she said.

Move your body, heal your heart

It's the place where the sensual and the spiritual met. Mandira Srivastava's belly dancing workshop focussed on the hara chakra (swadhistna chakra), shaking up inhibitions and loosening years of restriction. Along with meditation techniques to open up the heart and hara chakras, Mandira got the class of almost 40 women moving to grooves they had probably never tried before.
The shimmy, the snake arm, the sensual 'figure 8' – all movements held a deeper meaning than just dance. The class began with a simple focus on breathing, which gradually led to an awareness of the classical belly dancing music, and allowing oneself to move with the gentle beats. It then became a little more serious with Mandira focusing on the more technical aspects of the dance – the circle, the hip thrusts, and various gentle flowing arm movements. There was no place for shyness or any compulsion to pretend. The class was about letting oneself go, celebrate the woman within, and to enjoy one's body for what it is, without pleasing anyone else.

Discourse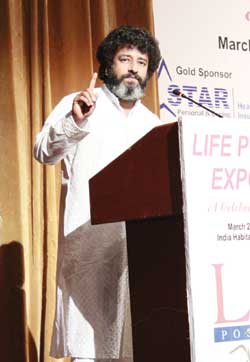 Align yourself to God

TT Rangarajan, the founder of Alma Mater, enthralled listeners at close of the LP Expo 2011 with his brilliant insights into the nature of Prema, Sat, Chit and Ananda. He spoke of how the most visible manifestation of love is touch. "Children who do not receive touch from their parents grow up to be perverts who seek the touch from strangers. People do not touch because they have sex on their minds; they have sex so they can touch and find some relief from touch starvation," he said.

Being spiritual, said Rangarajan, who insisted on being called Rajan, is a matter of alignment, which was not the same as faith. "Aligning oneself to truth means living in accordance with the principles of life. Faith is not enough. If people did not have faith in gravity it would not stop them from falling if their bodies were not aligned with the laws of gravity," he explained. "Love your parents while they are alive, love your wife, create a legacy that continues even after you are no more. Think what you can give in a relationship instead of being a beggar for love. The world is full of such beggars and when two such beggars meet, who can give love to whom?" he asked.

He also spoke on the need to remember that all things pass and that it was up to all of us to make the best of it while it lasted and let go when it was time to part.

Exhibition highlights

Shopping for the soul

Seema Jojodia's stall (Nourish Organics) promoted values of health and holistic living through organic health bars, nuts, seeds, breakfast cereals, cookies and crackers. The Tej Gyan Foundation stall promoted the books and works of their Pune-based guru, Sirshree Tej Parkhiji. Siva P (Prana Violet Healing) and his team of violet pranic healers from Indonesia healed people from white and black magic, stomach ache, migraine and diabetes with the help of their prana violet healing wand.

At the Handwriting Life stall, individuals had an opportunity to learn who they were and who they could be with graphotherapist Mansee Vashisht. Sleepwell flexi-puff mattresses stall at the Expo offered a wide range of luxurious mattresses – diamond plus, Pearl plus and Gold Plus and pillows which were high on comfort and soft in use. Shahnaz Hussain's (Shahnaz Ayurvedics) stall brought forth a high vitamin-enriched weight loss formula that helped to reduce waist line, tighten skin and reduce cellulite. Not just for women, Hussain's men range included Shashave, Shamen and Shazema.

Anoop Agarwal's (Satyamani) aura astrology helped participants to understand their past, present and future with a live full body digital aura photography. Aastha (Aastha Handicrafts and Salt Products) marketed products made from Himalayan rock salts considered to be the purest form of salt. Their salt lamps are known to increase the negative ion count in a room and release positive energy.



Star Health (Star Health and Allied Insurance Co Ltd) primary sponsors of the Life Positive Expo, are India's first stand-alone health insurance company. Star Health showcased its products like Star Family Health Optima, Star Accident Care and Star Travel Protect. Heritage displayed a collection of Osho's insightful books.

At (Numbers Radiance – Numerology) stall Rohit Rao identified and aligned people with their life purpose. Sumant Kant Kaul (India International Theta Healing Institute) helped heal phobias, obsessive compulsive disorders, and evil possessions. Megha Kanodia's Mystic Flame candles offered multipurpose magical candles that are believed to have curative powers. The handmade candles were available in a variety of shapes and colours.An expert in Feng Shui, tarot card reading and Paht Chee, Sunita Chillar provided guidance to participants for a substantially reduced fee. Participants consulted Dr Pankaj Verma (Rudra - The Vedic Rudraksha), a professional astrologer for unanswered questions about their future. Rudra Vedic sold rudrakasha beads, gemstones, and other spiritual products. Visitors learnt the art of living and explored the true world of knowledge with divine cosmic energy at the Atma Jagriti Research Training and Healing Foundation stall.

At the Acem (Acem Meditation) stall, Partakers learnt a meditation technique that is entirely neutral as far as religion is concerned. People who visited the Dr Inder Mallik's (Mind Power Lab) stall saw improvement in their concentration, memory, creativity and thinking skills. Many people bought health enhancer Divine Noni Gold (Noni BIO Tech). Divine Noni Gold is made from organic noni and has a rejuvenating and energising impact. Participants suffering from incurable pain, psychosomatic disorders or in need of palliative care, were offered an opportunity to be free from sickness at Dr Ravinder Tulli's (Soham) stall. People who visited the Smart Nutrition stall received the answers to their queries concerning liver support, calcium citrate, herbs, goji juice and whey protein. At reiki master, tarot card reader, hypnotherapist and angel therapist Neera Sareen's (Karmic Center) stall participants learnt how to develop mind power, wealth and abundance. Many experienced Rachna Mehra's powerful healing based on theta techniques. The Aumkara stall displayed a range of chakra bracelets crafted with attention to detail by experienced designers.

The Lava Mobile phones stall offered electronic gadgets, as did Micromax. Shalini Kalra, founder, Loving Your Self Foundation, and a mind therapist whose teachings is based on Louise L Hay offered a range of books, affirmations and DVDs of the renowned healer. SKY Yoga for Human Excellence (World Community Service Centre) taught people about the benefits of yoga, the secrets of nature and how one could master one's hidden potentials.

Participants learnt from South Delhi Polytechnic (South Delhi Polytechnic for Women Lajpat Nagar/ Holistic Health and Fitness) how the institute became a leading vocational institute for educating Indian girls to be self-dependent. Participants had a full body aura scan in a few minutes by B K Chandra Shekhar (Invisible Doctors Solutions – SIGFA healing) at his stall. Participants became aware of the unseen forces dwelling within themselves at Nishant Sharma's (Intuitive Thoughts Empowering You To Heal Yourself) stall. Volunteers at Pragya TV stall, a 24-hour wellness channel, displayed the timings and schedules of their spiritual programmes. Widely read Hindi newspaper Daily Punjab Kesari, which believes based on facts, extensive research and far-sighted vision, attracted several curious participants to its stall. At the stall of Panicker's Travel participants admired the world class tourism packages and some booked trips as well. Bhagwati crystals offered a wide range of metaphysical products like beads, bracelets, pendants, idols made up of crystals at the stall. Bombay gems, exporters of handmade precious stones based in Jaipur, unveiled their merchandise at their stall.

See more articles on Personal Growth : http://www.lifepositive.com/Articles/PersonalGrowth