Personal Growth - Leave my aura now
by Abhishek Thakore
Use the latest New Age tools to break up with your partner who anyway suspects that you have lost your marbles in the sixth dimension, says Abhishek Thakore

Download PDF Format
Face it – your relationship is a joke. And it is time you ended it.

If you're a New Ager, here are some innovative ways to do so. And remember, your reading this article is not a coincidence – it is a message.

1. Psychometric incompatibility

Any New Age psycho junkie would agree that all tests are easy to 'beat' – choose answers to throw up the result you want. In this case, try and gun for the exact opposite profile to your partner (for eg in MBTI, if your partner is ENFP, come up with INTJ).

Insist that there is a deep psychological basis for splitting. Questioning it is questioning Jung and Freud themselves.

2. Predicted predicaments

Tarot, bibliotherapy, pendulum and dowsing are perfect tools to trick gullible New Agers into believing anything you dish out.

While it is easy to rig pendulums (a slight tug to move it counterclockwise) and conclude incompatibility, others are tougher.

For Bibliotherapy: Choose a dark tragic romance – randomly pull out a page after some chanting and read out the passage. Interpret as required.

For Tarot: Keep those cards in a deck that can be interpreted negatively. eg: The Hermit: I need to become one, Justice: it's only fair that we break up, Fool: it's foolish to be in relationship, etc. For better effectiveness, ask your partner to pull out a card.

3. Landmark Fo-rumbling

Mumble incomprehensible statements with authority: 'This relationship is out of integrity', 'Let's de-contextualize our relationship from its current configuration' or 'I am tired of the psychodramas – it gives me an amygdala hijack each time you speak'.

Refuse to explain – insist your partner do the 'course'. Post-course, the partner may want to break up equally badly.

4. Channelling divorce

If you are into New Age channelling, simply 'confess' to your partner that Kryon is actually your ex-lover from college whom your parents never liked. Sixth Dimension naturally becomes your favourite night hang-out.

Remind your partner about your experiences on how Kryon 'touched you' and created 'a life pregnant with possibilities'. Bring in Ramtha, your childhood friend who wants to get you and Kryon back together.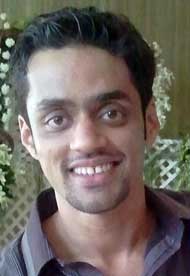 Abhishek Thakore anchors Blue Ribbon
Movement, a social enterprise working
to create and nurture Social Leadership
amongst youngsters. He believes in the
existence of the Laughing Buddha and
intends to meet Him someday. If it doesn't work, let your partner discover that like the rest of the New Age channelling crowd, you're almost delusional.

5. Past-life rig-ression

Use past-life therapy sessions as a way to spill out gory, intricate and explicit details about sexual episodes you had with your ex-es. Insist that the karmic imbalance requires you to go and 'heal' those past relationships.

6. The 'third' alternative

After reading Steven Covey's latest book, insist that you want to introduce a third person in the relationship and make a three-way group marriage. This will take the relationship into a new synergistic paradigm of possibilities to forge a win-win solution.

Never let your partner convince you that you are wrong (It is just a different point of view) and never discourage your partner's irritation (It is your unique perspective.).

Brainstorm an alternative, and come up with a split being the most path-breaking mutually satisfying option.

The Laughing Buddha laughs because in spite of having so many ways to end a relationship, you will still go on.

See more articles on Personal Growth : http://www.lifepositive.com/Articles/PersonalGrowth