Personal Growth - Living in balance
by Deepti R Paikray
How can we cultivate a stability that enables us to execute our manifold roles with poise and balance, asks Deepthi Paikray

Download PDF Format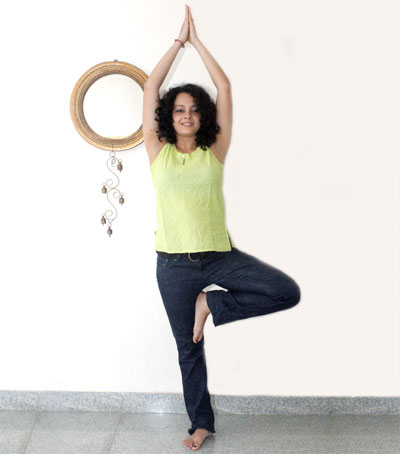 Change is the only constant in life, yet we pursue stability as a prized notion in our careers, relationships, and circumstances, at times mistakenly believing that unchallenging situations translate into the peerless state of stability. When I pondered on the virtue of stability, the image that arose before me was of Anna Hazare, India's anti-corruption crusader, unshakeable and stable in purpose. We too can aspire to have such poise when we approach our manifold roles and duties with responsibility and acceptance. Every time we are persistent and fully awake to the call of life in its myriad demands, we respond from a wise and stable self, residing deep within us.

What comprises stability? I believe stability equates to being balanced, a positive virtue. I believe a balanced human is a secure entity. A stable person makes for a wonderful spouse, caring sibling, responsible colleague, loyal friend, and a conscientious adult. In a redeeming definition Iyanala Vanzant, inspirational speaker and New Thought spiritual teacher, describes balance as something that does not require us to do anything better or faster than anyone else. It requires only that we make a conscious effort to enjoy what we are doing, and learn to be present in every aspect of life, for some portion of each day that we are alive.

A stable personality is shaped by a belief system. A belief system gives rise to steady thoughts that generate conscious action leading to firm habits, which formulate a stable character. Two distinguishing characteristics of stability are steadiness of character and strength of purpose.
| | | |
| --- | --- | --- |
| | | |
| | "They who reach down into the depths of life, where in the stillness, the voice of God is heard, have the stabilising power, which carries them poised and serene through the hurricane of difficulties." -Spencer W. Kimball | |
| | | |
Steadiness of character is ingrained from childhood by thoughtful parents. This leads to an integral internal belief system, which helps realise our full potential in every sphere of life. Other distinguishing features are firmness of purpose, vision, and persistence of spirit in the face of all odds, and self-conviction.
Stability within families
Families become stable when members are loyal and loving towards each other. A secure family contributes towards a balanced society, community, and nation. Within families, parents create stability for children by moulding their lives into an intentional routine. I believe most mothers and homemakers are the greatest stabilising force within families, because of the harmony and order they create. Within a family, stability prevails when conflicts are resolved before sleep at night, and not carried over to the next day. Routines (meal times, exercise schedule, domestic chores) though felt as monotonous activities, are disciplines that provide the stable bedrock to life's challenges. In the absence of routine, chaos or instability prevails. When we live in a stable family, we are better able to stand up to trials in the world.
However, sometimes parents or the education system are inadequate, and we grow up lacking the stable fortress of a belief system. Then suffering becomes our exacting teacher. During my childhood, there was a girl in our neighborhood whose every wish was granted by her doting parents. Such instant gratification robbed her of opportunities to develop self-sacrifice or acceptance. This caused chaos in her later years as she became a slave to her emotions, and buckled under the slightest pressure from the world outside the pampered boundaries of her home. Over the years, she suffered loss of self-esteem, trusting relations, and a consistent career graph. Numerous counselling sessions eventually lifted her out of the abyss, and helped her forge self-reliance.
Stability in life
We develop stability by deciding what is most important in our lives and then undertaking persistent everyday action for the accomplishment of the chosen goal. Balance comes when we recognise and accept the many roles that life beckons us to play, be it of a mother, a provider, a monk, or a nation head, and do it to the best of our ability. This world is a school. At times, we deliver lessons to others, and other times learn them. Often, just one undesirable trait can upset our inner poise or equilibrium. Overcoming this can be a lifelong strife.
| | | |
| --- | --- | --- |
| | | |
| | Two distinguishing characteristics of stability are steadiness of character and strength of purpose | |
| | | |
A close friend of mine is blessed with a caring disposition but became embittered when taken advantage of. She believes only good can come out of doing good, and was therefore plunged into anxiety and stress when so many of the relations in which she had emotionally invested, rebounded on her. Her self-esteem was severely compromised, and she floundered to get her emotional bearings. Today she has discovered stability, by overcoming victim-consciousness.
Greatly inspired by Barbara De Angelis' book, Secrets about Life Every Woman Should Know, she attempts to view every difficult person and situation as a teacher, and asks herself what the person or situation is trying to teach her. Nine out of ten times the situation will highlight a personality trait that needs further refinement. In her case setting respectful boundaries protected her from emotional abuse and resultant self-pity. Wise choices and an honest acceptance of our immediate circumstances yield lasting stability. A lovely couple known to me could not have a child for seven years of their marriage. Eventually, they adopted, a purpose that has brought steadiness and joy to their lives as householders.
At times unstable circumstances can generate a passionate purpose that often anchors their lives. CNN hero Jorge Munoz, felicitated by President Obama, is a school bus driver by day. At night, he morphs into a compassionate social worker as he goes about in his van feeding hungry multitudes in New York seven nights a week, 365 days a year. To date, he has served more than 500,000 meals all cooked in his home by himself, his mother and sister. For many, this is their only meal of the day. In the past an illegal immigrant himself, Munoz experienced acute instability in an alien country. This became the foundation for his life passion. It has, in turn, rewarded him with the steady fulfillment of enriching the lives of others.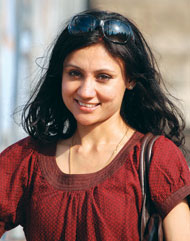 Deepti is a homemaker, yoga
teacher and writer residing in USA.
Writing for her signifies life
which include the swells of joy,
lows of retreats and plateaus
of acceptance
The rewards of stability are numerous. A stable person possesses an enduring belief system or values that serve as guidelines in all situations. Firmness of resolve generates truth, non-covetousness, non-violence, and moderation. Stability naturally generates a richer sense of fulfillment, and endows our human life with purposeful direction. As we become stable by recognising and accepting our roles in life with grace and gratitude, we achieve balance in our temperament and outlook in life. Iyanala Vanzant says, "Balance is the key to enlightenment. Enlightenment is the key to self-value and self-worth."
Ultimate stability
Although stability is a desirable virtue, when we become too entrenched in it, we become chary of change. Instead of moving with the flow, we remain rooted, still holding the same job even though it does not define us any more, still stuck in the same habits, unwilling to change and grow. It is this fixedness that can be our Achilles heel and that we need to dissolve.
How can we do this? By doing inner work. By going into our inner world, which is finally the seat of the ultimate stability. As we explore and dissolve our egoic needs and desires, our insecurities and fears, we grow in paradoxical ways. Not only do we become more and more stable, undisturbed by the clamour and cries of the world and even our ego, we also become more and more flexible, subtle and sensitive. We respond instinctively and automatically to the signals and changes we see around us. Sensitive to our inner voice we change our stances and points of view as our insights deepen and broaden.
Our equanimity becomes all-pervasive and at some point, we discover that it is permanent. Nothing then can shake us from our inner poise and peace. We have achieved a stability that is unshakeable; but one that is married to dynamism, and effortless action. We are no longer an immovable object impervious to change. We are marvellously stable and flexible at one and the same time. We are home.
See more articles on Personal Growth :
http://www.lifepositive.com/Articles/PersonalGrowth