Personal Growth - Living life super-sized
by Megha Bajaj
When Megha Bajaj began to meditate upon abundance and freed herself of all blocks towards it, life shifted to XXXL

Download PDF Format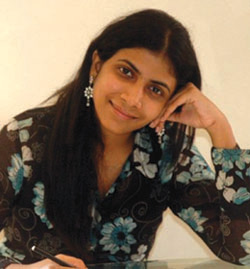 Megha is, above all, a seeker. These days she
is attempting to find herself in the role of a teacher
through the online writing course designed by her.
You can know more about her on
http://www.wonderofwords.org When Megha Bajaj began to meditate upon abundance and freed herself of all blocks towards it, life shifted to XXXL

For the longest time now I have struggled to find abundance. Everything was almost always good in my life – but nothing was ever great. I knew love – but I didn't know an avalanche of love. I knew a comfortable life – but I didn't know luxury. I knew what it felt like to be ache free – but I didn't quite know what it meant to be absolutely fit.

One of those days as I was watching the rain fall from my window – it struck me that rain was falling everywhere and it was just the same for everyone. The watchman's bucket also collected the water. The swimming pool also collected the water. And the oceans also collected the water. Rain didn't choose where it should fall. It just fell. It was the 'size of my vessel' that determined how much I would have.

Somehow this single thought changed the very way that I look at life. I began to feel that when mortal parents want to give the best to their kids – when they are willing to go to any limits to ensure their kids have it all – excellent health, abundance of wealth, everlasting joy and peace – then wouldn't God, our immortal parent, want the best and only the best for us? Wouldn't he want to see each of us sing, dance, be happy, and live holistic, fulfilling lives?

God, like the rain, does not choose who to shower his blessings upon. It is we who limit ourselves. For a variety of reasons we convince ourselves we can never have the best of everything.
| | | |
| --- | --- | --- |
| | | |
| | God, like the rain, does not choose who to shower his blessings upon. It is we who limit ourselves. | |
| | | |
Either we think we are not worth it, or we find reasons to convince ourselves that scarcity is our very nature, or we tell ourselves, delving deep into self-pity, that we simply aren't the chosen ones.
However, if we really ask ourselves deeply – we will recognize that none of this is true. It's simply boundaries we have bought into. Definitions that we have fit ourselves into. Pigeonholes that we have confined ourselves to. A shift in thinking can lead to a shift in believing. And a shift in belief equals to a shift in life. As I began to dwell upon abundance, as I began to tell myself that as the child of God I deserved the best and nothing but the best, a wonderful transformation began to happen.
Suddenly my lows weren't that low anymore. I just felt a sense of anchoring in this thought and whenever faced with challenges I convinced myself of this simple, but very effective mantra: "I am the child of God and I deserve the best and nothing but the best." Somehow bad times began to look like shifting clouds – here today, gone tomorrow and they just didn't matter that much any more. Life started becoming more – so much more.
I no longer stopped good from becoming great in my life. From simple incidents like accepting a compliment with a lot of grace, to seeing my bank balance tangibly multiply with no anxiety or guilt attached to it, little shifts in my attitude began to bring huge shifts in my life. Being grateful for every little shift and deepening the feelings towards it, helped attract more and more of it in my life. For the first time I can say this – and say this with absolute experiential authority… no matter who you are and in what situation you are, abundance can become a part of you with shifts in your thinking. Life was never meant to be just L – it was, is, and will always be XXXL. Let's experience the flooding, the torrent. Let's experience life as it should be.
See more articles on Personal Growth :
http://www.lifepositive.com/Articles/PersonalGrowth