Personal Growth - Lovers' reunion
by Chitra Jha
A seeker wife opens up new channels of communication with the fun-loving man she married for love a quarter of a century ago By Chitra Jha

Download PDF Format
I met an army captain in 1983, while travelling in a train from my hometown in Punjab to my workplace in Calcutta. It was a long haul, which offered ample time for a friendship to develop. This friendship culminated in holy matrimony after a year-and-a-half.

We were perfectly matched, as being from North India, I hadn't heard of female domination (in those days) and hailing from Bengal, he couldn't dream of male domination. So, we remained friends. Two beautiful children came along who further strengthened our bond. I had perfect parental support and amazingly fun-loving and progressive in-laws. We couldn't have asked for anything else, or so I thought!

As time went by, we started growing apart. Was my new-found passion for things spiritual to be blamed for this distance or was it the distance which drew me into spiritual waters? I couldn't be too sure!
| | | |
| --- | --- | --- |
|   | |   |
| | We were perfectly matched, as being from North India, I hadn't heard of female domination and hailing from Bengal, he couldn't dream of male domination. | |
|   | |   |
The idealist and the perfectionist in me couldn't accept this discordant state of affairs. I always had the feeling that I was making much ado about nothing, but my discomfort was 'real' to me.
There were two things which bothered me continuously. One was my husband's increasing girth and the second was his merry-making nature, which affected the first issue adversely.
Gradually, I started resenting our way of life itself. Every social event (and there was one every other day), became my nemesis. My husband couldn't help but notice my not-so-well-disguised disinterest. That became our silent battleground. We never voiced ourselves (and that was the biggest mistake) but every time I had to have people over or attend a party, I died a thousand deaths in one evening.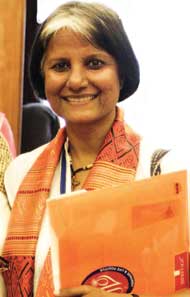 Chitra Jha is a life skills coach,
corporate trainer and verbal
ability instructor.
From being absolutely vibrant and fun-loving, I became stiff, silent and boring. I became a social misfit, while my husband was a social honeybee! All I ever wanted was to run away from my life, which had become a 'golden cage' for me!
The turn-around came, when I understood that my husband was mirroring my 'disowned' sub-personalities. I had 'disowned' my fun self, my addicted self (yes, I was addicted to things spiritual), and my 'over-weight' self (I was over-weight in my head). As I started consciously 'owning' these aspects of myself, I also realised that my lifestyle was urging me to consciously 'choose' what resonated with me and courageously discard what didn't. It was daring me to show that courage.
As I recognised both these aspects, I began to communicate with my husband. The technology came to my help and I began pouring my heart out in e-mails. I didn't know how he would respond to my candid confessions, but I had underestimated my wonderful twin-self. He is more generous than I am, as far as the 'heart' factor is concerned!
Now, he understands my needs just as I understand his, and we both consciously give space to each other, without any expectations...and the bond grows stronger by the day!
See more articles on Personal Growth :
http://www.lifepositive.com/Articles/PersonalGrowth