Personal Growth - Loving 'Me'
by Megha Bajaj
It was just a glimpse, but it was so beautiful, that it is etched in bold in every cell of her being, says Megha Bajaj

Download PDF Format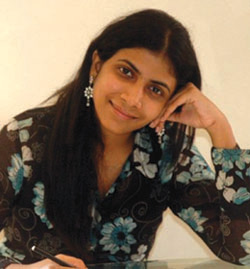 Megha is, above all, a seeker. These days she
is attempting to find herself in the role of a teacher
through the online writing course designed by her.
You can know more about her on
http://www.wonderofwords.org Considering the fact that I am with me, as intimate as can be, from birth to death, I really feel I have not treated myself well enough. So often, I have not loved myself the way I have loved another. So often, I had not given myself the respect that I give to others. So often, I have shied away from my company, and yearned to be with someone else. Things have changed. Oh yes, things have changed.

The breakthrough came one morning, when I was brushing my teeth. A seemingly mundane activity, and as always I was just running the well-used brush with my eyes cast downward, all over my 32 friends who help me eat, and make me smile. One more day, some more things to do, some more people to meet, some more people to make a difference to, some more money to earn – ho-hum! Suddenly, I do not know why, I looked up and looked at myself. Not just looked, but really looked at myself. Something happened. I could not just see the curls, the forehead, the black eyes, nose and lips; suddenly I felt like I could see 'me,' as if I could see my thoughts, my past, my true being, 'me.' It was just a glimpse, but it was so beautiful that it is etched in bold in every cell of my being.

Ever since, the way I look at myself has gone through a paradigm shift. I do not see myself as a few molecules tightly packed together called a body. I do not see myself as a network of wires and energy called mind. I feel like I am more, so much more. Not even going into the spiritual notion of past lifetimes and being the spirit – but just sticking to me, as I am, right now. It seemed to dawn upon me that I have gone through so many experiences, so many moments, so much of learning, so much of growing, so much of understanding.

From being an infant, completely dependent for everything, to taking those first few wobbly steps into freedom – from being surrounded by family,
| | | |
| --- | --- | --- |
|   | |   |
| | I have gone through so many experiences, so many moments, so much of learning, so much of growing, so much of understanding. | |
|   | |   |
to entering a classroom of strangers in nursery – from being weak in so many subjects to striving towards becoming the class topper – from learning about numbers to opening my mind to the geography of the world – from exploring myself as an adolescent to taking my first job – from learning
meditation
to teaching
meditation
– from marriage to getting a taste of being a mother to a few orphans every Monday for a few hours – from starting my own company to learning from every experience that it brings to me – 'I' have always been with me, running, sometimes, falling, dusting myself, getting up, and again running.
Somehow, the entire
relationship
with me just seems so special. I look at my mind and am awed by its monkey nature, the same way I would enjoy a child's antics. Thoughts do not worry me as much as they did. I just enjoy them – the good ones, the bad ones – whatever they are. Some deep-rooted insecurities that really troubled me earlier do not have that hold over me anymore. Like a piece of modern art – I too am made up of the blues, the yellows, and the reds. And that is okay. I can simply sit by my side, and not feel lonely for hours. I relish in doing little things for myself just the way I would for another. I just
love
this person called me, and
love
discovering her, a moment at a time. Ah, it feels so good, somewhat like finding a best friend again.
See more articles on
Personal Growth
:
http://www.lifepositive.com/Articles/PersonalGrowth