Personal Growth - Make a habit of it !
Our happiness, health and success depend on our ability to cultivate good habits and let go of bad ones. Cultivating habits is not easy, but here's help, says Suma Varughese

Download PDF Format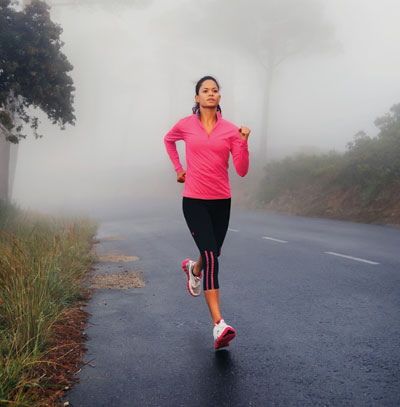 Ashish Virmani, a Mumbai-based journalist at DNA newspaper, recalls the time when exercise turned his life around. Says he, "When I was in my 12th standard, I hit a low phase. It was exercise that helped me get through that phase. I even got through an exam with flying colours that I wasn't going to appear in. The lift exercise gave me when I was feeling down was so amazing that I have stuck with it for the last 27 years!"

Prem Nirmal, founder of Enlightenment Education Societies and a Mumbai-based spiritual teacher, says, "I learnt six yogic exercises created by Yogi Tavariaji, through Dr. S K Parukh at Bandra (while in college) and continued doing them for seven years without missing a day! Apart from the physical benefits, the
"We are what we repeatedly do. Excellence then, is not an act, but a habit."
- Aristotle
commitment and regularity increased my confidence and self-esteem. I started understanding many things in spirituality which I did not understand earlier and my
meditation
also deepened after regular practice. Above all, it was a great feeling that I could pursue something if I decided to, for such a long time!
Atul Sharma, a Delhi-based cororate trainer, says, "I used to spend lot of
money
in buying stationery items and books which I wanted to stop. I wrote a letter to my inner child and put it in my wallet. Whenever I felt the urge to buy something, I would read the letter. To my surprise, I stopped wasting
money
and only bought stuff that I really needed."
Habits. That is what these three have in common. Each of them has cultivated and continued with a habit that not only gave them direct benefits but also enhanced their self-esteem. For those of us committed to the growth path, there are two steps that are crucial to our health,
happiness
and ongoing well-being. One is to do the things that will help us become more so. The second is to undo the things that pull down these factors. In other words, the cultivation of useful habits and the letting go of useless ones are what will fuel our pursuit of personal growth.
But neither of these is easy. We all have struggled mightily to get up at 5.30 am, or go for a walk or stick to a chocolate-free diet. Or alternatively, to kick a cigarette or alcohol problem, or stop consuming soft drinks. Experts say that the reason why it is difficult to do new things is because of the lack of neural pathways. This combined with the fear and discomfort involved in stepping into new territory makes it very difficult for us to stay the course.
And yet, there is no other way to create the
life
we want. Dr Nithin Nayak, MD, a former radiologist turned body-mind wellness coach, and an enthusiastic trekker, says that he has cultivated a habit of being comfortable with discomfort. He says, "I can travel as easily in flights as in unreserved compartments and buses. I can sleep on a railway platform as easily as I can in a seven-star hotel. I owe this capacity to my trekking life. The experience landed me a World Bank Project in Ethiopia few years back – which required me to live in areas with no electricity, roads, rooms, toilets or even vegetables. I actually enjoyed it! It also made my finances secure for many years."
Priya Gursahani, a Mumbai-based
life
coach, says that she cultivated the habit of loving herself and standing up with power. "It taught me that I too am important. It feels great to say 'I
love
myself' and mean it. The method I adopted was to accept every experience good or bad as a learning. Today, I get many compliments telling me I look beautiful and physically fit and that is because I have no stress."
Which is probably why we could use some gyan on how to form habits or kick the wrong ones. Here are some tips that have worked for me and others.
1. The 21-day rule. Conventional wisdom has it that if you stick with something for 21 days, it becomes a habit for life. Some experts dispute this and say habit formation does not need such a long time, but I would suggest that you stay with it. Many people, including me, have had good results with it. For instance I started a Five Tibetan Rites exercise programme a month and a half ago. During the initial 21 days, I did it doggedly every single day, save when I was ill with fever. After that, even if I skip it on days when I wake up late, I still get back to it and have hopefully formed a habit for life.
2. In an article on www.oprah.com, Leigh Newman quotes B. J Fogg, PhD, whose project, Tiny Habits, has helped thousands to successfully cultivate a habit. The thrust of his approach is to start really small. For instance, the writer's goal was to run every morning. Fogg advised her to simply get up in the morning, and put on her running shoes. That was it. The first day she went back to bed and slept with the shoes on. The second to the fourth days she used the extra time to make waffles for her children's breakfast. And the fifth day, she ran! The logic is that if we break into it gradually, the changes will not seem so intimidating. Besides which, we would have eased ourselves into the initial preparatory steps such as getting up earlier, or putting on our shoes. In a similar vein, Mary Jaksch of Goodlife
Zen
advocates kaisen, the Japanese method of constant self-improvement through incremental change. For instance, if we want to wake up an hour earlier, the kaizen approach would recommend waking up one minute earlier each morning and arriving at our target two months later!
3. Another tip that worked for Leigh Newman which I had also intuitively followed was to hitch the new habit to an old one. This is called anchoring. Since Leigh woke up every morning at 5.30 am to put on the coffee percolator, she was told to put on the shoes as soon as she switched the button on. I decided to hitch the Tibetan Rites to my already existing exercise routine for my bad back. It was therefore relatively easy to do them as I had already mastered the art of setting apart time for the exercises, and spreading the mat on the floor. Monica Agrawal has used the anchoring devise to cultivate some good habits within her and her son. She says, "I was no good at cultivating habits but I was really eager to give my son some good habits for life. I realised that it was no use preaching until I practiced it. Slowly, I started cultivating any habit I wanted to form in my child. For instance, I began a gratitude practice every night before sleeping, and now my son does a small 10 min 'Thank You universe' exercise before he sleeps. Also talking about likes and dislikes of the day before retiring has helped my child to know himself better. We have been doing this daily no matter what, since the last seven years. I think the
success
we have has is the strong anchor of bed-time, which trains the mind not to forget."
4. Fogg recommends that we celebrate heartily each time we perform our tiny habit. A 'Way to go'! or a 'Yay' will cut it. Self-appreciation is a powerful feel-good tool and will have us eager to get more brownie points from the person who really matters – us!
5. Create a buddy system. Persuade a friend to join the habit with you and call each other up once a week to keep yourself posted on the progress. The knowledge that someone is going to grade your progress report is a powerful motivator to keep going. I did do the Tibetan Rites with one more participant of the workshop I learnt it at, and that was a necessary nudge, but since she did not show much interest in getting back, I dropped the idea and continued on my own.
6. Write down your commitment. There is a direct link between the hand and the brain which is why writing anything down will enhance your chance of following through with it.
7. Focus on what you will get out of it rather than what you will have to give up. That will draw you to the goal. If we focus on the benefits of exercise rather than the loss of sleep, we are more likely to keep going. Add a dash of creative visualisation by seeing yourself looking slim and healthy, being able to wear more fitting garments, perhaps being able to travel more because of the
health
and so on.
8. Leo Babbutoa, the popular blogger of Zenhabits, suggests that you make your commitment public knowledge as incentive to stick to it.
9. Periodically reward yourself. For instance if you have stuck to the habit for 10 days, give yourself a treat, but nothing remotely connected to what you are trying to let go of. So no food if your habit is to lose weight and no TV if your intent is to stop watching it. Watch a movie, buy a book or if your goal is to lose weight, then buy yourself a new outfit as reward.
10. Replace lost needs. For instance if TV helped you relax and you want to stop watching it, use other methods to relax such as reading a book, playing a game of cards with a family member or meditating.
11. Never give up. If you fall off the bandwagon, clamber back in. Forgive yourself. Failure is okay. It is also the route to success. So continue the journey. Remember, Rome was not built in a day. Use each failure to recommit yourself to
success
and pick back the thread. Someday, you will run that marathon, you will lose that weight, you will meditate, and you will become enlightened!
See more articles on
Personal Growth
:
http://www.lifepositive.com/Articles/PersonalGrowth
Reader's Comments
Subject:
Thank you!
- 17 September 2012
Thank you for your reply. Will look forward to the article. Sorry, I am not in Mumbai.
by:
Naresh Mintri
Subject:
Make a Habit of it!
- 16 September 2012
In this article, Suma mentions about the Five Tibetan Rites exercise. What are they? Where can i find more details on it?
by:
Naresh Mintri
Suma Varughese replies: -17 September 2012
Hi, The Five Tibetan Rites are a set of powerful exercises that are quite popular. You could check on the net as there are many youtube videos available. If you are based in Mumbai, can put you in touch with some trainers. LP is going to be carrying an article on it shortly.