Personal Growth - Make friends with yourself
by Chitra Jha
The quality of our external relationships is directly proportional to the quality of the relationship with ourself, says Chitra Jha

Download PDF Format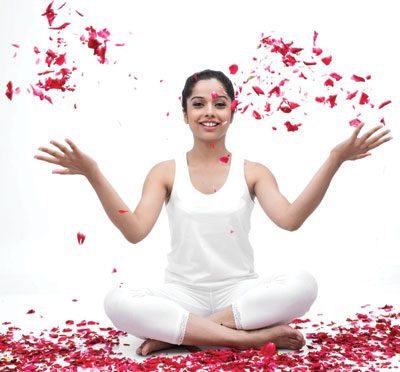 If we change our relationship with ourselves, our external relationships will automatically change, because no one and nothing is ever separate from us.

When a little baby arrives in this world, it considers itself an integral part of its mother. Gradually, it develops an individual identity, and starts relating to everything and everyone around it. That is how a personal world of relationships is created. The child grows up in this world, and experiences different emotions through the inter-play of various relationships. She looks for joy, happiness, contentment, approval, and love from the world around her. However, there comes a time when she realises that things and people, which made her happy at one stage of life, fail to create the same feelings later in life. That is when she begins to look at life with new eyes.

Something similar happened in my life as well. I progressively found happiness in my mother's arms, toys, games, siblings, friends, beautiful clothes, shoes, good food, outings, movies, money, boy friends, marriage, motherhood, a beautiful home, and children's success. Nevertheless, true inner joy, which I equated with complete peace of body, mind, and soul, 24x7, evaded me until I understood that the source of all my disquiet and happiness lay within me.

I also understood that my relationship with myself was the foundation for my world, and that the quality of my external relationships was directly proportional to the quality of my relationship with myself. Every now and then, I ask myself, "What am I thinking? What am I feeling?" An honest answer to these questions made me realise that in this world of duality, every thought and every emotion that I feel, has an exact opposite experience, and many shades inbetween, experienced by someone else somewhere. Hence, each thought, each experience, and each emotion is valid in someone's perspective.

As I watch my inner world, I learn that there is a continuous interplay of emotions inside me. It is like a free flowing dance. In our day-to-day world, we also experience emotions other than joy, peace, and love, which are outwardly expressed as 'tandava nritya.'
| | | |
| --- | --- | --- |
|   | |   |
| | What I do affects you and what you do affects me, even though we may live miles or even continents apart. | |
|   | |   |
The energy of emotions such as rage, anger, helplessness, jealousy, resistance, lust, and greed, has the power to create earthquakes, tsunamis, and volcanoes in our internal world, and in our relationships. This continuous inner phenomenon makes our lives a melting pot of emotions, and creates an entire spectrum of experiences.
Renowned spiritual scientist, Dr. Newton Kondaveti says, "As we look within, and encounter our thoughts and emotions, we begin to understand that our ego-personality is not just one entity but a multitude of smaller parts. Each sub-personality has a style and a motivation of its own, often strikingly dissimilar from that of others. Thus each one of us actually contains a 'crowd' within. There may be a rebel, a seducer, an intellectual, a wise sage, an organiser, and a victim, each with a different story. Often these parts are far from being at peace with each other. In fact, they are constantly scuffling in a war within us. Various impulses, desires, principles, obligations, and aspirations, are engaged in an unceasing struggle within each one of us."
My own experience tells me that since we operate in a plane of duality, whatever sub-personality I am aware of also has its polar opposite inside me, although it may be so weak that I cannot notice it. The imbalance between polar opposite sub-personalities creates conflicts within me. In order to create inner balance I need to find creative solutions to meet the needs of all my sub-personalities. The knowledge that each personality has its polar opposite makes it easy for me to understand the traits of my weaker sub-personalities. Once I identify these traits, I can identify their needs, which are more often than not about love, acceptance, acknowledgement, appreciation, and recognition. All these ingredients have the power to empower any relationship whatsoever!
My theoretical knowledge, gleaned through books and workshops tells me that the cornerstone of our personality, the core of our ego, is a group of primary selves, which develop to protect us from pain. They satisfy our inner needs, while avoiding the pain. This protector/controller group emerges early in our life. As a child, we look around and notice the type of behaviour that is rewarded and the one that is punished. We figure out the rules of the world around us, and create an appropriate code of behaviour for our specific environment. Our primary selves develop from this acceptable code of behaviour. They provide us with the basic frame of reference, within which to view our surroundings.
This is the operating ego, which defines our personality. This personality determines how we operate in the world and how others perceive us. As time moves on, other parts of our personality develop, each contributing its own flavour to the operating ego. Whatever primary selves we own and consider right for us, always have contrasting selves of equal and opposite energy that we disown. These disowned selves are our secondary selves. Most disowned selves are the ones that have to do with vulnerability, sensitivity, shyness, beingness, and expression of real emotions and feelings.
As I look at my reactions and responses, I realise that my judgments always come from my primary selves, which are the windows through which I see my world.
My understandings are echoed by my sister's friend Shaily Gupta. She says, "Our normal perception of ourselves is limited. We think that each one of us has only one distinct personality, but the truth is that each one of us houses a multitude of distinct sub-personalities. In order to understand ourselves in totality we need to acknowledge and know all these 'selves'. Each mode of our expression is an individual self, which is also mirrored in our external relationships."
Various teachers and gurus offer us a solution to handle the irreconciliable opposites inside us. According to them, we need to develop a new kind of ego personality that is always in the process of becoming more aware – an ego personality that can separate from the primary self and centre itself. This ego is known as the aware ego. Gradually the operating ego surrenders to the aware ego as it separates more and more from the primary selves, and integrates more and more of its disowned selves.
My personal experience tells me that until the work begins to separate the ego personality from our primary selves, the aware ego cannot exist, as it is born out of the separation from the primary selves. In order to develop our aware ego, which can hold all our conflicting selves in balance,
| | | |
| --- | --- | --- |
|   | |   |
| | Everything you and I say, think and do affects every person, place and thing in creation. | |
|   | |   |
we need to stop identifying with only our primary selves or only our secondary selves. Unlike our operating ego personality, which identifies with only our primary selves and disowns all our secondary selves, we need to accept and embrace both parties, without siding with any.
When we operate with an aware ego, we pay equal attention to all our selves but let our higher core self remain in charge. That is when we begin to live in awareness of the present moment, acknowledging ourselves completely in each moment.
My sister Pratibha has found a wonderful way of developing this awareness. She has made a list of 51 emotions. At the end of each day she looks at this list and places a tick against all the emotions that she has experienced during the day. Then she looks at her interactions with various people and things during that day. Over a period of time, she has seen a consistent pattern emerge out of this observation. In her words, "I have taken this list of 51 emotions from a book,
The laws of the spirit world
by Khorsheed Bhavnagri. At first, I thought that most of the emotions on this list are too extreme. I did not think that regular people like me ever experienced them; but as I started doing this exercise, I realised that I have experienced all these emotions at some or the other time. This was a great realisation. It not only made me understand myself more fully but also made me accept other people and their behaviours more completely. Every day I accept new aspects of myself and as I do that, I feel more joyful and blissful. I have also understood that all the emotions that I experience affect my relationships. Watching this interplay is great fun. I feel blessed to be able to spare so much time for this observation."
Yes, spending time with the self is important in developing a relationship with it. My younger sister Aruna is clear about this 'me' time. She says, "I used to look at my children and see how they enjoyed being with themselves. Ever since I have started spending time with myself, all my relationships have improved. In fact, my need has considerably decreased. The best part is that the less I need others the more I feel the love for them. This is quite a paradox, but that is how it is. I feel so much love for myself that it spills over into all my relationships. I feel absolute oneness with all that is. No wonder I can't stop singing and dancing!"
Aruna's experience is well supported by quantum physics, which tells us that the apparent separation of sub-atomic particles, the smallest particles that make this world, is an illusion. Even though the particles look separate from each other, they are actually not separate. All sub-atomic particles are interconnected. In other words, at the basic level all things in this universe are inter-connected. This also means that the electrons in one human body are connected to the electrons in every heart that beats, every bird that flies, and every star that twinkles in the sky. Isn't that amazing? We literally live in a seamless world where everything is connected with everything else – a mind-boggling thought!
The air that I breathe out mingles with the air that others breathe out. Similarly when I breathe in, a part of the collective breath enters my body. And this cycle goes on and on. A part of me keeps entering and exiting through a number of bodies. The same principle applies to food and water as well. The waste that you and I bring out becomes a part of the food cycle and the water cycle for the entire world. I realise that every atom in existence carries parts of not only all the wonderful people in my life; but also parts of thieves, thugs, and terrorists out there. This effectively means that despite my separate existence, I am one with all that exists; and hence, my relationship with myself affects all my relationships.
It is a fact that we all are one being expressing itself in different unique forms. What I do affects you and what you do affects me, even though we may live miles or even continents apart. Similarly, everything you and I say, think and do affects every person, place and thing in creation.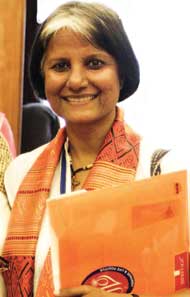 Chitra Jha is a life skills coach,
corporate trainer and verbal
ability instructor.
You may have heard this story of a monkey, who was trapped in a hall of mirrors. As the monkey looked all around him, he saw many monkeys looking back at him. In his nervousness, the monkey started growling. All the monkeys around him too growled back. When the monkey made faces, the monkeys in the mirrors did the same. Soon the monkey realised that he could not possibly fight with so many monkeys surrounding him, so he decided to sit quietly waiting for them to make the first move. To his surprise, all the other monkeys also sat down quietly.
Each one of us is also like that monkey, trapped in this hall of mirrors called Earth. When we understand the law of 'as within, so without', we realise that if we change our relationship with ourselves, our external relationships will automatically change, because no one and nothing is ever separate from us.
Dr. Kondaveti sums up our relationship with self when he says, "When we live in awareness, our higher self takes charge which is in harmony with all selves. When we live without awareness our ego or primary self runs our life, which does not represent our totality, as it disregards or disowns many selves."
When we start living this wisdom and create a loving and empowering relationship with ourselves, we also develop a sense of peace and well-being. As we change from within, at first there is a subtle difference, so subtle that people around us fail to notice it. Until one fine day, we transform, transforming our lives and relationships, for all to see and appreciate. Since we are the centre of our personal universe, ripples are created from this centre reaching everywhere, without us even realising it. That is the power of our relationship with our 'selves'.
See more articles on Personal Growth :
http://www.lifepositive.com/Articles/PersonalGrowth
Reader's Comments
Subject:
Making friends with yourself
- 28 January 2013
As a young boy born to a simple and humble scientist and loving doting mother- we were three siblings - growing up through school in Dehra Dun. Small means, simple two room rented house but the childhood was a happy one. There was scarity - sacrifice of our mother struggling to see her children
More...
by:
Sunil Kapila
Chitra Jha replies: -28 January 2013
Having lived a simple, humble life as a child and now being an army spouse, I connect with your thoughts and feelings, Sunil...:) but life grows and evolves...always for the better! Things arent always as they seem on the surface!