Personal Growth - Modesty rules!
Why provocative dressing is uncool, says Suma Varughese

Download PDF Format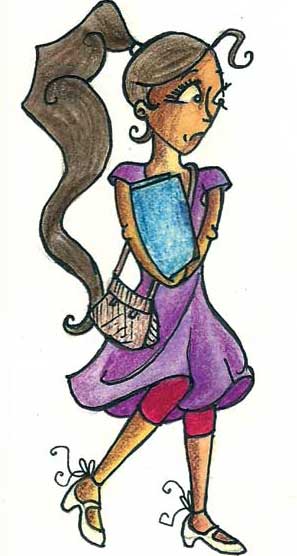 Sunday dinner at the Sathe's and everyone waited hungrily for Avijit and Nisha to bring in the goodies. Mom and Avijit had fixed up a Thai dinner complete with dainty cups of jasmine tea. There was a fragrant soup, then noodles and garlic rice along with a full-bodied Thai green curry. Just as they were all tucking in, Alka tried to slip in unnoticed. She had a slightly nervous look on her face and it was easy to see why. She had on a fairly daring halter top with the tiniest possible pair of shorts.

Her mother gave her a pointed look while Aji and Ajoba looked frankly unnerved. There was an unwritten rule in the Sathe family that the dress code would be modest. No one had transgressed it so far, but it was so like Alka's nonconformist spirit to do so. Nisha was too shy to draw attention to herself, and besides had an innate dislike for flamboyance. She loved her fusion Indian and Western chic which suited her artistic, dreamy personality to a T.

"Where did you get the top from?" asked Mom, trying not to sound too accusatory. "I am pretty sure I did not permit you to buy it."

"Sonali (one of her friends) presented it to me," responded Alka with a note of defiance, "I love it, Mom. I want to wear it. All my friends do. Why can't I?"

"What makes you love it so much?" asked Dad, genuinely curious.

"Well, it's in vogue, for one thing," said Alka, "and I don't want to look like a frump in front of the other girls. Besides, I look nice in this."

"But have you ever thought of the message you are sending out when you wear something like this?" asked Ajoba.

"Oh, come on, Ajoba. Don't be such a square," cried Alka. "How is it my problem how people react to me? You, Dad and Mom have dinned into me since I was old enough to understand that we are responsible for our thoughts, words and actions and others are responsible for theirs. Aren't you contradicting yourself?"

"Not really, sweetie," said Dad gently. "Hear us out. You know we would never lightly tell you what to do and if you are still unconvinced you can wear your halter but hear us out."

"OK," said Alka, mollified by her Dad's promise. She wasn't going to let go of her beloved halter without a fight. "How do you feel when someone tries to molest you on the train or in the bus?" asked Dad.

"I hate it." she cried fiercely. "How dare they touch me? I feel violated and dirty. It's unbearable. And quite frankly, Dad, I don't take it lying down. I haven't yet told you and Mom, but I have slapped a couple of mutts who tried to act smart."

"I am glad you can fend for yourself but be careful, dear. It's not always wise to get violent," said Mom. She added, "Do you agree that one of the reasons there are more atrocities against women is because women are seen as sex objects on TV, Internet and so on?

"Yes, perhaps," said Alka, cautiously.

Mom continued, "Do you also agree that our actions create reactions in others? For instance, if I were to smile at someone, I might get a smile back. Or if I were to scowl at someone, I might get a scowl back."

"Seems logical," Alka muttered.

"In the same way," pursued Mom, "if I wear revealing clothes, someone may want to take advantage of me."

"Oh, come on, Mom. That's old-fashioned thinking,"

"No, Alka, I mean it. If men are going to see me as a sexual object and react to me, then the best thing I can do for myself and for the rest of my sex, is to not dress as if I were indeed a sex object. In order to sell their products, corporates use women in their ads. Foolishly, we perpetuate this thinking through our vanity."

"Oh," said Alka, slightly cowed down by Mom's fire.

Dad took up the mantle, "Remember what I told you about the fact that while you cannot control the way others act, you can control the way you act?"

Alka nodded reluctantly.

"Well, this is part of it. You may not be able to avoid being hit on, but at least you can do your best to avert it by dressing modestly."

Alka looked glum.

"Let me tell you something else that may change your mind," added Mom grimly. "Girls like you may be able to get away with wearing revealing clothes because you look confident and capable of defending yourselves, but you know who get the worst of it?"

"Who?"

"The simple, shy girls who may be dressed in churidar-kurtas but molesters prey on them because they appear underconfident and afraid.
| | | |
| --- | --- | --- |
| | | |
| | The Sathe family lives in Mumbai and consists of Ashwin Sathe, a trainer and counsellor and Abha Sathe, a writer of children's books. Ashwin's parents, known as Aji and Ajoba, stay with them. Ajoba is a retired college professor turned Vedanta teacher. Ashwin and Abha have three children: Avijit (20) an engineering student, Nisha (19) in her second year in college studying Eng Lit and Alka (16) in her class 10. The family meets every Sunday over dinner, where problems are thrashed out and solutions offered. | |
| | | |
The desire you girls arouse in them with your irresponsible dressing is sated by these poor girls. Do you really want to be responsible for that?" "No!" gasped Alka, horrified. "Mom, I never knew that." "Few do, because few care to think of the consequences of their action. But these consequences happen, nevertheless," said Dad quietly.
"Akku," said Avijit, using his pet name for her, "Dad and Mom have a point. I know what goes through a boy's mind when he sees a girl dressed provocatively."
Alka blushed, "Ok, ok, I'll dress in a burkha from now on," she replied snappily.
Everyone laughed.
"Look, modest dressing is most attractive," said Dad. "It is much more intriguing to suggest than to reveal. Take it from me."
"Develop your own dress sense," encouraged Mom. "Find out the fits that suit you, the colours that look good on you, the kind of look that captures your personality, and I promise you that you will stand out, even if you do not show flesh."
"Hmmm," said Alka, intrigued by the possibilities unfolding before her. "Perhaps you are right. Excuse me a minute." She slipped out and was back in a flash, wearing a simple sleeveless dress with a flawless fit.
The family clapped. "Now that is vintage Alka," exclaimed Dad, giving her a high five.
See more articles on
Personal Growth
:
http://www.lifepositive.com/Articles/PersonalGrowth