Personal Growth - Not the doer
by Megha Bajaj
An inner shift caused Megha Bajaj to understand that things happen when they are meant to and she is, at best, an instrument through which it happens

Download PDF Format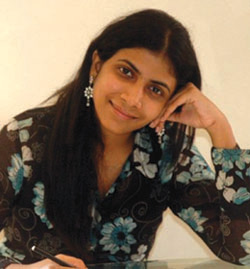 Megha is, above all, a seeker. These days she
is attempting to find herself in the role of a teacher
through the online writing course designed by her.
You can know more about her on
http://www.wonderofwords.org I have found it nearly impossible to follow one of the most important laws of spirituality – the one which says focus on the actions, and not on the fruit of actions. Almost every sacred doctrine emphasises on the importance of detachment to results – as it only makes you restless. Be in the now, the wise men say – and do what you have to... and leave the rest to Him.

Being intense and passionate about whatever I do, it was challenging for me to convince myself that the result didn't matter. When I gave everything I had to a relationship – of course I eagerly waited to see if it turned out right. When I did all I could at a job – I wanted it to take me to the next level professionally. When I put in all the right efforts towards becoming healthy – becoming healthier did become an obsession. Would I ever learn to be detached to results? The answer came in the days that followed...

A few of us had taken 30 children to Pune for a personality development camp. We had kids aged from five to 13 with us and to say that the first few days were challenging would be an understatement. Some of the kids just refused to let their guard down and it seemed impossible to reach out to them.

On the last night – while most had opened up to us, four kids remained unresponsive. As I sat beside a campfire – I felt a sense of failure. I hadn't been able to do what I wanted to for these kids. I felt disappointed with myself and wondered how I could improve my skill sets to get through to these 'tough nuts' too.

As the fire cackled, my gaze fell upon the happily singing group of kids who had seemed so withdrawn the first few days – but really seemed to have broken a lot of inhibitions over the past few days. With a sense of growing pride, I thought, "So what if we couldn't do something for those four… I am so happy about what we have been able to do for these kids..."

And then the shift happened. I realised, as humility descended, that in reality we had done nothing.
| | | |
| --- | --- | --- |
|   | |   |
| | The time for these kids to overcome some of their fears had come, and so they had overcome it | |
|   | |   |
The time for these kids to overcome some of their fears had come, and so they had overcome it. We had been mere instruments in the journey. In reality – everything happened because it had to... when it had to.
Suddenly, both the
success
and the failure didn't seem like my own. I would keep working on improving myself – but ultimately everything in life, mine and others, would happen when it had to. There was nothing I could do to slow the process – and neither was there anything I could do to hasten the process. For the first time I experienced a glimpse of non-doership and in that instance it dawned that since 'I' wasn't the one doing, 'I' shouldn't be the one bothered about the results either.
As an instrument – it was my job to make sure I could be the best instrument possible. I would hone my skill set, I would
work
on purifying myself – but there my responsibility would end. After all, I can buy the seed. I can plant the seed. I can water the seed. But it is He who finally enables the little green sapling to burst forth. There is nothing I can do to make the little life arrive.
There has been a growing sense of acceptance ever since. My desperation for results has lessened and I find more time and energy to do what I can. Ah… welcome peace.
See more articles on
Personal Growth
:
http://www.lifepositive.com/Articles/PersonalGrowth