Personal Growth - Notes to myself
by Anisha Anilraj
Maintaining a personal journal is similar to having a close confidante, who offers exclusive solutions to personal problems and charts your growth course as well, says Anisha Anilraj.

Download PDF Format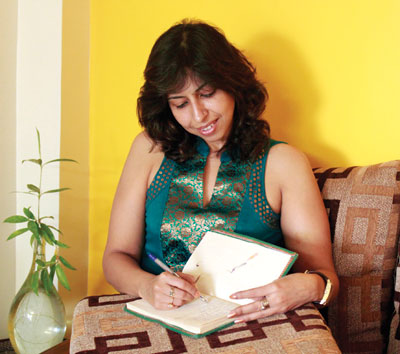 Recently, the popular game show Kaun Banega Crorepati hosted Rosalin Bardhan as a contestant.

Rosalin's husband, Sub-Inspector Ajit Bardhan was killed by Maoists in Sundargarh in 2009. At that time, Rosalin was pregnant with their first child. While talking with the show's host, Amitabh Bachchan, she revealed that every night she writes letters to her dead husband, in a diary. She writes about her day, her feelings, and how their daughter is doing – the daughter who Ajit never saw. Writing, said Rosalin, made her feel like he was always by her side. When Mr. Bachchan suggested that she publish her diary someday, she replied that it was meant for her daughter to read on growing up.

Writing journals or diaries can be a harmonising and enriching experience. You simply have to put pen to paper and allow words to flow. The result is a deep sense of peace, and sometimes a revelation that can only come by expressing your deepest thoughts.

Each individual who maintains a journal carries his own unique style. To some, their journal is their close confidante, where they pour out their most private thoughts and musings. Others include items which are of inspirational or sentimental value, like sketches, newspaper cut-outs, ticket stubs, and paper napkins with doodles on them.

Arati Rao, a photojournalist and graphic designer from Bangalore, has been journalling since her childhood, "I love to write. Journalling gives me clarity and allows me to think through things," she says. Although she does not journal everyday, she carries her diary wherever she goes. Having maintained journals for a long time, she can discern changes in her writing style also,
| | | |
| --- | --- | --- |
| | | |
| | Journalling is all about writing for yourself. When you put pen to paper, you embark on a journey of self-discovery and absolution. | |
| | | |
"When I was in school my writings were event-based, but now my journals are all reflections. Earlier, the style was narrative, now it is almost lyrical," she adds. Arati writes when she is happy or sad, inspired or just because she feels like it. Being a designer, she also sketches in her journal on occasions and finds the practice cathartic.
Growth graph
Journals offer us a retrospective view of our lives and when revisited tell us how we grew over the years. The act of writing keeps us in touch with our innermost feelings, bringing about a deep sense of self-awareness.
Veenu Banga, a wholistic lifestyle and health coach based in Florida has been journalling since 1998. "I displayed the sunny side of my personality to the world easily, but could not share my worries, fears, and anxieties etc as effortlessly," says Veenu. She began journalling after getting inspired by her daughter Kanchan Banga, who had been at it since she was 13. "Journal writing evolved into being my shrink couch gradually," she shares. Today Veenu writes not only about her worries and difficulties, but also chronicles her dreams, poetic inclinations and thoughts on topics that move her. For her, journal writing has evolved from being an outlet for her shy personality to being a creative and spiritual release.
Veenu's daughter Kanchan, who is assistant director at an Australian government transportation firm, has been journalling since she left home to go to boarding school in the USA 20 years ago. Since the distance between mother and daughter was significant and the internet was in its infancy, Veenu suggested that Kanchan record her days in a diary. She wanted to read it on Kanchan's return for holidays. Though initially Kanchan wrote for her mother and ritualistically gifted her journals to Veenu every Christmas, over time Kanchan began writing for herself. Looking through her journals of the past 20 years, Kanchan not only revisits her feelings through various stages in her life, but marks her progression too by seeing the choice of diaries she made, impacted by the social milieu of her times. She says, "Writing in my diary makes me feel a part of that universal human experience because I am sure there is another 34-year-old in Santiago, Singapore or Shimla who is facing similar dilemmas of life, love, and happiness. Our context might be different but all of us in the end really want the same things."
It is easy to get lost in the mundane. However people who journal on a regular basis, do constant introspection. Perhaps this grants them the ability to remember the truths of oneness and equality. One of the greatest benefits of journal writing is that it makes one grounded, happy and empowered to lead life on an even keel. All of us have a creative streak in us, which gets muted or dulled over time. Journal writing can rekindle that deep connection and brings to the surface our hidden selves.
Emotional detox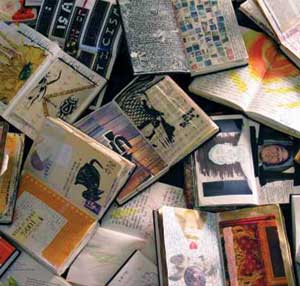 A plethora of journals for every conceivable purpose
When Chitra Jha, a wholistic healer and spiritual scientist based in Srinagar, started journalling in 2001, she practiced timing herself. "I would set an alarm for 20 minutes and write whatever came to me without editing or holding back," she says. As words poured, Chitra released the suppressed feelings and negative energy stored up within herself, only to realise that she had embarked on a cleansing process. From 2004 onwards, Chitra started to maintain three journals called, 'My love journal,' 'My forgiveness journal,' and 'My gratitude journal' respectively, and each day she fills a page expressing love, gratitude and forgiveness. In 2007 Chitra added a fourth journal, which she kept by her bedside and catalogued with her dreams. "I focus more on the emotions I feel than the structure of my dreams," says Chitra who found a strong correlation between what she felt during her waking hours and her dreams.
The experience of writing helped her overcome negative emotions and make room for positive ones.
For Chitra, her journals help her in the process of knowing and understanding aspects of her emotional self. "Many new insights and facets are revealed almost everyday and I feel enriched beyond belief," she adds.
On our path of self-awareness, there is no better form of introspection than writing. When we journal, we offer ourselves an opportunity to rise above our worries. The solutions we come up with are ideal because they are aligned with our feelings, circumstances and situation in life.
A stress-reliever

With a background in microbiology,
Anisha is now a writer. She lives
She lives in Chicago with husband
Susheel and cat Simba
A study performed by the department of psychology at the University of Iowa, tracked the effect of journalling in 122 students who were randomly assigned to three groups with different writing tasks. One group was asked to write about their emotions related to a trauma, the second group was asked to focus on their thoughts and emotions related with the trauma, and the third was asked to write about factual media events. Researchers discovered that the students who wrote focussing on emotions alone reported more illness symptoms. In contrast, the group who was asked to write about their thoughts and emotions developed greater awareness of the benefits of the stressful events, indicating that their self-analysis allowed them to overcome and heal.
When undesirable events come to pass, it is important to allow ourselves to feel whatever comes to us naturally. However, it is also important to learn, evolve, and move on. Journalling about stressful events allows us to vent our negative emotions, enabling us to perform a self-cleansing rite simultaneously.
Ritesh Garg (name changed) has a high-pressure corporate job, "It comes with irritants I feel unprepared to deal with," he shares. The high expectations, nepotism, and incompetence of some of his co-workers would frustrate Ritesh to a point where he would lose his temper. The only thing which made him feel better was expressing exactly what was on his mind. "I began writing out my angry thoughts and as soon as they were out of my system, I could think clearly again. So even if they were bad thoughts towards people, I felt relieved on giving vent on paper. It was like a detoxification process. After this I could express my ideas to my co-workers more effectively and I found them more responsive." While Ritesh doesn't maintain a special journal or diary, he puts his writings in an old shoe box. He admits that he writes when he is happy too. "I write out my plans for the future. I find that once I'm done venting, positive thoughts come to me naturally. Now I write on a regular basis."
While it may seem that the greatest challenge in journal writing is inculcating the discipline to write regularly, the more daunting task is to bare your soul and write the truth. For this reason, most veteran journal keepers will recommend that you keep your writing private. If you think someone is going to read your journal, you automatically begin to hold back, tone down and sugar coat. Journalling is all about writing for yourself. When you put pen to paper, you embark on a journey of self-discovery and absolution. Your writings cleanse your mind as you learn to be compassionate and gentle with yourself.
Best friend
Keerti Singh (name changed) has been overweight most of her life and during her college days cultivated the habit of binge eating and purging. "I felt so conscious of my looks. I was part of a group of friends who were all really thin and I always felt ugly around them," she recalls. Her unhealthy habits caused Keerti to have several fainting spells and develop other health issues for which she had to consult many doctors. "The diagnosis changed with every change of doctor, but there was a consensus among them that I might be depressed or stressed, so my parents made me see a therapist on a daily basis," she says. Although she liked her therapist, Keerti could never admit to her habit and began writing a journal as per the therapist's suggestion. "When I began writing in my diary, I recognised a pattern. Whenever I spent time with certain friends who said unkind things about my appearance or around relatives who made me self-conscious of my weight, I tended to eat more," admits Keerti. "I even noticed patterns of binge eating when it came to matters concerning a boy I really liked back in college, who did not share my affections towards him." Keerti found strength in the pages of her journal and eventually two years after writing out all her worries, she was able to adopt a healthy lifestyle. "My habit of writing in my diary saved me," Keerti accepts. "I love my therapist, but I needed to write some things down and figure it out for myself because my therapist cannot be with me throughout my day and I cannot tell her all my secrets," she adds.
The exercise of journal writing led Keerti to examine herself objectively and coupled with the therapy sessions, helped her to deal with her emotions. It also emphasises the fact that we need to be completely honest with ourselves in order to grow. Writing not only helps in realising our fears but it also helps us come up with solutions tailormade to suit our needs.
If I have to rate the virtues of journalling, enabling us to simplify would figure on top. It helps us to slow down and observe how events and experiences influence us. It gives us the opportunity to reflect on our past and see how we have grown. In moments of great distress, when even our dearest friend might be unable to comfort us, we find an ever-patient listener in ourselves as we write.
See more articles on Personal Growth :
http://www.lifepositive.com/Articles/PersonalGrowth