Personal Growth - One workshop, five ahas!
by Chitra Jha
A seeker attends a transformational workshop and discovers insights of stunning power

Download PDF Format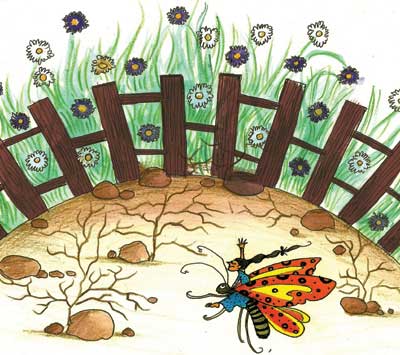 When I read Dr Newton's first book, Consciousness Heals, in December 2007, it resonated with me. So much so that I contemplated creating a workshop based on the book! That workshop never materialised, but in March 2011 Dr Newton gifted me his wonderful workshop by the same name We, some 30-odd participants, went through written exercises, identified our intentions and issues and made some drawings. I drew the symbolic image of my issue as a 'barbed wire fence', my future healthy body as a 'fairy', and 'butterfly' as my symbol of complete health and vitality.

Beauty of the leap

During the first meditation, as I looked at the barbed wire fence, a voice in me said, 'Take a leap of faith'. As soon as I decided to back up, run, and jump across the fence, I turned into the fairy of my future health body, and as I took the leap of faith, the fairy turned into a butterfly and flew above the fence. As it flew higher and higher the fence became insignificantly smaller and smaller. It was my first 'aha' moment.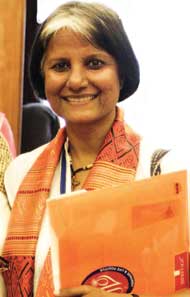 Chitra Jha is a life skills coach,
corporate trainer and verbal
ability instructor.
Contact: mailto:chitrajhaa@gmail.com In the second meditation, I called upon Archangel Raphael, the angel of healing. He said, 'You yourself are a healing angel' and raised both my arms, which immediately turned into feathery wings. Healing rays emanated from my body. This was the second 'aha' moment.

For the third meditation, my body started moving and stretching. While I was enjoying the stretch, messages of wholeness and perfection started pouring in. We thought of our core limiting belief. As I thought of mine, 'I am not valued enough', a voice said, "You don't value things in your life: all the abundance, the freedom, wonderful people, your talents. Enjoy your beautiful life. It is a gift. Value your gift. When you value yourself and your life, you are valued." This was the third 'aha' moment. I drew the symbol of this experience as the sun radiating rays of all possible colours. A message flashed inside, "All is one. One is All."

Rainbows that illuminate

The fourth and the final meditation decoded this message for me. I saw all my bodies: physical, mental, emotional, and Higher Self merging into a big bubble of white light with streaks of silver and gold shimmer, and rainbow colours. Soon, I noticed that this bubble was rotating around its own axis as well as revolving around a huge ball of light. I received an insight that in a family, the father represents the sun energies and the mother represents the earth. The earth (mother) rotates upon its own axis and simultaneously revolves around the sun (father) along with her satellites (the children). The children continue to rotate upon their own axis and revolve around the mother as well. This family (solar) system is encased in a large bubble, which revolves around the grandfather (central sun), while rotating upon its own axis simultaneously. I saw the human race as bubbles rotating upon their own axis and revolving around various suns in various formations. Soon I started seeing my entire body as revolving bubbles. There were circles within circles within circles – an incredible scene.

It was the pictorial representation of the entire universe. I realised that these revolutions are the key to smooth functioning of not only the cosmos but also humanity. Relationships go
What the caterpillar considers the end of the world, the master calls a butterfly.
- Richard Bach
sour when entities either stop rotating upon their own axis (which is what self-love is all about) or stop revolving around their sun (the father energies). I saw great confusion and chaos when the sun (father) starts revolving around the earth (mother) or the satellites (children). In that moment I understood the genesis of my own issues and the general problems of most people on earth.
I also understood why people store fat upon their bellies. It happens when their power is not acknowledged. When earth stops revolving around the sun, it builds defenses around the solar plexus chakra…the circle within circle, to cover its unacknowledged light.
Becoming light
Later, I understood the mystery behind my 'stretch'. In a workshop on Enneagram I had learnt that as a Number five personality I have a tendency to gather and hoard knowledge as an armour. Now I equated my pre-workshop state to that of the caterpillar, which chomps all the leaves in sight, with an insatiable appetite. The caterpillar is only concerned about the leaf in front of him and gobbles it up. It grows fat with all that food and gets into its shell to become a pupa. It then internalises all the knowledge and starts stretching. And then the glorious butterfly emerges free of all restraints. It flits from flower to flower, spreading beauty, joy and cheer besides pollinating (spreading knowledge, wisdom, faith and grace). With this 'aha' moment, I understood the process of metamorphosis that I went through and feel infinite gratitude.
See more articles on Personal Growth :
http://www.lifepositive.com/Articles/PersonalGrowth