Personal Growth - Own it
by Megha Bajaj
When you own your negative emotions as much as you own your positive ones, you transcend duality, says Megha Bajaj

Download PDF Format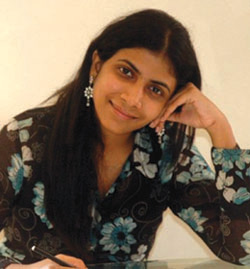 Megha is, above all, a seeker. These days she
is attempting to find herself in the role of a teacher
through the online writing course designed by her.
You can know more about her on
http://www.wonderofwords.org So much of a seeker's struggle is in wondering how to gradually reduce, and finally overcome negative emotions. Something within us says all the wonderful, beautiful emotions – love, peace, enthusiasm, gratitude, wonder – are God, and all that is ugly in our eyes – greed, fear, resentment, hatred, jealousy – isn't God.

I was no different. From meditating, to reading; from listening to my guru, to attending his spiritual retreat – I did all that I could to somehow make my life full of the positive, and free of the negative. However, even after eight years I still found myself struggling with intense pangs of negative emotions that showed up every now and then. I wondered where I was going wrong. Wasn't I doing enough for self-purification? Whenever I would ask my guru about it – he would smile gently and say, "It will happen, when it will happen!"

For me, most of my answers come in the deepest seat of silence. One of those evenings, with peace diffusing every cell of my being, I asked myself, was there any way to make all the negative emotions go away? And that's when I realised… if God is everything, then everything is God. The very act of calling one emotion divine, and another, not so, was creating the conflict – the split. Ever since, I have started accepting my thoughts and emotions as a whole. In fact, not just accepting – but going a step ahead and owning them.

Suddenly, there is no shame in me when I feel a pang of resentment. In fact, I own it. I become the resentment. I allow it to fill me. I allow it to engulf me. I allow it to become me.
| | | |
| --- | --- | --- |
| | | |
| | The minute we start feeling 'neutral' about something, it loses its hold upon us. As long as we charge it with resistance, it bothers us. | |
| | | |
In the complete, pure acceptance of what is, the magic happens. As I stop resisting something, as I start owning it, it stops bothering me so much. Much like a clock in my hall, ticking away, it exists; I know it exists and yet its existence doesn't bother me anymore.
The minute we start feeling 'neutral' about something, it loses its hold upon us. As long as we keep charging it with resistance, it keeps bothering us. When you change it to – something exists, and I accept it exists… then its very existence stops bothering us.
The mind needs something to 'solve.' All the time it needs to do something that will make it feel like it exists. And matters. So many issues are created internally so that it can always be in a state of 'finding solutions'. In acceptance the mind no longer has anything to do because suddenly everything is okay – everything seems to be the way it is. The mind resists acceptance – it bombards it with thoughts and feelings. However, if 'you' can hold on to acceptance long enough as the 'real you', gradually the mind's attempts to create conflicts lessen. What you starve of energy, recedes.
The only way to let go of all negative emotions is to own them. Without fear, without guilt, without shame. Accept it as a part of God – and see how it gradually loses its hold upon you. Pure, bubbling life force begins to fill you up instead… ah, what a feeling it is.
See more articles on Personal Growth :
http://www.lifepositive.com/Articles/PersonalGrowth