Personal Growth - Pet Therapy
by Shivi Verma
With their unconditional love, animals nourish and nurture the human soul and teach us the signal lesson of dropping expectations, says Shivi Verma

Download PDF Format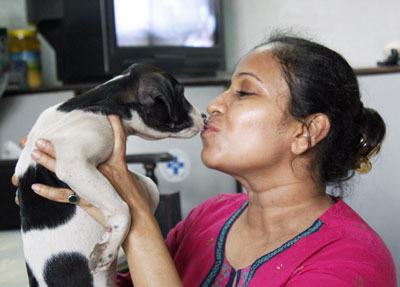 Dr Nilima Paranjape, ardent animal lover and vet, adoring her pet I was odd as a child. I did not fit the norm. Given to thinking, solitude and spending time with nature, I always attracted censure from elders, who would coax me to behave my age. Not knowing what they meant and often bruised by their sharp tongues, I found refuge in our pet dog Moti, who accepted me wholeheartedly and unconditionally. I would spend hours in his benign company, caressing, petting, loving and being loved in return.

I would often steal rotis from the kitchen and feed my wordless friend, much to my grandmother's consternation who was convinced that the purity of her kitchen would get polluted by a dog-licked hand.

Moti, on the other hand, recognising only the language of love, became my loyal follower. So much so that when he saw my bags being packed and loaded on a rickshaw – I was leaving home to live in another city with my parents – he gave chase on all fours, until we reached the railway station, deaf to my shouts telling him to go back. Later, I came to know that Moti left the house and spent his remaining life with roadside strays.

Even though animals suffer much abuse from humans, they are nevertheless steadfast while responding to our love and friendliness. No wonder that animal lovers find that their bonds with animals are among the most nourishing they enjoy in their lives.

Animal tales

Nitin Ade, 34, an accountant in a publishing company, recalls that the family cow in his village home, would stop eating if anyone in his house fell ill or did not return home on time from the fields.

"Cows form deep bonds with their owners. I always enjoyed caressing the flesh dangling from my cow's neck and she happily obliged. I felt happy and well in her company." Hema Srivastava, 54, a schoolteacher from Lucknow and a passionate animal lover, says that pets make her feel real and bring out the best in her. "Animals give you selfless love. They are affectionate and expect nothing from you. In their company, loneliness flies away and stress and tension disappear. When I come home after a hard day's work I like to unwind with my pet dog Poto." Hema and her husband had adopted a dog who was abandoned by his previous owner because of his blindness. Not only did they give him love, food and shelter, but also had him operated for cataract. Sadly, the animal lost his life after falling from a terrace.

Dr Nitin Kalekar, 35, a veterinarian in an NGO called In Defense of Animals in Mumbai says having a pet is cathartic. He adds, "These days when families have become smaller, a pet is like another sibling in a nuclear family. Dogs also prove to be great company to old people. While family members can show irritation to the sounds of coughing and wheezing from the elderly, pets stick by them, and make them feel valued." But he also adds that keeping a pet is a responsibility and should be done only if you have the ability to stay committed to the animal's well-being as long as it lives.

For Nilima Paranjape, 39, a resident of Malad, Mumbai, relating with animals is no less than a spiritual experience. A vet by choice, Nilima houses a cat and two puppies and daily supports eight adult dogs in her vicinity by feeding them and spending time with them.
 
 
Until one has loved an animal, a part of one's soul remains unawakened.
- Anatole France
 
 
"The best thing about an animal is that it exists completely in the present. He does not think and leads you also in that state where thinking stops. When you are in the company of an animal, you can see a miracle unfold. Watching their activities, manoeuvres, and expressions fill the heart with joy. Pets bring about a state of thoughtlessness in me. I call them 'the guardians of being'", she says philosophically.
Speaking on the therapeutic benefits of having a pet, Shiela Naharwar, president, Bombay Presidency, Kennel Club, says, "Medically also pets have been known to have a healing impact on the keeper. Relating with a pet lowers the blood pressure, regulates the heart beat, reduces palpitation, nervousness and have an overall calming effect on you. In foreign countries dogs are used to help heal critical care patients, disturbed or sick children. It is a pity such a thing has not started in India."
She adds, "Abroad people volunteer their time and effort to take their pets to hospitals and trauma centres where they help in making the environment cheerful, friendly, and lift the general spirit. Pets have a huge therapeutic benefit on people suffering from mental illness such as depression, schizophrenia, anxiety disorder, attention deficit disorder, autism and a host of developmental disabilities," she adds.
The Baker Medical Research Institute in Melbourne, Australia, showed that the health benefits of having a pet were far reaching. A study of some 6,000 patients revealed that those with pets had lower blood pressure, a lower cholesterol level and, as a result, a diminished risk of heart attack. American researchers have established that, even after a heart attack, pet owners are more likely than other coronary patients to be alive a year later. The reasons are simple, experts say. Pets help reduce our state of arousal, which reduces blood pressure. We are fulfilling our most primitive and basic need – the need for touch. Even hardened criminals in prison have shown long-term changes in their behaviour after interacting with pets, many of them experiencing mutual affection for the first time.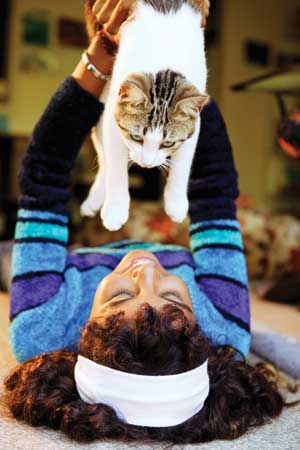 The ineffable joy of communing with a pet
In Cambridge, England, researchers discovered that within a month of taking a cat or dog into their home, new owners reported a "highly significant" reduction in minor ailments. Dr Yokoyama Akimitsu, head of the psychiatric unit at Kyosai Tachikawa Hospital in Tokyo, says pets can also help us by making us feel less lonely, by creating a feeling of being needed and by encouraging social contact with others interested in animals. They are also a stimulus for healthy exercise, keep us busy and make us feel safe. An animal-therapy programme run by the Japanese Animal Hospital Association has over 900 volunteers who take their dogs, cats and other animals into 160 hospitals, children's homes and retirement centres throughout the country each month.
Studies have found that:
• pet owners are less likely to suffer from depression than those without pets.
• People with pets have lower blood pressure in stressful situations than those without pets.
• Playing with a pet elevates the level of serotonin and dopamaine, which calm and relax
• Pet owners have lower triglyceride and cholesterol levels ( indicator of heart ailments)
• Pet owners make 30 per cent fewer visits to the doctors than those without.
Adding a pet to a family enforces positive lifestyle changes as well: Taking the dog out for walk, riding a horse or simply chasing a kitten around are fun ways to fit healthy exercise in your routine. It becomes much easier to break the ice with people if you are with a pet. "My lab Bruno has helped me become popular in my peer group and has attracted more girls to me than I ever could have on my own charms," says Saurabh Mukherjee, 21, resident of Mira Road, Mumbai, with a chuckle. Having a pet also adds discipline to your life. No matter how busy, sleepy, tired or tied up you may be, you have to walk the dog, feed the cat, and clean the water in the fish tank.
Pets, especially dogs, have proved to be a great blessing for the elderly, disabled and with those suffering from seizures and fits. Trained dogs act as good guides to the visually challenged, and the physically feeble or old. They can sniff a seizure and alert the patient much before it happens.
At a time when many parents opt to have only one child, a pet becomes a natural companion. Shivani Kapur 34, resident of Kanpur, shares a story. "My cousin Meenakshi (who is a single child) got attracted to my pet dog Lucy, in her brief stay at our place and asked her parents for a pet on returning home. Soon a furry female spitz puppy was adopted, also called Lucy.
| | | |
| --- | --- | --- |
| | | |
| | Humans love animals for what they bring and do not expect them to be any better than what they are. They easily forgive the trespasses of animals but are not willing to do the same with fellow human beings. | |
| | | |
The lonely girl showered all the love she carried in her bosom for a younger sibling on the friendly puppy. She would come rushing home every Saturday (she lived in the hostel of a big college in the adjoining city) just to play with the new family member.
Unfortunately, a jealous neighbour abducted the dog one night and killed it by throwing it down the terrace. Unwilling to have their daughter's heart broken, the distraught parents procured yet another female spitz puppy. Happily, the new pet slipped easily into its predecessor's shoes, and Meenakshi continued to cuddle up to her 'Lucy'."
Even responses coming from a tiny fish can enliven the sagging spirits of a depressed person. Leena Verma, 30, was leading a depressed and lonely life with emotionally reclusive in-laws in Delhi. One day her sister-in-law gifted her a tiny goldfish in a bowl. "My kids called the little thing 'fishu' and she would wag her tail frantically, or knock at the wall of her glass bowl frequently on seeing me pass by. The sight of a small living being reacting positively to my presence was very uplifting and heart-warming. I loved to steal time away from my cumbersome and spiritless routine and sit watching the finned packet of delight," she relates. Priyanka Anand, 27, a social worker says, "Animals give you love and trust but don't pass judgement or worse still, give you advice."
Perhaps that is why we are willing to go to any lengths to look after them. Suzanne B. Phillips, an American psychologist, says. "It is not that animals don't have demands or cannot be difficult to have around. Some will only have certain food, many have a fetish for chewing footwear and a vast majority of them will insist on sleeping on the bed with you. The fact of the matter is that human beings don't have any expectations from animals and never hold any grudge against them even if they disobey, damage things or ruin food or furniture. Humans love animals for what they bring and do not expect them to be any better than they are. They easily forgive the trespasses of animals but are not willing to do the same with fellow human beings."
Animals show us what we are capable of when we drop expectations. All that we have to do is to extend the same innocent touch to a lonely old man, a traumatised child, a scarred teenager and not fear rebuff or retaliation. For if they can love so purely, surely we can aspire to do the same?
See more articles on Personal Growth :
http://www.lifepositive.com/Articles/PersonalGrowth