Personal Growth - Protect yourself
by Anjali Misra
How do you safeguard yourself from negative energies that may harm you? Here's help

Download PDF Format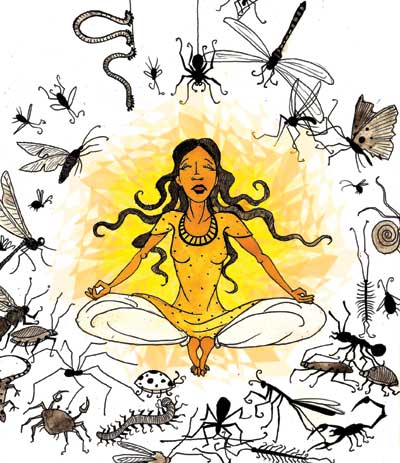 When Ben and his family moved into their new house, the event triggered off a series of unfortunate events. A phase of depression and misfortune appeared to have set in. He started having nightmares, especially while sleeping in the master bed room. He would sometimes wake up frightened in the midst of his dream. His wife also felt very uneasy sometimes in the kitchen as if someone was watching. Their children started falling sick much too often. Finally, they decided to shift elsewhere. Surprisingly, after they shifted to a new place, things returned to normal after a while, except for the memories of the bad experiences.

Life often presents us with inexplicable conundrums. For no explicit reason we feel uncomfortable in the presence of certain people, places, or objects. Or the riches we have struggled to save seem to sprout wings and vanish. It could be that we are assailed by sudden accidents or illness. Or we enter into a phase of continuous misfortunes.

The source of these events could well be at the energetic level. There are invisible forces or energies that exist and constantly influence our everyday life. These invisible forces can work both in benevolent as well as malevolent forms. A special kind of such invisible force is 'psychic force' or 'psychic energy', something influencing the human psyche. In psychological literature, psyche is considered to be the set of forces which directs human thoughts, behavior and personality. In particular, extrasensory perceptions like telepathy, clairvoyance, and intuitions are considered to be related to our psychic abilities.

Ben's is an example of something known as 'geopathic stress', which means that there are some invisible forces associated with a specific area or space that have the power to negatively affect the living beings staying in that area. Many unsuspecting people fall prey to such psychic attacks without even realising it. Symptoms such as sudden depression, bad luck, illness and so on are easily rationalised as a medical disorder or coincidence, while in reality they could be the result of an invisible psychic attack.

Studies do suggest that negative intentions can affect unprotected victims. For instance, James L. Mathis, MD, presents the case of a healthy man who suddenly developed asthmatic attacks and died after his mother apparently "cursed" him for going against her wishes (see "A sophisticated version of voodoo death: Report of a case", Journal of Psychosomatic Medicine, 1964, American Psychosomatic Society).

Psychic attacks

A psychic attack can occur in any of the following ways:

Evil Eye or Malochia: Ill-wishing is the simplest form of psychic attack. The process of gazing at a victim with negative feelings or thoughts is known as an evil eye. Bad fortune is sometimes considered to be the result of one or many evil eye(s). It may be caused by envy, jealousy, anger, or hatred.

Thought forms: If someone is going through a painful and difficult situation such as betrayal by a husband, or harassment by an in-law, and can do nothing but brood about the person who brought the misery upon them, this is tantamount to a subconscious curse and may well impact the subject of their broodings adversely. Sometimes, negative words or language expressed with intense pain, anger, or helplessness can also adversely affect the subconscious of the targeted individual. In many cultures, prayer and intention have a shadow component in hexes, voodoo, and curses, which are reported to be highly intense forms of negative intention.

Geopathic stress: As mentioned before, geopathic stress refers to the association of a specific negative energy field within a particular space. A psychic invasion can be the result of geopathic stress. An emotional upheaval or a tragedy can cause geopathic stress. For example, places where there have been suicides, murders, slaughters or wars are said
| | | |
| --- | --- | --- |
| | | |
| | In many cultures, prayer and intention have a shadow component in hexes, voodoo, and curses, which are reported to be highly intense forms of negative intention. | |
| | | |
to carry negative emotional energy imprints. At times when individuals have suffered from prolonged negative experiences like depression, emotional turmoil, or bad health, their living spaces register these negative energies and can affect those who come in contact with these places subsequently. Fortunately, such negative effects are often limited within a spatial boundary. Often, their presence is indicated by our intuitive instinct and it is important to follow our instincts. It is better to leave a place that you feel has bad vibes
Astral attack
: There are entities considered as the spirits of people who have physically died but have not been liberated from their earlier lives. These earthbound spirits often occupy certain specific places (e.g., the houses where they had lived during their former lives, funeral places, cemetories, hospitals), and may sometimes exert strong negative influences on those living in that place or on those they consider as intruding into their space.
Spells
refer to processes where a ritual is used to wilfully direct harmful energy at an individual in order to control the will of the intended victim. Puppets, effigies, or objects having close contact with the victim are used to give rise to a desired negative effect.
Psychic attack symptoms
Most of the psychic attacks operate by penetrating the auric protection of the victim. Fear and temptation are the two strong emotions which can weaken one's aura from within and make one vulnerable to negative forces.
1) In the presence of negative psychic forces, there will be a feeling of uneasiness for no specific reason. If things persist, we may experience unexpected problems in life – in business, career, health, relationship, finance and so on. In places with geopathic stress or areas where negative earthbound spirits are present, pets especially dogs, might appear to change their behavior or might fall sick.
2) Disturbances in sleep and bad dreams also indicate psychic attack.
3) Persistent negative moods are another indication, usually accompanied by unepected fatigue and loss of energy with a loss of interest in positive activities.
4) In case of possible spirit level psychic attacks, the victim might even feel the cold touch of entities.
5) If someone is facing serious difficulty in disengaging from a relationship even though he knows it is not in his best interests, it could be the result of some psychic spell from the other side.
Psychic protection
It is very important that we are aware of our surroundings and the people we are connected with and how we actually feel in their company. Consider the following in order to protect yourself from such attacks:
1) Meditation with purity in our thoughts, prayers, and specific exercises to strengthen our astral aura can build a spiritual shield around us and our close ones and protect us against psychic attacks.
2) Genuine incense such as frankincense and myrrh or herbs can be burnt on charcoal in an incense burner to dispel negative energy. Combination of incense and sacred fire is also considered to purify the space/house of negative forces. Bundle of herbs such as sage, rosemary, thyme, bay leaves, betony, camphor, sandalwood and many others can also be used to cleanse and purify the environment. These are still practiced in many cultures for special prayers and occasions.
3) Refrain from being in spaces or in the presence of people or things that impact you negatively.
4) Water also has the property to register the mental intentions of the people. If you think someone does not have good intentions or feelings for you, try to avoid the consumption of any liquid originating from that person or place.
5) Avoid possessing objects without knowing about their histories of ownership/origin. Negative energies remain attached to objects, especially antique ones. Do not buy any second-hand item or furniture or objects or even a house without feeling its energy. Any negative impression left behind by events or people must be cleansed before you start using or residing in that property.
6) Our astral aura is our psychic immune system. It is difficult for incoming negative psychic force to cause much effect if our aura is strong and healthy. Therefore, work on keeping your aura strong.
7) Anyone in the persistent grip of anger, rage, and fear might impact oneself and others negatively. It is advisable to free oneself of these emotions and to steer clear of those who get into such states.
8) Free yourself of evil moods or thoughts like resentment, bitterness, vindictiveness, prolonged anger, and fears, which often attract negative forces towards us. In conclusion, Dr John Diamond, the father of applied kinesiology (study of human movement), found in his studies that the best psychic protection comes when a person knows and works towards his/her essential spiritual goal of life, which his/her spirit had chosen before taking birth. This brings us in ultimate synchrony with the higher order of universe and thus saves us from destructive forces which are aimed towards disrupting our life journey. So, the best advice is to contemplate and meditate upon our deep spiritual aspirations to know our ultimate goal of life, which would be the final summary of our life for ourselves and for the life on this planet as a whole.
See more articles on Personal Growth :
http://www.lifepositive.com/Articles/PersonalGrowth