Personal Growth - Raise your vibrations
by Chitra Jha
The formula for activating the law of attraction in our lives and making our dreams come true, lies in our willingness to live in love, gratitude and forgiveness, says Chitra Jha

Download PDF Format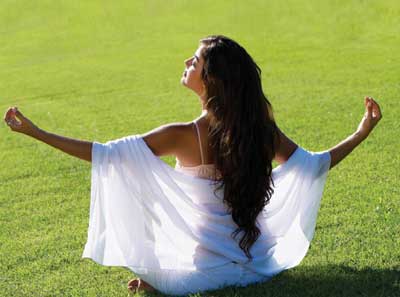 I have experienced a complete shift in thinking, ever since I read The Secret by Rhonda Byrne and decided to use the 'law of attraction' in my life. My constant endeavour since then has been to raise my vibrations; because our experiences always match our vibrations, according to the universal principles mentioned in the book.

The law of attraction tells us that our good remains invisible to us as long as we remain in lower vibrations. When we vibrate higher all the good things show up in our lives. Our vibrational frequency works like a two-way street. We attract what is in vibrational alignment with us, and we release what is not aligned with us; that includes people, circumstances, thoughts, feelings, habits, hobbies, practices and beliefs.

The universe does not hear our words, it reacts to our vibratory frequency. Nothing ever happens by accident, chance or luck; our vibrations create our life. Once we understand the law of attraction, it is easy to decipher that we have attracted those problems to us, with our low vibrations, and we can just as easily reverse them by raising our vibrations.

These are some the practices I follow to increase my vibrations:

Love

Love is a great vibration booster and our vibratory frequencies are primarily determined by our love quotient. Love can be experienced as platonic love, passionate love, romantic love, friendship, and affection. It varies in degree and intensity as much as it varies in variety. A healthy balance of all types of love makes a great recipe for a happy life, because love is the master energy which carries the highest vibration.

Self-love raises our energies to a whole new level. When we feel good about the love inside us, we fall in love with the whole world; just like sunshine. When the sun shines, its warmth permeates everything. As we expand our personal energy field through self-love, unconditional love happens, and as we love unconditionally, our energy field expands further.

Unconditional love gets activated by a need to do something for others. This love is not about feeling love, the emotion, for everyone. It is only about accepting people just the way they are. It is about understanding that everyone has different desires, fears, experiences and blueprints, and that each life story is an essential piece of the larger picture.

Forgiveness

There are three crucial words which are often left unsaid, because of our fragile egos. These words are 'I am sorry'. They sound very simple, and commonplace, but their use expands our energy field a great deal.

Asking for forgiveness and forgiving others always leads us to love. Forgiveness is the answer to releasing all our negative blocks. Whenever we get stuck in life, it means that we need to do some more forgiving.

The best way to become forgiving is to feel grateful; as we focus upon being grateful, we begin to forgive.

Gratitude

An attitude of gratitude instantly shifts the frequency in every cell of our body. Gratitude is of three types. We feel grateful when someone does something for us, or gives something to us. Saying thanks is almost like a reflex action in most civilised societies. It is considered polite to say thanks and its importance is taught to children right from the time they learn to speak. Indians, somehow associate saying thanks to a degree of formality and are likely to say thanks only to strangers and acquaintances, not to friends and family.

An expression of thanks for everything that life hands out to us, desirable and not so desirable, conveys our faith in universal wisdom.

When we remain in an attitude of gratitude at all times, for the very air we breathe, the birds and animals around us, the trees and the flowers, the sun and the moon, our vibrations become very high.

Giving and receiving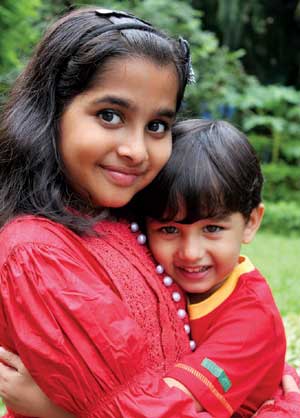 Love generates the highest vibration The nature of nature is to give. Fruit-laden trees do not decide who plucks their fruit. Beautiful flowers offer fragrance to all. Abundant rivers quench everyone's thirst. Overflowing clouds shower raindrops on everyone. Sun doesn't distinguish between the rich and the poor. Air caresses all cheeks. In nature nothing just exists for itself; it exists in service to everything else. Existence is all about giving and receiving.

Since we too are part of nature, it is natural for us to give. But our society doesn't teach us how to give and receive; it only teaches us how to trade.

Giving something that we have in excess is no big deal. Similarly giving something that we won't even miss is no great shakes either. A gift is truly a gift if we can make someone feel loved, because it is not the action but the intention behind the action which helps increase our vibrations. Anything which doesn't carry the love energy within it, is a useless gift. It only inflates egos.

Real joy in life comes from giving and doing things for others. When we give of ourselves, a vacant space is created within and since the universe abhors a vacuum, it fills the space with a lot more of the same energy. This is the universal 'law of giving and receiving'.

Some of us are great givers but reluctant receivers. But the circle of give and take is completed only when we enjoy both aspects of sharing.

Giving gratefully and receiving gracefully raises our vibrations, but we cannot give or receive joyfully unless we know that we don't 'own' anything; we are only custodians of all that we have.

Celebration

Being satisfied with all that we have in our life is the beginning of celebration. Having faith in the future, being intelligently optimistic, focusing on all beautiful things, and embracing the positive in our life, keeps us in a celebratory mode.

Celebration is not about denying the realities of today's world. It is about transcending these so called realities. It is about living a beautiful life amidst difficulties. Celebration makes us express our gratitude to the universe and a celebratory mood raises our vibratory frequency to a very high level.

Happiness

We have been brought up to believe that people and things can make us happy, but that is not true. Nothing can make us happy because happiness is a feeling. We experience happiness when we appreciate all positive things in our life and we deny happiness by focusing on what is really wrong with us.

Happiness increases our energy field and attracts opportunities towards us.

Slowing down

In our fast-paced life, we remain busy but not productively aligned with our heart. When we pause and take stock, we discover what is truly important to us. When we slow down to enjoy small pleasures of life, we express faith in it. We also send a message to the universe that we trust in its wisdom and re-affirm that things eventually work out for our own good.

Slowing down opens our energy field, nurtures balance and raises our vibrations.

Relaxation

Scientists agree that we achieve a lot more in a relaxed state than under stress. Hence, relaxation is a much sought after state. However, no one outside of us can ensure relaxation for us.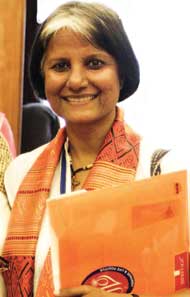 Chitra Jha is a life skills coach,
corporate trainer and verbal
ability instructor. Learning to relax is not difficult because relaxation is our natural state. As we breathe, let go, and remind our self that this moment is all that we have for now, we start relaxing.

Relaxation automatically follows fun. Having fun with everything that we do is a sure recipe for relaxation. The more we relax and surrender, the more our energy field expands and opens up.

Conscious breath

Something as simple as paying attention to our breath benefits us tremendously. Consciously slowing and deepening the breath not only helps us get more oxygen to our brain and other body parts, but also raises our vibrations.

Silence

Silence means that we not only withdraw from the spoken word but also from reading, watching television, listening to music, etc. Anything to do with words is to be avoided. Instead we can spend time in nature, take a walk, watch the sunrise or sunset, and practice meditation. Gardening, cooking, washing, cleaning too are some activities which can be done without using any words.

Spending time in silence for at least 30 minutes a day is essential to experience harmony in our life. In the process, we also raise our vibrations.

Trust

Trusting everyone around us may sound impractical but this one step can take us towards inner harmony and peaceful co-existence along with abundance.

Our trust in everything including the universal laws, helps us grow in understanding, and increases our vibrations. As we let go, trust, and give thanks to life, we radiate a different vibration to the world and better things and experiences come to us.

Other activities

Singing, dancing, running, walking, exercising, appreciating, clearing our toxic beliefs and treating everyone with respect and kindness too increase our vibrations.

Many of these activities are basic ways of living in tribal societies, often dismissed as primitive, but they are actually more in harmony with the universal laws than we urban folks are.

I therefore invite you to use these time-tested tools to raise your vibrations…that is 'The Secret' of success in life!!!

See more articles on Personal Growth : http://www.lifepositive.com/Articles/PersonalGrowth