Personal Growth - Sharing is Caring
by Anisha Anilraj
When we share, we break out of the boundaries of our ego and recognise the humanity of the other. Sharing breeds inter-dependence, happiness and harmony. For a planet with limited resources, sharing is the way forward.

Download PDF Format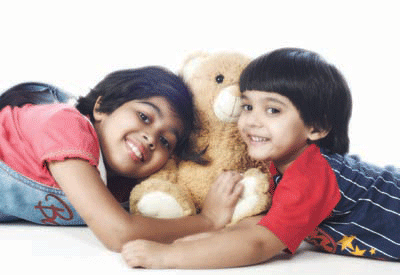 There are three kinds of givers in the world: The stone, the sponge and the honeycomb. To get anything out of a stone, you must hammer it; even then it only yields chips and sparks. To make a sponge part with the water it holds, you must squeeze it. The harder you squeeze the more you get. Then there is the honeycomb, from which sweetness overflows.' This unattributed saying beautifully sums up how we humans abounding with attachment, and fraught with emotion, share what we consider our own.

"You guys have it all figured out in India," my boss said to me one hot Californian summer afternoon.

As a post-graduate student, I worked part-time as an assistant with my university's student housing office. My boss, Tom's statement came seemingly out of the blue with no reference to context. I swivelled my chair around to face him.

"What do you mean?" I asked, eager to understand what had spurred an American, one who had never visited India no less, to make a statement like that.

"In India, you guys value all the right things," he said.

"We do?" I asked.

"Yes, you do. You value knowledge and education above all else. Look at the number of Indian students who come here to study. It is because it is in your blood as Indians. It is in the air you breathe. You are from the land of Tagore's Shantiniketan and the Vedas. That's why you are on a constant knowledge quest."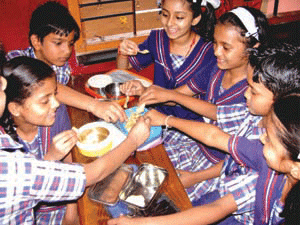 Food for the soul: Children dip into each other's lunch boxes I smiled faintly on hearing Indian words so carefully and precisely spoken despite his thick American accent.

"Where is this coming from, Tom? You can't possibly be ruminating on the virtues of my motherland for no reason. What triggered this thought process?" I probed.

He went on to tell me how he had been reading an article citing an increase in the rate of student drop outs in high schools. "I love America, but sometimes I think as a nation we seriously need to rethink our priorities." Tom sighed.

I sat there for a moment and thought about the gruelling years spent in India, trying to score high marks at numerous board exams and I said, "We all do, Tom. Both as individuals and as a nation, we all need to remember our roots and rethink our priorities".

Enculturation

As Indians, we sometimes eagerly incorporate the seemingly progressive culture of the West. If we look deeper into the hearts of Western societies we find a large number of people in search of higher meaning. As we preoccupy ourselves with their ways, the West in turn is looking East in search for answers.

Today, as societies converge across the world and we witness the emergence of a global village, people have increasingly adopted many western cultural norms as their own. While there are merits in this approach, we still need to exercise caution before discarding values that are tried, true, and wholeheartedly Indian. Granted, it can be hard to appreciate Indian ways as we live and deal with the consequent inconveniences of our large population. Yet, the truth remains that we in India inherently know how to live as one holistic society.

It follows logic. We have limited space and limited resources, yet we grow and prosper. We make do, and while we dream of a better life, we sleep restfully and remember to be grateful for what we have. Sure, we have moments when we play the stone or the sponge, but the sum of our efforts makes our nation a giant honeycomb.

Sharing in the West

In the West, there is a clear distinction between sharing and giving. Owing to the fact that there is usually enough for everyone, the need for sharing is often a matter of increasing a person's access to variety. Giving, on the other hand, is when you make a gift of something you have, ideally without anticipating anything in return, and mostly to those who have lesser.

The structure of Western societies is such that natural situations that warrant sharing do not present themselves frequently. Hence, parents often need to create scenarios in order to teach their children how to share. Developmental psychologists advise parents to inform their children that sharing makes for more amicable playtime, that playing with a friend's toy means that you, in all fairness, need to let your friend play with your own toys. They also suggest that children be allowed to display some amount of possessiveness in the interest of healthy parent-child relationships, lest the child associate the negative feelings accompanying forced sharing with the parent.

No doubt, in a consumer-based economy the idea of sharing is not in the interest of the nation at large. When people mostly lead individualistic lifestyles sharing is also not preferred. Given the ready access each person has to goods, sharing is not even necessary. Thus, having neither need nor inclination to perform these acts of giving and taking, the West has cultivated a society where people can live independently of each other.

Since man is a social animal, it is no surprise that over time this lifestyle begins to affect a person. As they grapple with feelings of loneliness and isolation, some people seek out others with the same set of beliefs and ideals. United in their sense of purpose, there are groups of people in America, who are starting to recreate the old ways into their modernised lives. They group together and settle as a mutually adopted family. This has lead to an increase in the number of co-operative housing ventures in the US.

The American co-op comprises a number of unrelated families sharing a big house, usually located in a city. This shared residence allows them to simulate the effects of the proverbial "village" and offers their families the opportunity to interact with each other everyday. They work together in organising the household, its maintenance and upkeep, and also make decisions together. Some co-operatives share a common purpose which unites every resident who is a part of it. However, it is not uncommon for co-operatives to form with the mere intention of economic benefits.

While co-ops have been known to emerge spontaneously, others are formed when families come together with a specific purpose they hope to achieve together. The Stone Soup Co-op in Chicago, Illinois, for instance, has been formed by a group of families who believe in social justice and joy. At any point in time, there are about eight people and their pets, living together and sharing the rent, the kitchen, appliances, food, and utility expenses together. If a vacancy should arise at this co-op as members move out, the current residents meet new tenants and collectively decide on who is fit to move into their little community.

Larger groups who come together are called intentional communities and ecovillages. These usually differ from co-ops by having multiple houses for individual families but often maintaining shared spaces. They share vegetable gardens and wells, and even groceries or other household expenses. Many communities often pool their resources and install solar heating panels and make other environment-friendly modifications to their residences, a task that would prove too expensive for one family to shoulder on their own. Given the increased requirement for space, intentional communities and ecovillages are generally found in suburbs outside of cities.

Although co-operative living is in essence a reversion to the golden days of yore, the masses view it as an alternative lifestyle. The main factor contributing to this stereotype is that these communes imply communal ownership of property, restriction on personal space, and increased social responsibility as resources are shared. In other words, it is very much like our own co-operative housing societies, where altruistic actions make for a happier building which feels like home and increases our sense of security.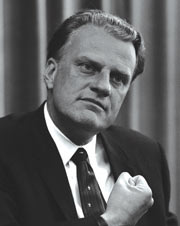 Billy Graham,
American evangelist
"We are not cisterns made for
hoarding, we are channels made for
sharing" In retrospect, it seems like the West went around in a circle, only to find peace in how things were when people looked out for each other. As they realised the hollowness of life when objects replace real-life experiences, some of them reverted to seeking out what really brought them joy. Our culture in India is evolving with our growing economy; we could save ourselves the trouble of taking a U-turn by becoming aware of our inherent virtues and maintaining our traditions of kinship and camaraderie.

Sharing and technology

Technology has done wonderful things to assist sharing knowledge, news, and information. We can now stay connected with anyone in the world through email, Twitter, and Facebook. Yet being constantly connected sometimes makes us disconnected. Our phones and laptops make us oblivious of our surroundings. As we bring e-readers and iPods into our lives, they replace other more social habits. We lose the tradition of lending and borrowing books. Our iPods prevent us from hearing a friend call out from across the street. As we develop relationships through inanimate objects we have less time for human interaction and the comfort it brings. Hence, while we bring in the new, we need to preserve and reincorporate the best of the old.

Rani Swamy, a senior manager with ZipDial Mobile Solutions, shares a story from her childhood in Orissa. "When I was a kid, we lived in a quaint township called Sunabeda for the family of HAL employees. My friends and I loved reading books by Enid Blyton but there were no bookstores in our town. We would get together and make lists of books we had not read, so when our fathers went out of town, they could buy them for us. When the books finally arrived, each of us took turns reading them. We had created a collective library by virtue of which we wound up reading all her books. " Rani's story rings familiar with many of us, as does her closing sentiment, "Was there such a life, really?"

Growing up sharing

Giovanni D'Cunha, now a faculty at the Marian Institute of Health Care Management, Goa, shared a childhood lesson with me while in college. Three of us friends, Giovanni included, met after class one evening and as is so often the case with youth, we were famished. As we scouted our college cafeteria, we realised the only item available that late in the evening, was one samosa. Two of us politely insisted the others eat it, when Giovanni said, "Stop squabbling! We'll divide it in three." For a second we looked puzzled. How do you divide a samosa in three? He deftly broke the treat into three approximately equal pieces giving each of us a crisp corner with hot potato stuffing spilling out. "Where did you learn how to do that?" we asked Giovanni. "My parents always bought home one samosa for my two sisters and me," he said, "We always split it in three 'halves'!" We laughed. Months later when visiting with Giovanni's family in Goa, his father bought each of us a samosa and the story of the 'three halves' came up again. Giovanni's mother said, "How else would you three learn to share?"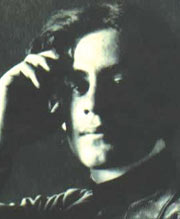 Kahlil Gibran, Lebanese poet
"In the sweetness of friendship let
there be laughter, and sharing of
pleasures. For in the dew of little
things the heart finds its morning
and is refreshed" From samosas and story books, to cricket bats and cell-phones, children in India grow up sharing. They may learn this from observing their parents who readily give what is their own. Some parents like Giovanni's create opportunities for their children to bond with each other by sharing, while others, limited by available resources, have no option but to share. Be it by reasoning, reprimand, or resolve, children in India grow up knowing that for the best to come to them, they must share the best they have.

To cite an example from almost three decades ago, when residents of a building huddled around a television to watch the Ramayan and Chaaya Geet; even if the mother might have deliberated over mopping the floor after the mob departed, and the father reseated himself on a stool, respectfully renouncing his easy-chair for the building patriarch, the children of that era only remember the camaraderie and fun. These events made our generation equate sharing with moments of pure happiness.

Sharing the intangible

Dwelling deeper into sharing takes us beyond material objects. Everyday, we share assets that cannot be seen or touched; like knowledge, feelings, and even vibes.

Be it out of concern or curiosity, in India we always find someone who asks us, "Is something wrong?" On sharing our problems, we find people who go to great lengths to help. Joys are shared with neighbours and friends coming together to celebrate weddings, festivals, and the achievements of their children. As we quicken the pace of our lives to catch up with the west, we must remember to slow down to celebrate or help, for this has always been our way.

Most of us live ordinary lives because we fail to realise we are capable of leading extraordinary ones. Each of us has in our arsenal the noblest of virtues like love, compassion, kindness, and empathy, virtues that might lie latent until we open our hearts to those around us. The opportunities for making a difference in the world are endless; all we need to do is share when we can.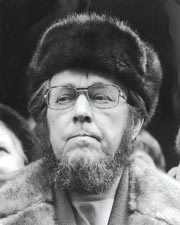 Alexander Solzhenitsyn,
Russian novelist
"Talent is always conscious of
its own abundance, and does
not object to sharing." The cycle of endless kindness

It is easy to give something when you have plenty, but when you give from the little you have, you perform a great act of kindness. In India, sharing has always been synonymous with giving. We know when we share that we may be left with lesser than we need, and yet we give whatever we can, whenever we can. We often even do it unknowingly, like when we squeeze in closer on a local train to accommodate a fourth person on a seat meant for three. It is, like my boss, the observant American, said, in our ways and in the air we breathe. Let me tell you two stories which to me have epitomised sharing in the truest sense.

The electrician

A young electrician who kept shop near my home in Kalina was one of the most generous people I've known. My first interaction with him was when our kitchen grinder stopped working. My mother sent me with strict instructions to ask how long it would take to fix, and how much, but he was really busy dealing with other customers and I was forced to drop the grinder off and return home without a proper estimate. My mother went back the next day with me in tow in lieu of a receipt, which also I had failed to gather the previous day. When the electrician saw us, he immediately reached for our machine on a shelf behind him. Plugging it in, he turned the knob and my mother smiled as she heard the motor whirr once again. When we enquired how much we owed him he replied, "It was a loose contact, took two minutes to fix." He was saying we didn't owe him anything for a job this small. My mother swallowed hard as she thanked him. Unbeknownst to him, he now had two big fans. We told all our neighbours about him, and if an appliance stopped working, it was almost cause for celebration because it meant we could bring the good man more business.

Our campaigning was not the only business that came his way. His store always had a person or two lingering by whether they had an appliance that needed fixing or not. Men stopped by and shared bhajiyas and chai with him, housewives shared their concerns while waiting for their iron-boxes to be repaired. Sweets flooded his store during festivals and everyone who stopped by his store smiled.

Acts of grace never go unnoticed and they are something we cherish to the core of our beings. This man taught me that no matter how small our means, we all have something to give. I was under the impression that the more fortunate share with those who have less, and here was a shining example that shattered the stereotype. The truth is that each of us, irrespective of how rich or successful, needs something, which we often receive from the most unexpected sources. In giving and taking, we are not better or worse off than each other, but united in our co-dependence and hence we must share.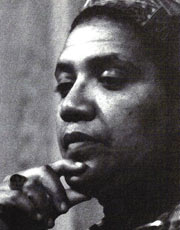 Audre Lorde,
American poet and activist
"The sharing of joy, whether
physical, emotional, psychic,
or intellectual, forms a bridge
between the sharers which
can be the basis for understanding
much of what is not shared between
them, and lessens the threat
of their difference" The lady on the train

When returning home late one night, I was gifted the chance to witness a random act of kindness. The hustle at the train station had quieted, as I got on the 10.40 pm Andheri local at Churchgate. I sat by the window, waiting for the horn to signal departure, when a lady got on the train and sat in the seat facing my own. She had three bulky bags with her and in the palm of one hand was a small newspaper bundle with soaked spots of grease. Her weariness was evident in the sigh she let escape as she plonked down on the seat before me. We smiled at each other, sharing both our exhaustion and the relief of knowing we were finally headed home. Just as she arranged her bags on the seat next to her, and unfolded the creased newspaper packet, a little boy came in begging for alms. Knowing she had something ready to offer, he went up to her and tapped her knee. She looked at him and for a fraction of a second her tired eyes flashed with annoyance before she set her lips in a faint smile and broke her vada-pav in two. The little boy took the half she offered him and got off the train which had just begun to pull out of the station. Being aware of the fact that I was watching her intently, she looked at me again and smiled. "At least, I can enjoy half of it in peace," she said.

The depth of her words never left me. Indeed, if you have known hunger or thirst you will recognise it in another living being. This is the very wisdom which compels the homeless on our streets to share their food with the animals who live beside them. Without a roof over their head, they allow stray dogs to snuggle up beside them on their chadars on cold winter nights. It makes our stomachs fuller, our sleep sweeter, and ignites a warming flame in our hearts because we know from experience that a little discomfort shared is better than nothing shared at all.

Through the transcendent laws which govern such acts, pain shared somehow decreases while joy shared multiplies. The lady probably received more blessings than the little boy who was gifted a meal. For while he ventured to ask, she exercised benevolence with the little she had.

The earth isn't a commodity, nor is it an inheritance we can squander. It is our home, and meant to be shared with generations to come. Although we have been gifted limited resources, we are also blessed with the capacity to be boundless in our acts of giving. To ensure we have a future worth sharing, we must share what we have today.

See more articles on Personal Growth at : http://www.lifepositive.com/Articles/PersonalGrowth