Personal Growth - Soil for the soul
Only when we are planted in an appreciative environment, will our soul, psyche and body naturally grow to its full potential. Read on to find out how to develop an appreciative gaze that nurtures you and the world at large, says Suma Varughese

Download PDF Format
Exercise appreciation
On our appreciation journey, the place to begin is with ourselves. We can only give what we have enough of and it is essential that we endorse the good within us. For the next 21 days, write down 10
More >>
---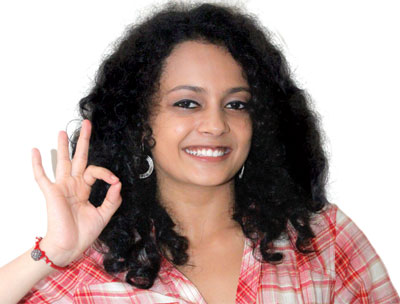 In the Babemba tribe of South Africa, when a person acts irresponsibly or unjustly, he is placed in the centre of the village, alone and unfettered. All work ceases, and every man, woman, and child in the village gathers in a large circle around the accused individual.

Then each person in the tribe speaks to the accused, one at a time, each recalling the good things the person in the centre of the circle has done in his lifetime. Every incident, every experience that can be recalled with any detail and accuracy, is recounted. All his positive attributes, good deeds, strengths, and kindnesses are recited carefully and at length. This tribal ceremony often lasts for several days.

At the end, the tribal circle is broken, a joyous celebration takes place, and the person is symbolically and literally welcomed back into the tribe.

The power of appreciation. Too little has been made of this great, life-giving and transformative quality. Very often, as in the case above, it can make the difference between a happy, productive person and a social drop-out. Appreciation is soil for the soul. Only when we are planted in an appreciative environment, will our soul, psyche and body naturally grow to its full potential. If we have been deprived of it in our formative years, we lead dwarfed lives, unsure, self-deprecatory, and maybe even deviant, for it is this vital elixir that safeguards our goodness.

The magic elixir

Sampoorna Garine, an evolved and popular psychologist and workshop facilitator based in Chennai, relates her own experience, "When I was a child I believed I was a dullard, a nobody, getting by with the generosity and kindness of those who loved me. When I changed schools, the secretary of the new school showed appreciation in different ways. She praised my use of words and she acknowledged specific abilities I displayed. I found myself transforming from a zombie to a joyous, bright kid full of life, fun and mischief."

Growing up, I had no faith in myself and no faith in my abilities. I drifted through life convinced that I was a hopeless failure. It was not until I had become editor of a lifestyle magazine that I found myself in an appreciative environment. My publisher had the unique gift of withholding comment when an issue was not up to par, and for appreciating me and the issue lavishly when it met with his approval. Under his appreciative gaze, I flowered out and came into my own, as did several others who worked for him. My publisher believed in his people. He respected them. And somehow this combination of faith, trust, respect and appreciation converted diffident, self-doubtful people like me into poised and successful performers.

Sunny side up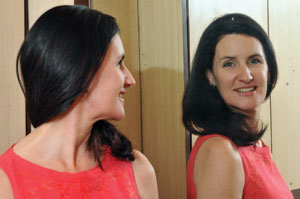 Irma Battig But what is appreciation? Appreciation is the capacity to see the good in oneself, others and in life. The tragedy is that human nature is designed to be aware of the negative, not the positive. When we are well, we do not notice our well-being. But were we to fall ill, we would be acutely aware of our dis-ease. Recently, I developed a frozen shoulder, which was acutely painful, to be followed a week later by an arthritic attack on my little finger which was even more painful. How oblivious I had been of my painless state until it left me! Today, I thank Existence and my ayurvedic doctor for bringing me back to normalcy, and fervently rejoice in my painfree state. But who knows. Perhaps if I continue to have the grace to remain painfree, I might take that state for granted.

We take happiness for granted. The love of our families for granted. The goodness of our loved ones for granted. We take our own goodness for granted and flay our weaknesses mercilessly. What we do for us, we do for others too. Most of us have grown up in families where appreciation was withheld because it would 'spoil' us.
"Appreciation is one of the highest vibrational emotions on the scale that we can experience. The higher our vibration, the healthier we are on every level."
- Irma Battig
Instead, criticism was employed under the mistaken notion that the more our weaknesses were brought to our notice the more we would improve. It seems self-evident, does it not? Only that is not the way it works. The more we are criticised, the less we grow. Under the constant onslaught of attacks, we become stubborn and defensive. Our capacity for growth shuts down and we become focussed on surviving rather than on thriving.
Generally speaking, it would appear that everyone's default setting is of criticizing and finding fault. Indeed, one would go as far as to say that this is the way society itself operates. Take the example of the media. If law-abiding people get on with their lives, the media has nothing to say; but let it get a whiff of a law-offender and it lavishes them with attention. Murderers, rapists, confidence tricksters and terrorists will get all the publicity in the world, but unless a saint wins the Nobel Prize for Peace, he or she is unlikely to get press!
Separation from source
Why are we so perverse? Many thinkers and therapists would point to our separation from Source as the root cause. Our resultant fears and insecurity have created a scarcity-and fear-driven mentality that stops us from seeing the good and causes us to focus on flaws and negativities. In our lives, most of us squander our energy pining for what is not there instead of appreciating what is.
In his book,
The Celestine Prophecy
, James Redfield explains that because we are separated from Source we get energy from each other by playing manipulative games such as intimidating or interrogating others, or by remaining aloof or by making others feel guilty. In all this covert siphoning of energy, where is the space for appreciation?
But as singer Bob Dylan would say, the times, they are a-changing. We are now heading towards a spiritual culture. In Redfield's terminology, we are recognising that we can plug into Source for all our energy requirements and do not have to get it from each other. The spiritual culture tells us that we create our own reality and the more we focus on the negative, the more we perpetuate it. Books like The Secret have made millions for its authors by urging us to look at what we want and not at what we don't want in order to manifest our dreams.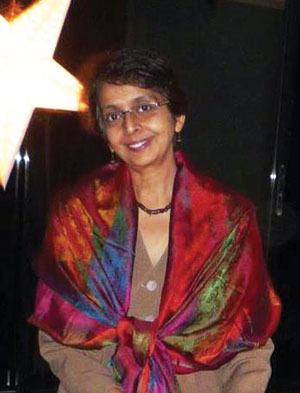 Marita Nazareth
The next step, therefore, is to create an appreciative culture in which we constantly endorse, validate and acknowledge what is good in ourselves, others, and
life
itself because that is the only way to draw it out! The spiritual culture tells us that we are already whole, perfect and complete. The more validation we get of this, therefore, the more established we will be in our original and innate wholeness. Parents must recognize that if they want their children to be paragons of virtue they need to acknowledge and validate any sign they see of the required virtues. Teachers and bosses must recognise that the student or employee is already everything they want them to be. Their job is only to validate and appreciate this wholeness.
Indeed, what prompted this story was the poignant confession by a relation of mine on her deathbed, that she had been starved of appreciation all her life.
"As I came off the stage, convinced that I had made an utter fool of myself, a young girl shouted out, 'Awesome'. That one word made all the difference."
-Marita Nazareth
She shared that her authoritarian mother had terrorised her as a child. And that her own husband had always withheld his respect and acknowledgement of all that she had done for the family. Now, in her final days, her
heart
overflowed with sorrow. I was deeply moved by her plight and it led me to recognise with redoubled vigour the vital importance of appreciating the important people in our lives.
The power of appreciation
Says Sukhvinder Sircar, a Kolkata-based writer and trainer, "Appreciation is the natural way of being, when one lives from one's wholeness and honours everyone else's. Appreciation happens when another's differences and similarities delight us. Appreciation is a very important ingredient for wellness, as it deeply affirms another. I see it as a nurturing and honouring energy, adding to the self-worth of both the receiver and giver. It is balming and soothing, and enters the deep, unappreciated and atrophied parts of the person's being, making them lush and whole."
Adds Sampoorna Garine, "Appreciation is as important for the
heart
or the emotional centre as food is for the body. It opens up channels of joy and
love
for both the sender and the receiver, allowing a simultaneous experience of gratitude. It acts as belief and evidence that stimulates and uncovers potential."
I was not a very good appreciator until I had a spiritual awakening. It was then that I discovered the magical truth that the more good I saw in the other, the more good came into being. I therefore practice appreciation even when I do not see evidence of it, because I know that the person is essentially whole and perfect and if I remind them often enough of it, they will emerge with the evidence. I am often misunderstood for this, and derided for exaggerating virtues, but I continue undisturbed, knowing that many of those who I have acknowledged have become the better for it. In the same way, I am learning to appreciate the good in any aspect of
life
or circumstance. This, in turn, helps tone down the resistance to so-called negative situations and helps me see the opportunity in them instead.
Irma Battig, a Mumbai-based cranio-sacral therapist, says, "Appreciation is one of the highest vibrational
emotions
on the scale that we can experience. The higher our vibration, the healthier we are on every level. As we appreciate the people we interact with, they will most likely appreciate us for it as well! The same can be said for animals and even machines! It is proven that if we have a good
relationship
with our car or computer, those machines will perform better!" She adds, "What we appreciate, we tend to treat better, therefore appreciating the Earth – the water, the air, the forests – makes us more conscious of the importance of treating her well and with love."
Chemical engineer-turned spiritual teacher Prem Nirmal says, "When I was running my factory, I have tried catching young engineers doing something right and appreciating them! It had a fantastic effect on their self-esteem and confidence. It also helped them to become better team players."
Ex Director-General of Income Tax, Brahmaprakash Gaur, puts forth the point of view that when a superior needs to pass on some critical feedback to a junior, it would be much more palatable if it were accompanied by legitimate appreciation of his good points.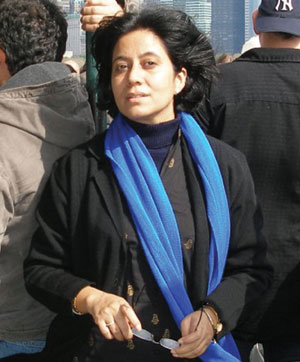 Sukhvinder Sircar
The power of appreciation is best illustrated by a popular internet story. A school teacher once wrote down the names of all her students on separate pieces of paper and circulated them around the class. Each of them was to write on each sheet one thing they liked about the person whose name it bore. Years passed. One day the teacher was offered the sobering news that one of her students, a soldier, had died in combat. While at the funeral, the soldier's mother came up to the teacher and with tears in her eyes she pulled out a worn-out piece of paper which she had found in her son's wallet.
"Appreciation happens when another's differences and similarities delight us. Appreciation is a very important ingredient for wellness, as it deeply affirms another."
- Sukhvinder Sircar
It was the sheet in which his fellow students had endorsed him! At this, many of his classmates pulled out their wallets too to show their own precious testimonies. Who knows how much strength and support they may have drawn out of this early acknowledgement?
A nourishing influence
Anyone who has been at the receiving end of genuine appreciation and acknowledgement knows that often it can be a lifeline, telling us that although we may not believe in ourselves, there is someone who does.
Sukhvinder Sircar says, "I've lived a very large part of my
life
with low self-esteem. I did not realise this till a few years back when I met some of my college friends after 20 years. While chatting, they told me that they had always looked on me as the brilliant one, the one 'who always got it', the one with mines of talent and good looks. I remember going numb – was that me they were talking about? This one incident did a lot to open me up to my own uniqueness – and to how much self-loving and acknowledgement I needed to do. It became a cornerstone for me to move to a more wholesome space."
Marita Nazareth, a facilitator and trainer, says, "I was just emerging from a deep
depression
when my husband decided to enter us for a dance competition in our parish. When I arrived at the venue, I found, to my horror, a huge hall full of people and well-known dance trainers as judges, instead of the small classroom of local parishioners I was expecting. I refused to go on stage but my husband felt it would let down the organisers. As I came off the stage, convinced that I had made an utter fool of myself, a young girl shouted out, 'Awesome'. That one word made all the difference. And we actually went on to win the first prize!"
Sampoorna Garine shares another validating experience that made a huge difference to her, "I used to be constantly told that I was slow and incapable. I took this to mean dull and inefficient also. I was almost shocked when I was told during my psycho-spiritual training with my teachers from France that I was unhurried, capable and efficient in my use of time, effort and space. They pointed out to me how easily I got things done and achieved more than others in the group in an effortless, unhurried manner. This completely changed my perspective and belief in myself. I began to
love
my "unhurried" style of efficient functioning. I was then able to start
sharing
this ability with others."
In his wonderful book,
The Seven Habits of Highly Effective Families
, Stephen Covey writes about the importance of win-win, of
seeking
to understand before
seeking
to be understood, and synergising to create an atmosphere of mutual love, respect and appreciation. He writes, "Next to physical survival, our strongest need is psychological survival. The deepest hunger of the human
heart
is to be understood, for understanding implicitly affirms, validates, recognises, and appreciates the innate worth of another." He shares the story of a left-brained woman married to a right-brained man. While he got the big picture, she got the details. Very often, in a spurt of enthusiasm he would buy things that would knock back their budget considerably. By
seeking
to understand and to synergise with each other they ended up by making the difference
work
for them. Whenever he suggested they buy something absolutely irresistible, she brought out their budget and pointed out what a sizeable chunk of
money
the purchase would consume and what they would have to sacrifice in order to get it. When the details were filled in for him, he usually agreed to forego the purchase. However there were times when his idea actually made long-term sense and it was then she who had to recognise that her fears and insecurity were coming in the way of a richer life. The two are now collaborating on a book. He puts forth the vision and the essential ideas. She fills in the details and does the wordsmithing. "We both
love
it!" she exclaims enthusiastically.
Appreciative Inquiry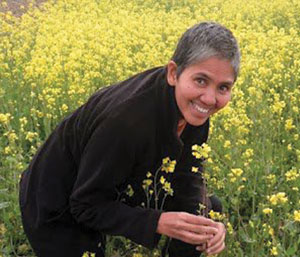 GL Sampoorna
Even though it may appear that as a society we are still largely given to carping and gibing, changes are happening towards a more positive, and indeed, appreciative culture. One of the most heartening initiatives is to be found in the dog-eat-dog world of commerce. David Cooperrider and an Indian called Suresh Srivastva, two professors at the Weatherhead School of Management at Case Western Reserve University, have taken the spiritual model of innate and already existing wholeness and perfection, and put it to
work
in the corporate world. Calling their approach, Appreciative Inquiry, the duo strive to bring about organisational change by looking at what works, rather than what does not. Instead of the age-old approach of fixing what is broken and problem-solving, Appreciative Inquiry seeks to inspire and produce change by endorsing and appreciating the good that already exists. They ask questions like,
"Appreciation is as important for the heart or the emotional centre as food is for the body. It opens up channels of joy and love for both the sender and the receiver."
- Sampoorna Garine
"What's working well?", "What's good about what you are currently doing?" They use four processes to bring about change:
1. DISCOVER: The identification of organisational processes that
work
well.
2. DREAM: The envisioning of processes that would
work
well in the future.
3. DESIGN: Planning and prioritising processes that would
work
well.
4. DESTINY (or DELIVER): The implementation (execution) of the proposed design.
In an article by David Cooperrider and Diana Whitney, the authors ask, "Could it be, for example, that we as a field have reached 'the end of problem-solving' as a mode of inquiry capable of inspiring, mobilising and sustaining significant human system change? What would happen to our change practices if we began all of our
work
with the positive presumption – that organisations, as centres of human relatedness, are "alive" with infinite constructive capacity?"
Turn within
It is clear that initiatives such as Appreciative Inquiry operate from a higher level of consciousness than the traditional negative-focussed approach. In the same way if we are to cultivate an appreciative gaze at life, we too must raise our consciousness levels. Spiritual
work
is essential. Starting from the premise that we are whole and perfect we need to go deep within and experience ourselves as we are. We need to bathe all the unloved and rejected parts of ourselves with the appreciative gaze of acceptance and awareness and integrate ourselves as one. In the process we will heal our inner critic and judge, who is always looking to put others down in order to feel good about oneself. Gradually, as we become more and more established in Source, our fears and insecurity will dissolve and we will no longer feel nervously compelled to look for all that is wrong about a situation. As we settle into our centre with strength and equanimity, we will unwittingly and naturally nourish all that we look upon. For we are eager to be pleased, and everything does indeed please us.
Brahmaprakash Gaur says "Appreciation is a spontaneous and natural outcome of spiritual growth. This brings a deep understanding that everyone and everything is essentially divine and a reflection of God. When we interact with others through this realisation, the mental construct or judgment is bypassed and our words and actions are underlined with a sense or marvel and appreciation that gives even ordinary exchanges a divine hue."
At the same time, the more appreciation and
love
we lavish upon ourselves, the less we look to the outside world to give it to us. And a time will come when we will no longer mind if appreciation is withheld from us, or indeed if the whole world decides to pull us down. For our inner appreciation will be on in full flow, nourishing and nurturing us.
Recently, I had an experience that shone light on that possibility. I am an unassuming and understated person, and it is easy to take me for granted. However, that never stops me from feeling hurt and upset about cavalier behaviour. About three such incidents had happened in rapid succession and I found myself weltering in anger and hurt. I was also upset that I could so easily be hurt by what others did to me. And then a fourth happened. Fortunately it was a minor one and I was not too torpedoed by it, so it was possible to watch my actions in slow motion, so to speak. The person was upset about something I had asked him to do. Immediately, although my request was perfectly legitimate, I could feel myself recoiling in guilt, almost toppling from my centre. Oh, had I imposed on the person, was my first reaction and I could find myself tense up, become defensive and resistant, while at the same time berating myself for my insensitivity. Even before anyone had pronounced a verdict, I had already judged and sentenced myself. And I could see that this was a pattern that had long prevailed in me. Whatever I read through people's behaviors and actions, I would immediately internalise. If someone said something derogatory, I would feel immediately put down and seethe in anger, and perhaps react adversely.
The very seeing of this pattern seemed to set something free in me. The villain, after all, was not the person out there. It was I who bought into their beliefs and gave them validity. What if, instead, I were to simply refuse to accept their judgements and biases? Then there would be no toppling from the centre, and I would be able to respond to the person peacefully. In my mind's eye I could see an image of myself sitting in a
meditation
posture and around me were strewn a whole lot of blunted spears and knives – unable to penetrate my invulnerability.
Since then, I have been much less concerned about what people think of me and consequently am less in need of their appreciation. And am more proactive about appreciating myself.
For instance, I am rather pleased with the way this article has shaped up. Excuse me while I appreciate myself! And while we are at it, take five and appreciate yourself too. We have a culture to create, you know!
See more articles on
Personal Growth
:
http://www.lifepositive.com/Articles/PersonalGrowth
Reader's Comments
Subject:
thanks
- 6 January 2013
hello mam...just before some months i started reading this magazine.It was really the very smthing i was searching for past some time.I liked ur article...i have no words how much it matters for me.I was planted in such environment only....and i used to be full of energy..those days.Past smtime i
More...
by:
pragya
Suma Varughese replies: -7 January 2013
Thank you Pragnya. i am so glad this article gave you validation and helped you to heal. Warm regards, Suma Varughese
Subject:
the vow
- 23 August 2012
thanks a lot for reaffirming my belief in the goodness of others. in this weary world, where all seems gloomy and unrewarding, its great to be iluminated by such beautiful thoughts. today after reading this, i reaffirm my vow to use the powerful tool of appreciation and gratitude in every negative
More...
by:
pallavi
Subject:
Thank You
- 26 July 2012
haha i just gotta say it, this really got to me, out of all the articles i read in my entire 18 years of life this is the first one im actually commenting on, just by reading all of what u have 2 say,man i have no words to express my appreciation. Thank you for writing this article it eally helped
More...
by:
True
Subject:
Grace of Appreciation
- 15 June 2012
Lovely article on the grace of appreciation.... Wud like to quote few lines from this article for my own teenage daughter, an extremely happy go lucky and confident kid and a budding poet in the making, who is in a precarious predicament of having to bear the brunt of a sarcastic and critical
More...
by:
Savvy