Personal Growth - Something out of nothing
by Megha Bajaj
A fistful of mud, a handful of amla, a crisp dosa – the seemingly ordinary, became the reason for a lifetime of memories
Download PDF Format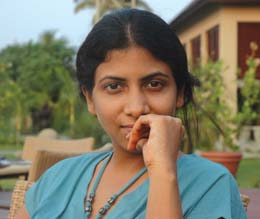 Megha bajaj is above everything else a seaker. At time
she tries to find herself through words. At other times,
she attempts to understand herself by being with childern.
contact:megha83@hotmail.com It was just mud. One could have missed it lying there in the midst of the tall blades of grass. But we decided to make it the cause for exhilaration. A few of us had gone for a spiritual camp and discovered the little child in us not through meditation or satsang, but through mud. It all began with the boys playing some harmless football in the rains during the lunch break. It transformed into them flinging mud on each other's foot. And then there was no looking back. Or front. Or right or left. There was mud all around. Hair, new white clothes, neck, everything was caked in mud. I never thought looking, behaving and smelling like a pig could be so much fun. Yet the only word to describe the mud experience is exhilaration – pure and simple. It was only mud, and yet it became the means for several of us (age ranging from 20 to 80) to find our free, uncomplicated, fun selves.

An amla tree, like any other. But it caught my sister's eye. Slowly all of us caught on. We had gone for a trip to a hill station and just outside our bungalow stood this amla tree. All of us ran inside the house, brought a bed sheet and stood under the amla tree. The tiniest of us cousins climbed on to the tree and shook the branches. All of amla heaven broke free. Tiny yellow green amlas fell everywhere and we ran with the bed sheet trying to catch them. We all were laughing so loudly that eventually several residents from surrounding bungalows, looking for 'neighbourly borrowing' came, joined the fun, and took a handful of amlas and a smile back. It was one of the most wonderful afternoons of my life. And to think, it was only an amla tree!

A dosa. I barely knew her and she looked sceptical when I invited her to have some of my mom's golden crispy dosas. She lived in the building next to mine, she went to the same school as me, we were in the same class since seven years, and yet we didn't know each other. She was the class brain and I, the class clown. We both looked at each other with our noses up in the air and yet some sadness in her eyes that day made me invite her over. Over dosas we spoke. And spoke. I couldn't believe how much we had in common. Today, she is my closest friend. A dosa, that's all. But it gave me a companion for a lifetime.

I have come to realise that 'it' is nothing only if I am unable to find something within it. If mud can become fun, amla the reason for bliss and dosa the means to find a close friend, then there must be something in everything. A day in itself will just be a day, a nothing in the larger context of my life, but I can make it into the turning point. A sunset with a loved one can either be another evening of my life or become a lifetime memory. A breakfast can be made special for a loved one with a yellow rose besides the toast. It actually takes so little to become happy. So little to make another's day. So little to find something in nothing. After all, don't the greatest of gurus say that everything is in nothing – can we begin by finding something in it for starters?