Personal Growth - Song of the single parent
by Lipa Rath
Two may be company but one can be bliss if only one knows how, says Lipa Rath, who has been there, done that

Download PDF Format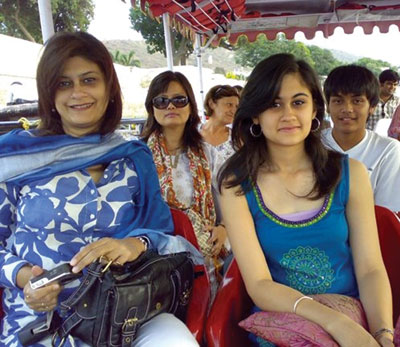 A symphony in blue: Lipa Rath with daughter Ria When I got separated and later divorced, my daughter Ria was barely three years old. I decided to separate as I was increasingly getting uncomfortable with letting my child witness the parental discord and disharmony at home. I had no doubt that we were totally incompatible and it was unhealthy to carry on with the relationship. I feared I would go mad if I continued. People who loved me and cared for me were shocked at my decision to separate while the child was so young. Many voices rained opinions on me:

"It's important for her to have both the parents together."

"She will be traumatised!"

"She will lose her emotional and mental balance."

"She may hold it against you all your life."

"You don't understand this now, but you will regret it all your life!"

I reviewed the situation. I realised that if I wanted to take care of my child, I would have to take care of myself to begin with. Despite everything, I followed my inner voice: I had to get out of a destructive marriage.

Today, 16 years later, I can say with confidence that I am happier because I decided to be a single parent. My daughter is 19 years old. We are great friends and we respect each other deeply. There is understanding, and harmony in the house. I'm so glad that I listened to no one but the voice within.

Here is my list of insights that make single parenting such a wonderful experience. Indeed these insights can enrich the experience of parenting, single or otherwise.

Being a friend to my child

Though I was the more mature person in our relationship, I had to be a friend to my daughter first. I could not promise something and arbitrarily decide to not fulfil it. I still cannot afford to be rude and snappy even fleetingly in public. In private, I can get away with it sometimes, if I make sincere amends later. No matter how great I think my ideas, they are always communicated as suggestions and never imposed on her. Her likes and dislikes are always honoured and respected.

Learning to draw boundaries

As my daughter grew older, there arose a need to draw mutually agreed upon boundaries. They pertained to several issues including money, outing, friends, music, internet hours, chatting and relationships.
| | | |
| --- | --- | --- |
|   | |   |
| | At times I had to put my foot down and insist that certain things were non-negotiable. She could not do drugs. Alcohol was a big no as long as she was in school or college. | |
|   | |   |
At times I had to put my foot down and insist that certain things were non-negotiable. She could not do drugs. Alcohol was a big no as long as she was in school or college. Even the negotiable boundaries needed constant reviewing and revision because children tend to stretch rules. This made me conscious of how I behaved as well because I could not ask her to do what I myself was not capable of.
Making room for mistakes
While boundaries are reviewed and the child is cautioned, I have allowed space for her for to make mistakes. When she does make a mistake despite my wise counsel, she usually admits that she got it wrong. I consciously remind myself not to say I told you so. Instead, I give her a hug and say, "I love you and I trust you." This, I believe, has helped me gain her respect. It also helps us deepen our friendship and leaves no room for guilt.
Becoming self-disciplined
As I grew up along with my daughter, I realised the need for self-discipline. It became evident that I had to change my lifestyle to live life more fully, and not passively let things happen to me and eventually die like a vegetable. I became committed to living a conscious and healthy life – body, mind and soul. I gave up social drinking. Initially, it was very hard to resist the temptation of a harmless glass of red wine at friends' places, or that mouth-watering shot of Baileys or Kahlua after dinner! However, what I gained after I gave up drinking was that it gave me the moral strength to tell her that there had to be no alcohol while she was in school/college. Had I not dealt with my own drinking, my stand would have made me sound hollow.
Honesty and transparency

At the beginning: an infant Ria with her mother and maternal
grandfather
If you don't want your child to eat fast food made from refined flour and preservatives, refrain from having it behind their backs. Children are deeply psychic when it comes to parents. They can sense what you are doing behind their backs. It is better to admit that you like the taste of the forbidden food and ask your child to share the bowl with you. This will ensure that your child does not eat the whole thing and you don't completely deny yourself the things you like! You gain their respect by telling the truth and also train them in exercising restraint in the face of temptation. I did this with Ria over my favourite brand of instant noodles and she told me, "I knew you did not eat this because it's not good for health. But I didn't know you liked the taste of it. Now, that's self-control!" She was impressed.
There is no partner judging you
Single parenthood allows you to discipline your child without being constantly challenged by your partner. This is one of the greatest joys of being a single parent. Let me illustrate my point with an anecdote:
My friend's son Abhishek goes partying with friends. It's been clearly communicated to and agreed upon by Abhishek that the driver would get Abhishek back home by 10 pm. The driver comes back alone at 10.30 pm.
After several missed calls, Abhishek picks up the phone. "Dad, I asked mom and she said I could spend the night at Tarun's. You can ask her. She gave me permission."
Dad calls up mom who is at another party.
Mom: "Come on, sweetheart; let him have fun with his friends. It is a Saturday night."
Dad: "I have scheduled riding lessons for 7 am tomorrow morning. I have already paid Rs 1,600 in advance for both of us."
Mom: "So what?"
Dad: "It was meant to be a surprise for him, since he has been wanting to take horse-riding lessons for a while.
| | | |
| --- | --- | --- |
|   | |   |
| | No matter how great I think my ideas, they are always communicated as suggestions and never imposed on her. Her likes and dislikes are always honoured and respected. | |
|   | |   |
I hardly get time with him. Can't you understand that I want to spend some quality time with my son?"
Mom: "Will you stop shouting at me? It's not my fault that you don't have quality time with your son. You do have all the time in the world to watch sports on TV."
Dad: "You don't miss a single episode of your saas-bahu dramas, and keep posting silly comments in response to equally silly comments by your friends on Facebook."
Mom: "Darling, let me not remind you of what you do on the internet…"
Point is, often parental accusations fly freely in front of children, which is certainly not desirable. Such scenes don't happen when you are raising children as a single parent for the following reasons:
a) No one can flout or overrule your "agreements" with your child.
b) Your partner is not there to point your mistakes out or ridicule you in front of the children.
c) You gain their respect because they never see you ridiculing your partner.
d) You are neither being shouted at nor are you shouting at someone!
Learning to apologise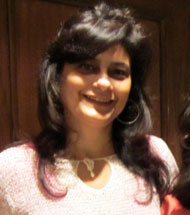 Lipa Rath is a truth-seeker. She
is a spiritual counselor and
teacher.She has just finished
writng her first book, Living
Courageously, yet to be published.
She lives in Gurgaon.
When I'm sorry about something, I apologise sincerely from the bottom of my heart to my daughter. I also promise to make amends. I ensure that I never tender an abrupt offhanded apology and rush my daughter to her favourite restaurant, so I can reestablish my power and control over her. It takes courage to ask your child for forgiveness. In the long run, it strengthens the bond.
You can give your child an overdose of love
I have been warned many times, "You should not shower too much love on your child. You will spoil her." I believe a child should be disciplined as little as possible. I am not saying one should ignore their mistakes. However, caring for them in small and big ways, and demonstrating love as much as possible make children feel secure, responsible and grateful. It adds to their self-worth. It makes them generous. As they learn to become more 'giving' in life, the Law of Attraction ensures that they get it back from the universe in equal measure.
I'm so grateful for having been given the opportunity to be a single parent. Single parenthood has wrought beautiful changes within me.
See more articles on Personal Growth :
http://www.lifepositive.com/Articles/PersonalGrowth