Personal Growth - Take care
by Deepti R Paikray
Caring for the elderly is a challenge that can throw the sturdiest off balance. Deepti Paikray explains how we can extend care and compassion without neglecting our own lives and goals

Download PDF Format
A CAREGIVER`S TALE
August 24, 2009. The date is imprinted in my memory because that is the day my sturdy, independent mother fell ill with malaria, which eventually culminated in a stroke. The stroke paralysed her
More >>
---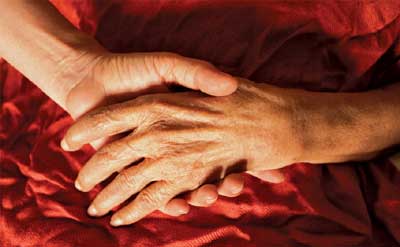 In most homes, aged parents, like an ancient banyan tree, render a soothing shade to our lives and bless all that seek refuge beneath its canopy. However, old age brings with it severe health challenges, and before we know what's what, we are parenting our parents. Such a responsibility can often be overwhelming and have painful aftermaths such as disrupting career paths and family life.

Sixty four per cent of India's approximately 80 million elderly populations are dependent on their families. According to a geriatric researcher, most elderly above 80, will, in the last two years of their lives, become totally dependent, unable to perform even basic activities like eating, dressing or getting out of bed.

The emotions involved in caring for a baby and a parent are very different. As Dr Mark A Edinberg, clinical psychologist and counsellor to the elderly expresses, "Your purpose in providing care is not to raise them in the same manner that one raises children, but rather to help them cope and adapt to losses."

Jane Gross, journalist with the New York Times and writer of the blog The New Old Age, spent a nerve-wracking three years caring for her elderly bedridden mother. Her writings express the predominant sentiments of an entire nation: "Had I been a parent, I might have been just as stressed, but part of my energies would have been invested in a child's bright future. Old people may have good days, and it was my job to maximise those for my mother, but they don't have bright futures."

In contrast, in Asian cultures, elderly parents are largely respected for their experience and wisdom and children follow ethics that encourage kindness and compassion for the elderly. Yet with the promulgation of nuclear families or family dissensions, this way of life is becoming a rarity.

Family dynamics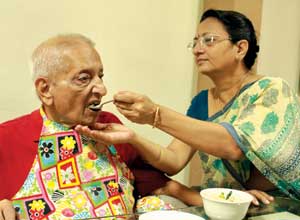 Stroke victim, YR Mukatiwala, being lovingly fed by daughter
Rashmi Khansara In most families it is the immediate son or daughter that cares for their elderly. Most caregivers are women, besieged with chores that rob them of energy and personal freedom. Caregivers often indicate that they had no choice and find the obligations overwhelming. In juggling responsibility, careers and families, the caregiver's own health flounders, with almost 91 per cent of them reporting depression, anxiety and chronic conditions like high blood pressure: a primary reason why caregivers are identified as 'hidden patients'. Elderly parents suffer from chronic ailments whereas caregivers from chronic anger at being stuck in an unenviable situation.

A family is often pulled in different directions. Often elderly parents feel comfortable with a 'chosen' child. In order not to feel burdened, the primary caregiver needs to involve other family members on major decisions like immediate health, finance, everyday care in a manner that binds the family together in a trustworthy manner. The key factor, then, is to work towards a win-win situation where parental needs are met and a better present and future are ensured for the elderly and the principal caregiver. Roberta Satow, psychoanalyst in New York, prescribes, "When you confront an ocean of need, bring a cup." By this he means that instead of running away from the stress of caregiving or being overwhelmed with responsibilities, we should stay put and set limits in a fair manner that 'balances generosity with self-preservation.'

Self-preservation stresses the importance of the caregiver pursuing his or her own goals and objectives too. This can best be done by discussions with parents with the intention of finding solutions that work for all.

After all, the elderly need kindness and support, whereas caregivers and family need privacy, independence and appreciation.

Bridges of understanding

Eighty six per cent of the elderly have some sort of chronic condition such as diabetes, heart problems or arthritis that limits their
 
 
"Old people may have good days, and it was my job to maximise those for my mother, but they don't have bright futures."
- Jane
 
 
physical activity. The most common mental problems of the aged are depression, confusion and loneliness. Psychologists advice that whilst giving reassurance, it is important to listen carefully to our parents' concerns, assure them that we care, and lastly, offer hope, no matter how dire the immediate situation. This opens the way to an open communication and trusting relationship.
The tradition of caregiving is beset with anxiety and stress. Adults are often overcome by guilt that takes the form of reactive, frustrated behavior or somatic symptoms. To fulfill parental expectations, they give up on their own dreams and lead unfulfilled lives. On the other hand, several women in their mid-30s want to quit the rigours of a fulltime job to have quality time for families and self, but are unable to do so for fear of being trapped, especially in the event of living with aged parents and in-laws. Very few manage to strike the right balance between taking care of the elderly and pursuing their career with equal zeal.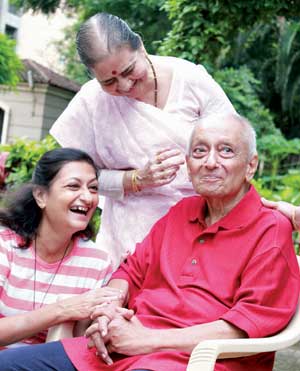 YR Mukatiwala enjoys a moment of fun with his wife Tara and
daughter, Bhavna
Aged parents can be fiercely independent. It requires immense grace and strength for elderly parents to relinquish their independence to family members. My late father, a very proud man with an immaculate personality, was diagnosed with complete renal failure. The last five years of his life were truly painful with daily dialysis and frequent hospitalisations. Yet he never insisted that his children or daughter-in-law compromise with their careers. As a result of which he received unflinching devotion and love till the very end.
Therapists suggest that when difficult decisions such as having parents leave their home and move in with an offspring or a home for the aged need to be taken, it is important to reassure them that the decision has been taken to safeguard their health and well-being. Loving communication and a realistic approach will help quell the parents' natural feelings of worry.
Through his long career of consulting the aged, Dr. Mark Edinberg concludes that many of us harbour prior notions of old people as being cranky, irritable and not open to discussion. This again has a direct bearing in how we relate to them. But rigidity, stubbornness, insecurity are not age-related traits. Small changes can be induced in unwieldy elders through personalised interactions with other members of family, doctors and health professionals.
Directional goals and a spiritual core
The old too have a responsibility to lead their lives purposefully and joyfully. When possessed of a deep spiritual faith, positivity and a series of goals to give their lives purpose, they are of help to family and society and lead healthier, more peaceful lives. Recently in a leading daily, I was delighted to read about two wonderful grandmothers: Gouri Dash, 85, has been writing stories for children in Oriya since last three decades. Her latest book, Piplivan is a personal triumph, written in English, a language she has only a functional command over, garnered from her grandchildren's textbooks. Asha Shankardass, 79, is a practising company secretary and inspired by her grandchildren, wrote her first novel about Champa, a nine-year-old obsessed with travelling around the world. The dewdrop-fresh, imaginative writings amply reflect the child-like (not childish) spirit of the two 'aging' citizens.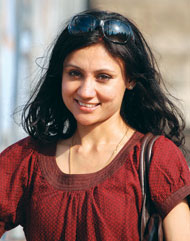 Deepti is a homemaker, yoga
teacher and writer residing in USA.
Writing for her signifies life
which include the swells of joy,
lows of retreats and plateaus
of acceptance
My aunt in Nagpur, a 75 year-old sprightly lady, is highly disciplined. Daily satsangs, neighbourhood camaraderie, a crackling interest in everyday happenings and a deep contentment with what life has to offer, has wonderfully enriched her ageless soul. Thrifty with finances but lavish with her experiential anecdotes, she willingly trains eager neophytes in sewing, crocheting, pickling, child-rearing and budgeting.
A recent best-seller, Tuesdays with Morrie, is a wonderful real-life account documented by a successful man, of his interactions every Tuesday, with his favourite professor who was on his deathbed. Denouncing a culture that treats its aged with scant respect, Morrie ruminates, "Aging is not just decay, you know. It's growth. It's more than the negative that you're going to die, its also the positive that you understand you're going to die, and that you live a better life because of it."
Doing the right thing
Doing the right thing is the mantra that will help us to find our profound place in this world amidst expectations, duties, sorrows, joys and lacerating tears. Despite our best efforts, parents can remain obdurate and unhappy till the very end. However, we will be at peace, having done the right thing, before we say the final goodbye to them. And it is up to the elderly to remember that the richest inheritance they can leave behind is the legacy of love.
See more articles on Personal Growth :
http://www.lifepositive.com/Articles/PersonalGrowth