Personal Growth - Take care
While cultivating the right brain increases our spiritual quotient, for those with a dominant right brain it is equally imperative to cultivate the left brain for only that will enable us to mature into taking care of the world, says Suma Varughese

Download PDF Format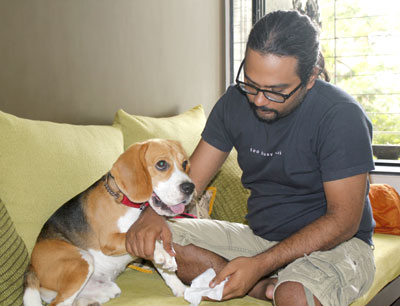 A long time back I wrote an article in my Spirit column, about Mary and Martha, two sisters from the gospels who happened to be particularly close to Jesus Christ. One day Christ came to their home and Martha, weighed down under the task of looking after a guest, asked Christ to persuade Mary, who was listening rapturously to his gospel, to join her in the kitchen. Christ responded that Mary had chosen the best part and it would not be taken from her.

In Christian theology, the sisters represent two modes of being – the contemplative and the practical-minded, the thinker and the doer, or the right brain and the left brain. I wrote in that column that while I strongly identified with Mary (being very impractical myself), I admired the Marthas of the world – the smart, capable, efficient doers who ran the world, and fed and clothed the Marys.

In my own journey, my ongoing attempt has been to develop the Martha in me, even though I deeply appreciated being a Mary. For the truth is, it is not enough to be a Mary or a Martha. As we approach the New Age, with its imperative to evolve, we are obliged to be a whole, not a part of any duality.

Even though the effort in the spiritual community is to develop the right brain and balance it with the over dominant left brain, my own journey has been quite the opposite. It has been to develop my inadequate left brain and bring it on par with my right brain.

The two brains

But first let us define our terms. The brain, as most of us know, is divided into two distinct cerebral hemispheres: left and right. The left brain is the seat of order, logic, analysis, sequence, structure, discipline, will power, and problem solving. It is analytical, objective, looks at parts and is rational. The right brain is the seat of creativity, spirituality, aesthetics, intuition, synthesis and holistic thought. It is subjective and looks at the whole.



The mother is the quintessential care-giver It is true that I have my fair share of creativity and intuition, and that my spiritual intelligence is high. I also have a synthesising mind which can go to a higher plane to unite opposing ideologies or phenomena. I am naturally drawn towards integrating everything within me into one whole, and to strive for a philosophy that is unitive and cohesive. These are powerful strengths and I am grateful for them. At the same time, I have led the greater part of my life without even a modicum of discipline, self-control, will power, sense of organisation or order. To add to the difficulties, a 16-year depression also made short shrift of my memory, and invested me with a deep sense of indifference. Perhaps the only left brain capability given to me was my linguistic skill. I loved words and although it was difficult to structure them into sentences, I like to believe that my writing capacities gave me a gateway to left brain skills.

This would have been an individual issue and not the subject of a cover story had it not been for the fact that more and more right-brained people are entering the planet. Perhaps we are needed in order to free the world from its overwhelmingly left-brained orientation, but alas, it is not easy to live in a left-brained world.

In their book, Right-brained Children in a Left-Brained World, Jeffrey Freed and Laurie Parsons put forth the view that the increasing tribes of children with Attention Deficit Disorder (ADD, also called ADHD for Attention Deficit Hyperactivity Disorder) and even dyslexia are actually those who have an overpowering right brain. Of course, talk of a new breed of children called Indigo in spiritual circles has been going on for years. One of the characteristics of Indigo children is independence of mind and an aversion to authority or structures. Could the ADDs be Indigo children? The connection has been made. A Wickipedia entry on the Indigo phenomenon says, "Many children labelled indigo by their parents are diagnosed with attention-deficit hyperactivity disorder (ADHD)."

Write the authors, "The child with genuine ADD typically has just two speeds: full tilt and collapse. He consistently has a short attention span which means he fails to hold a thought for more than a few seconds. He rarely finishes a task, bouncing like a pinball from one activity to another. He doesn't have a built-in brake in his brain that tells him to look before he leaps. His lightning-fast visual mind flashes from random thought to random thought: his thought patterns are like a brain-storming session run amok. He is nonlogical, nonsequential and non verbal (although he talks constantly), physically and socially clumsy, and hopelessly disorganised."

Although I did not have learning disabilities and was, in fact, a good student, this could well be a portrait of me.

The trials of right-brained children begin as soon as they start going to school because their learning style is more visual than auditory and the left brain educational system emphasises the latter. Too often dismissed as stupid, disruptive and anti-social, these children end up with severely damaged self-esteem and therefore spiral even further down the vicious cycle of ineptitude and helplessness.

How will these children fulfil the tasks of growing up and taking care? Many may already have become adults, perhaps floundering in our increasingly complex world. Where should they start their journey to becoming whole? According to Jeffrey Freed, the solution is to acknowledge and appreciate their right-brain capabilities and to cultivate a visual style of learning. But eventually they too must beef up their left-brain skills.

The first step of this journey, I believe, is in becoming comfortable with chaos. The left-brain has the advantage of will and discipline to impose order on chaos. Not so the right brain. With its disrespect for rules, regulations, order and structure, it is synonymous with chaos. The right brainer (and his/her family!) must consent to living with messes in the workstation, the kitchen, or the study table. Tasks may be left incomplete, clothes and papers may be strewn around, mealtimes may never be in time. The right brainer must come to terms with this random way of being, for only that will enable him at some point to move naturally towards order.

Turning point

The turning point in my case was a massive spiritual awakening (for which I have my right brain to thank!), which cleared up my confusion and helped me understand the laws and purpose of life. For the first time, I wanted to live now that I understood how. But alas, I was still shackled by my left brain inadequacies. Far from finally plunging into life as I longed to, I found myself bound by invisible cords of lethargy and inertia which made it all but impossible for me to take control over my life.

Fortunately I prevailed. Because I had one quality that stood me in great stead and that was determination. No one should ever underestimate determination, for everything comes to the one who is determined. And I was determined. I was determined to be determined! I was determined to be disciplined, to be organised, to be orderly and methodical.

Learning to take care



Indu Rao Above all, I was determined to be someone who could take care. Every time I looked out of my window and saw the snowy whites and brights of my neighbour's laundry responsibly held up on both sides with clips, I would wince at the way my own clothes hung shoddily on just one clip. I would see the way my elder sister organised her newspapers in neat piles and think about the way I tossed mine up to the loft where they hung in woebegone disarray. When a button broke on my shirt it never got fixed. Instead, I would make do with a safety pin.

What does one do when one's mind is in such severe disarray? The only thing possible. Awareness and acceptance. I was not capable of any more active tools but I could be aware of what
"I never stop anyone who asks me for help whether it is for a job or a maid. I never think why they ask me. I just do it."
- Indu Rao
I was feeling and at least accept the outermost layer of what seemed like a never ending spiral of feelings. I would also affirm with fervour that I was all the things I was determined to be. These three tools have been my indispensable props on my journey to wholeness and I would recommend it to others caught up in a maelstrom of resistance and negativity.
Everyman's journey
For the journey towards taking care does not belong only to those looking to cultivate their left brain. The process of growing up demands that we move from being taken care of to taking care. In that sense this journey is everyman's.
For some though, the process gets arrested because of an early childhood trauma or
depression
or illness of some kind. Such people too need to make the journey to taking care consciously. A friend of mine lives alone and keeps a cook because she is afraid that she does not
love
herself enough to feed and nourish herself.
Maninder Cheema, deputy general manager at SEBI, recalls that when she was five, she took the family pet puppy for a walk. En route the little one ate something, a bone pierced its throat and it died an agonizing death. Her father punished her severely, and in the process she became convinced that she did not know how to take care.
Says she, "It manifested in an inability and dislike for being responsible for other people's well-being. While in college, my mother, who was a working woman, would come home for lunch and I was in charge of making her chappatis. I never made them on time. My brother would often ask me to make some treat for him. I always used to say, 'Why should I?' I refused to perform a nurturing role anyhow."
Living alone in Mumbai, she actively resisted entertaining or even serving someone a cup of tea. She was, however, good at taking care of herself because she wanted to be self-reliant. It all changed when she participated in a
personal growth
process which dredged up this memory. For the first time she became conscious of the source of the idea that she could not take care. Today, she happily invites friends over for a delicious meal.
The role of self-esteem
For everyone, the journey towards taking care is intimately tied with the level of one's self-esteem. For it is self-esteem that enables us to move beyond our narrow emotional and psychological needs and focus on the needs of the world. What helped me to have the courage to look at myself and
work
on accepting what I saw was an experience which enabled me to recognise that I was whole and perfect. I recognised then that the deeply damaged person I thought myself to be was nothing but conditioning. This gave me the detachment to disassociate myself from my personality and therefore look at even the most negative aspects without suffering a breakdown.
Says Delhi-based trainer and facilitator, Anil Bhatnagar, "Self-esteem is critical for the journey towards maturity and responsibility. It is a movement away from the ego and towards a healthy sense of self," he says insightfully.
How does one cultivate self-esteem?
One of the most powerful, albeit slow, methods is to recognise that we are part of
God
and therefore divine. If that is so, then we have every right to feel wonderful about ourselves. The best part of this is that everyone else is also divine. Our self-esteem therefore does not depend on pulling down someone else. We are all equally wonderful. This notion may take time to set in and impact our thoughts and behaviour but once it does we will have changed at the very core of ourselves.
Affirmations will speed up the journey and so will actively loving yourself. Louise L Hay, author of Heal Your Life, advocates standing in front of the mirror and affirming that you
love
yourself.
Above all, become committed to being there for yourself, to supporting yourself and becoming your best friend. Recognise that ultimately we are all that we have on this human journey, for everything else is subect to the law of impermanence.

Adity Roy Nair
Another quality that helps us on this journey is the capacity to forgive ourselves for the mistakes we will inevitably make. Right-brained people are notorious for being hyper sensitive to criticism and for being perfectionistic. Self-esteem will enable us to become more tolerant of ourselves and forgive ourselves while reiterating out commitment to becoming better.
Flexing one's take-care muscles will also help us quicken our progress. Each time we feel from within that we are ready to take on a new responsibility or role, we need to do it. When I was offered the editorship of
Life
Positive, I felt I was ready to take it on and did so. Over time I felt I had expanded enough to take over my household duties as well which my sister had been supporting me in doing. Eventually I managed to fit in an exercise routine to my packed morning as well.
Sahil Mehta, an aspiring Mumbai-based actor, was left alone when his widowed mother, Neelam, recently died of cancer. From having his house and meals organised for him, he was thrown into the deep end.
Wherever I have lived, I have surrounded myself with greenery and I also plant something on the ground for it to remain for posterity,"
- Adity Roy Nair
"There were a lot of things I took for granted like the way the milk cartons would turn up or the a/c bills would be paid. Buying vegetables and groceries were a challenge too. But it was in the more important things like managing our relationships with extended family that I miss Mom the most. She used to handle them so well. Now I am learning to do so."
He admits that from being rather self-centred, he is actively striving to be available to others for his mother's
death
has taught him the importance of relationships. Meanwhile, he has wisely joined a cricket club and is using the exercise to get the better of his grief. But being left in sole custody of himself is still a tall order. "These days when I like a shirt or a pair of shoes, I buy them for myself," he says poignantly. "Because who else is there to give me gifts?"
Milestones
In my journey of taking care, two milestones stand out. The first is the immersion for two-and-a-half years in the task of looking after my mother who had suffered a stroke. I have written about it often enough so I will not say much except that being responsible for a paralysed patient taught me an enormous amount of what it meant to take care. I started off being mortally scared that my scattered mind, poor
memory
and lack of responsibility would jeopardise my mother. But fortunately my determination to care for my mother and my deep
love
for her steadied me as did my own commitment to accepting and forgiving myself for all my mistakes. It delighted me to discover that what I was doing, according to all the doctors, nurses and ayahs I encountered, was quite laudable. They reiterated that they had rarely seen a parent being taken care of with as much
love
and devotion as my sister, Susan (who partnered me in
parenting
my mother) and I displayed. It was heartening to discover that I was not faltering in this great responsibility entrusted to me.
The second milestone was when I decided to do up my flat after almost 11 years of negligence. By then it was in a state of grave disrepair. The walls had cracked, the paint was peeling, the flooring was in a bad shape and patchwork repair had left behind great big blobs of cement on the ceilings and walls. The flat was like a black hole in my
life
that sucked away at my self-esteem. I was so deeply ashamed of its appearance that I stopped inviting people home. But life, and perhaps my own self-distrust, stopped me from repairing it until October last year. It was a major miracle that the repairs I had so dreaded and felt so inadequate to handle, actually went off smoothly and in the process my ramshackle flat was transformed into a thing of beauty and grace!
Living in this beautiful space has wrought a near
transformation
within me. Books no longer pile up into six-foot mountains, nor do waste papers trail on the floor. The windows are scrubbed clean, and so are the tiled walls of my kitchen. As for my kitchen platform or dining table – they shine!
As I look around my little kingdom, I make a mental note to give more companions to my solitary little plant sitting on my window ledge. The monsoon is drumming a lively medley against my window, reminding me to extend my balcony garden because now I know that I will care for them. Finally, I feel that
life
is safe with me.
Responsible for life
For that is what it means to take care. It means to be responsible for life. It means to nurture and nourish all that is entrusted to you whether it is a life, a home, a business, a
relationship
or one's possessions. It means to be an agent of
God
and joining Him in the sacred task of world maintenance. It means to be a member of Vishnu's army, focussing not so much on creating or destroying, though they too have their place in taking care, as in maintaining. Scrubbing, cleaning, washing, polishing, tending, mending, healing, loving, giving, growing, mowing, feeding – these are the tasks of the caregiver. The caregiver takes care of
life
and in the process, the caregiver receives life. Taking care enhances your
life
force. And the more the
life
force, the more you take care. We now ascend a virtuous cycle that supports us and the world in increasing measure. In his book, The Road Less Travelled, Scott L Peck mentions the opposing forces of entropy and
life
force. Entropy can be seen as the
death
force, pulling us down and sucking us into withdrawal, indifference and listlessness, eventually leading to atrophy and death. Our capacity to take care gives us immunity against this force, and invests us with a powerful sense of life.
In an article on the Internet called Caregivers: The Great Nurturers, someone called Jayne Cunningham, who interviewed a number of caregivers, reflects, "I see people open up more and more along the way. They become secure with themselves, more willing to express and communicate. I see a vibrancy develop, a spirit. Being a caregiver leads one to have deeper conversations."
Is it any wonder that taking care and maturity go hand in hand? It takes maturity to take care and you earn maturity by taking care. In that sense, taking care is probably our ultimate role of life. The role we are all meant to grow into. After all, the mother is pretty much the symbol of taking care and who would deny that being a mother calls for the highest and best in you? It means consistently going beyond your own needs and desires and prioritising the needs of others; it means having a vast reserve of
love
and generosity that enables you to give whatever is needed. It means being warm, empathetic and supportive. It means holding the world to you tenderly and burping it when it needs it. It means mothering the world.
The true caregiver is incapable of shielding her eyes from the messes of the world or the hungry waiting to be fed. She will go out there with a duster in hand and a basket of bread and do what needs to be done.
Learning from the experts
For those of us on the path of taking care, studying those around us who are good at this task is a sound strategy. Not only will we source valuable practical tips, but we will also absorb some of their qualities. It is an aspect of bhakti
yoga
that whatever we study we imbibe – the logic behind the worship of deities and idols. So why not imbibe the essence of taking care? I have personally surrounded myself with family and friends who excel at this task. I still recall the time when I spent a weekend with a couple of friends and watched agog as they began packing their bags meticulously and methodically.
Another source if inspiration is an ex-colleague of mine, Delhi-based Adity Roy Nair. Her garden bursts with greenery and flowers, her dog shines with good
health
and animal spirits, her house sparkles with beauty and order, and she has two of the best brought up children I have ever met. In addition to all this, Adity also takes responsibility for the state of affairs outside her domestic domain by bringing civic authorities to book for various misdemeanours. While based in Bangalore, she had put up a spirited campaign against water shortage and pollution despite receiving threats for her life. She herself positively thrums with a
life
force that effortlessly draws people to her.
For Adity taking care came naturally. Says she, "I've always had pets. That has been my
life
since childhood. Any dog knew that it could come to me and get love. I used to bathe and medicate the family dogs regularly. My father even bought a horse for my brother when I was about 12, from some Banjaras. My brother who was pretty young then, was petrified, but I would groom, bathe and brush him. I was the only one who could ride him."
She also picked up the rudiments of plant care from her mother, a keen gardener. "Wherever I have lived, I have surrounded myself with greenery and I also plant something on the ground for it to remain for posterity," she says.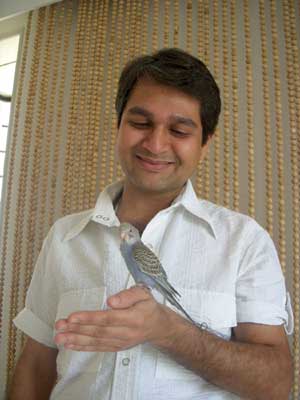 Badal Suchak: learning to become more assertive
She considers herself to be a vigilant but loving mother who does not mind courting unpopularity if it is in the best interests of her children. "There was a time when my daughter, Nikki, got on to facebook. All her friends were doing it and she asked if she could too. We had no idea if it was good or bad so we agreed. When I found that she was staying awake till 2 am chatting, I got a rude awakening and cut off all internet access. She hated me for a while but her grades improved, her confidence grew and she became a happier person. She acknowledges me for it today."
Yet another take-care tyro is my friend Indu Rao, a Mumbai-based trainer. Indu too learnt the art of taking care early in
life
for she had an exceptionally caring mother, who moreover was bedridden at an early age with rheumatoid arthritis. "Despite her pain, I saw my mother caring for others," she says. Today Indu is in the centre of a massive and growing circle of people who know they can turn to her for any kind of help. "I never stop anyone who asks me for help whether it is for a job or a maid. I never think why they ask me. I just do it."
At the end of the day, Indu says that her capacity to serve the world fills her with joy. "I feel very light-hearted. Every religion in the world encourages seva."
The evolving male
If the woman symbolises taking care through her nurturing and nourishing powers and her sensitive emotional disposition, the man takes care through his protective energy, dynamism and doership. His traditional bread-winner role and the patriarchal culture has, in fact, placed him as the main caretaker of the world. Unfortunately, this role has also often been interpreted to mean taking control of, exerting power over, dominating and conquering. Man's original care-giving
nature
has been perverted by the patriarchal culture to become a thing of oppression and violation. As we evolve and higher energies become more available to us, the male sex has the challenge of moving towards a care-giving that is gentle, not ego-based and focussed on the needs of the other.
Anand Tendulkar, a trainer,
life
coach and healer, says that he has realised that the spiritual journey is all about balancing the masculine and feminine energies within him. "I have learned to cultivate an invitational energy which is all about being receptive and open to the other." As someone who works from home with a lawyer wife who holds a full time job with an MNC, many of the domestic tasks such as dealing with the staff and buying provisions fall on his shoulder, and he complies, happily.
"The old era is going and a new one is coming in its place. Leadership roles emphasise empowering and supporting rather than control," he says. Delhi-based trainer and
life
coach, Anil Bhatnagar says, "I would definitely say that in my own journey I have become more compassionate. I have not lost my temper for the last so many years even when the other has done something gravely wrong because you realise that he has done his best given his present capacity."
Badal Suchak, a sculptor and artist based in Mumbai, says that he had to make a reverse journey – evolve from being an over-nurturing person with a low capacity to assert himself to becoming more assertive and cultivating a healthy style of nurturing which enabled people to become self-reliant.
Mary meets Martha
Does all this mean that Martha is on a higher plane of
life
than Mary? No, indeed. Both have their respective strengths and Martha needs to learn about the higher truths, the purpose of
life
and how to get there from wise Mary. Mary provides the compass and navigation; Martha prepares the picnic hamper, wakes, bathes, feeds and dresses the kids before piling them behind in the car and also takes care of the entertainment. Both are needed, but without Martha there would be no life. But it is when the two intersect that we have the Great Nurturer – the one who can give selflessly to the world because he or she no longer needs. Such a one is endlessly filled from within so that he or she can in turn focus on the other. Mary's spiritual prowess helps her access universal energy and Martha then enables it to overflow into the waiting world.
Many of the great world teachers and caregivers who have ceaselessly devoted themselves to the welfare of the world have merged the Mary and Martha within them, deriving inspiration from the inner Mary and putting it into action through the offices of their outer Martha. Whether it is Swami Vivekananda, the Buddha, Mahatma Gandhi or Mother Teresa, the great ones were also great organisers and disciplined task masters. Even the capacity of our present-day gurus such as Sri Sri Ravi Shankar, Sadhguru or Mata Amritanandamayi, to create and sustain their gigantic organisations bespeak their ability to harness the Martha within them.
That then is the call of our times. If we are right-brained we need to evoke Martha. If we are left-brained we need to evoke Mary and it is only when Mary and Martha merge that we can consider ourselves equipped to serve the world.
See more articles on
Personal Growth
:
http://www.lifepositive.com/Articles/PersonalGrowth
Reader's Comments
Subject:
A beautiful piece of words..
- 23 August 2012
I always love the angle of your perception. Its is always an unexplored and ignored one. Everytime I happen to read your article I find something of me there. And it reassures my self esteem. As a student I couldn't get through all those listed exams for making myself 'The&l
More...
by:
Payal
Subject:
FEEDBACK
- 7 August 2012
I couldn't agree more with Nandini Sarkar - there's really nothing more to add except, thank you!
by:
Jehangir Chinoy
Subject:
Amazing
- 4 August 2012
Amazing article; honest and transparent. I don't know how many editors would step out of their halos and lay bare their weaknesses. A deeply enriching, linguistically engaging and thought provoking article...waiting for more
by:
Nandini Sarkar