Personal Growth - Takes two to transcend
by Jacqueline Maria Longstaff
A couple meditating together creates a shared reservoir of energy that adds a profound spiritual dimension to its relationship, communication and love making by Jacqueline Maria Longstaff

Download PDF Format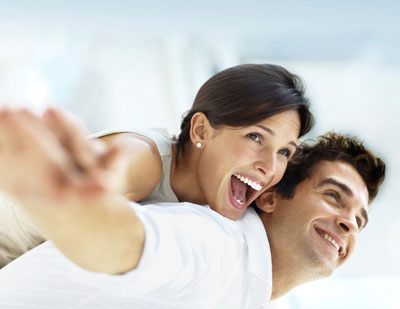 I believe it was Osho who said that the Buddha (the awakened one) is the merging together of man and woman (meaning the masculine and feminine.) This can happen for those who walk the path alone but also for those truly committed to a spiritual relationship.

On the path, seekers often surrender to a guru. In the same way, the highest potential that a relationship can reach can represent the guru principle. The couple can surrender to this and put the potential of their relationship before individual self-centered desires. What I mean by surrender here is to consciously offer up or let go of old patterns of behaviour that do not serve the relationship. I mean letting go of emotional dramas which pull the people involved into a low vibratory state. This we could call falling in love, with the emphasis on the word falling. Stuck on a lower vibratory level it is much easier to get lost in the drama of what I often call relation-shit! Such things can be surrendered in favour of the highest potential of the relationship. When a couple can be together in this way we can talk about rising in love.

I would suggest that people in a relationship regularly share a meditative space together. They can choose to spend some time together in meditation each day or a few times a week. If the two use different meditation techniques, it is perfectly OK. They do not need to change anything. Simply sharing a meditative space together helps couples to consciously build up an energy field that nourishes the relationship. It also strengthens the spiritual link between the two, creating a connection and a neutral space beyond the emotional dramas that have to be dealt with. When they have built up the shared energy field, it is possible to use this field in many ways. For example, a couple can make important decisions in the clear space of this energy by sitting down and meditating together before they go into a deep discussion where such decisions have to be made. They can use it to help each other heal old wounds by consciously channelling this energy to each other in times of distress. They can also bring this energy into their physical love-making, bringing together sexuality, the love in the heart and a meditative space.

As they learn to hold a powerful space together energetically, it becomes easier for them to totally accept each other's emotional patterns without falling into the trap of mistaking them as real. The one who is more clear and balanced when the other is upset emotionally, will be able to hold a clear space for the other, enabling him or her to more easily come back into balance. This makes it easier to let go of blaming each other which then allows each one to be more open and vulnerable in the relationship as there is no fear of being judged.

Love triangle

One big challenge in relationships is when people begin to get bored with or close down towards each other and embark upon what is called an extra-marital affair. A so-called third party then seems to be the cause of the breakdown of the relationship. However, the relationship has usually already broken down on a deep, energetic level, otherwise the affair would not have happened.

Instead, I suggest that they consciously bring in a third party very early in the relationship. That third party is God or Existence or whatever term you wish to use. The way to do this is to put the spiritual aspect of the relationship first.
| | | |
| --- | --- | --- |
|   | |   |
| | I suggest to couples that they consciously bring in a third party very early in the relationship. That third party is God or Existence or whatever term you wish to use. | |
|   | |   |
Bring the highest vibration and clarity into every aspect of your relationship. Live your highest truth together, and when it is not easy to do this then help each other without falling into the trap of criticising. I suggest a good place to come from is not to try to change the other but to be willing to move through one's own limiting patterns, and to support the other in the changes he or she wishes to make. The desire to change the other and to have the other behave in a certain way creates so much tension in a relationship.
'Let me be close to you, let me be free'
go the lines from a song by Gila Antara. Once a couple begin to build up a strong energy field together they can also contact it and draw energy from it when they are apart. Most people who are on a spiritual pathway and committed to realising their true nature need time alone. They need to be able to listen to and follow their inner wisdom and this often means they can no longer just go along with something for the sake of the job, what the neighbours think or the ideas the other has about how a perfect partner should be. When there is real love and respect it will be a joy to watch the other grow and to inspire each other. At times, when a couple needs to be apart it is actually possible to be just as close energetically as when they are together. They can nourish each other and the relationship by meditating regularly together when they are apart, and by each one holding the other in the heart.
Inner puja
As a couple begins to bring together sexuality, love and meditation, a powerful energy begins to move when they come together in physical lovemaking. In the beginning this energy will bring up old wounds that need to be healed.
Collective wounds may also surface and in the middle of deep love-making, one may suddenly experience oneself as all of womankind or mankind in a far away place hundreds of years ago. If the person concerned can observe with awareness and full acceptance, there might be a feeling of a collective healing of this particular episode.
Very often physical orgasms will turn inwards as energetic experiences and there will always be a feeling of deep satisfaction no matter what form the lovemaking takes. The couple will glow after each meeting and making love will become what has been described by the late Barry Long (an Australian teacher) as making God.
I really feel that a deep healing of man-woman relationships will form the basis of a new reality – an enlightened society on this planet. I look forward to the time when every man will be a Shiva and every woman a Parvati and the true meaning of the Shiva lingam and puja will be understood. Even though love-making is physical, as a couple goes deeper into spiritual love-making, there can be the experience of the physical bodies dissolving as a great sense of spaciousness arises. What may have felt like a melting together, may expand into a melting of no one into no one.
Loving unconditionally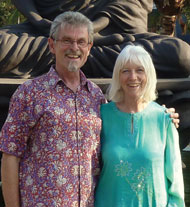 Jacqueline Maria Longstaff is Danish
visionary who is promoting the idea of a
cosmic airport through her Singing Heart
Ashram in Tamil Nadu.
This state arises naturally within us as we come deeper into the heart – we cannot force it. It is important to remember, however, that until you love yourself unconditionally, it is not really possible to love anyone else unconditionally. Until you love yourself unconditionally you may be using others to fill up your holes and soothe your pain. This does not support Truth as you will be unconsciously looking for people to play special parts in your drama! It can be quite a revelation to look inside and find out which parts you expect your partner (or others) to play out for you in the movie of your life. When the other is no longer willing to play the part there is a real opportunity for a fresh beginning and it is then possible to have a relationship not built on fantasy. It is possible to begin to be grounded together in Truth.
Giving space
It is possible to have a relationship that allows both partners to be together in deep, unconditional love and together create an energy field that supports Truth. It is possible to be in a non-destructive relationship that supports the journey to wholeness. What is important is to live all aspects of life in 'spaciousness' – without grasping or rejecting the roles that play through us and the relationships life offers us. We can live lightly and sincerely and we can choose to enjoy or not! We can remember 'this too will pass' and remember that what seems like the most horrible and the most glorious dramas (and everything else in between) all arise from the Absolute and ultimately disappear back into the Absolute. To bring this awareness into your closest relationship challenges you to live your highest Truth.
Then you are
truly rising in love
.
See more articles on Personal Growth :
http://www.lifepositive.com/Articles/PersonalGrowth