Personal Growth - Taking down the screen
by Punya Srivastava
Addiction to the screen in these days of cell phones, facebook and laptops is an increasing part of modern reality. How do we free ourselves from its tentacles and restore our balance in life? asks Punya Srivasatava

Download PDF Format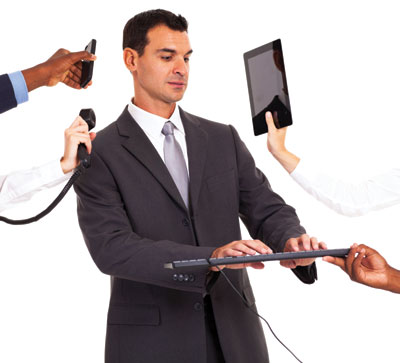 I wouldn't be surprised to hear that you committed suicide because you were deprived of a constant screen in front of your eyes," said my uncle two years ago to an addicted me. Harsh as these words seem, they were valid at one point of my life, not too long back. I was visiting him in Leicester, UK, and it was the first time I was away from home for such a long duration. I took to Facebook, Gtalk and text messages to keep in touch with friends and family like a girl possessed. I would be eager to get back to the desktop to upload my latest pictures on my FB page, staying awake late at night to connect with my friends as much as I could. In short, I was turning into a screen addict, or maybe was already one. Even after coming back, joining work, and resuming studies, I would constantly be at the desktop. When I graduated to a laptop, my addiction knew no bounds. I would work for hours at a stretch in front of the screen and then, to take a break, would log into social media or to another screen – television, before getting back to work again. I would eat in front of the screen, I had minimal interaction with my family, and I preferred talking to my friends through FB or Gtalk. A time came when I was practically sleeping with the 'lappy' on my bed. I had shouting matches with my father about moderating screen usage time. My mother started worrying about my sanity. (I haven't even started on the physical strain of the activity, for what were red eyes and constant headaches when compared to being a proud netizen?).

One fine day I stopped and asked myself, "What am I doing?" And I finally acknowledged that I was indeed turning into a screen addict. But what made me one? Or, for that matter, anyone else?

"The most important cause of screen addiction is the experience of intense negative emotions," says Pulkit Sharma, clinical psychologist and psychoanalytical therapist, Imago - Centre for Self. According to him, people suffer from emptiness, loneliness and pain, and in order to distract themselves they start overusing the screens. The 'screen' becomes a drug that numbs their pain. By seeking excessive excitement and distraction on screens, people try to change their negative mood. Certainly, I was looking to numb my career frustration. I was not getting the job of my choice, and so sought solace in screens.

Mumbai-based healer and therapist, Anupama Dafre, echoes Pulkit's thoughts, "Just like most addictions; addiction to television, internet, computers and smart phones is also an attempt to fill a deep sense of emptiness. Those suffering from social isolation resort to these addictions for momentary pleasure or as a way to escape their painful and undesirable situations. Stress and anxiety are also the causes for some getting hooked on to the screen," she says. Apart from psychological problems including attention deficiency, hyperactivity, poor concentration, impulsivity, aggression, depression, irritability and sex addiction, screen addicts also suffer from several physical problems such as backache, shoulder pain, obesity, dry and itchy eyes, sleep disturbances, and carpal tunnel syndrome. People also suffer from 'text neck' and 'iPad' shoulder.

Where does the line blur?

The line essentially blurs between the border of use vs overuse and misuse. If one uses any screen with the intention of seeking information, connecting with someone or seeking relaxation, there never will be a problem. However, the moment one uses the screen to run away from inner pain, it starts becoming a drug. It is here that excessive dependence and addiction takes shape.

"When the use of television, or internet, computer and smart phones interferes with daily life and work, such as chores being neglected, or affects one's relationships and social life, it is a sure indication that the line has been crossed," says Dafre.

At times viewers of television create false relationships with characters in movies and shows. Some addicts feel that virtual or online friends understand them better than the people in their real life. Being involved in such addictive activities gives a false sense of euphoria. One more reason behind this addiction might be that screens give people a false feeling of self-sufficiency. People addicted to screens buy into the illusion that they are happy alone and do not need anyone.

A friend, not wanting to be named, shares how this addiction nearly ruined her marriage. "I was on a sabbatical from work to raise my kids a few years ago. At that point of time, I became a member of an actor's fan site. The few minutes of news checking gradually turned into long discussions on the forum, to eventually being logged in 24X7. So engrossed was I in interacting with my virtual family that I started stalling my house work, to the extent of overlooking my children's needs," she shares. Much to her husband's chagrin, she spent every free minute in front of her laptop, or logged in through her smart phone at social gatherings.
| | | |
| --- | --- | --- |
| | | |
| | A nine-year-old boy would refuse to go to school in order to be with his PlayStation. His grades began to fall and he became irritable and aggressive | |
| | | |
The breaking point came when so engrossed was she with her online activity that she forgot to pick up her kids from school. "That day my husband threw up his hands and asked me to choose between my real family and the virtual one. This jolted me and made me realise the extent of my addiction. I started cutting off the temptation to login every now and then. Thankfully, I didn't have to visit a shrink. I managed with a bit of self-discipline and some good advice from family and friends," she says.
Pulkit shares an instance about a nine-year-old boy who would refuse to go to school in order to be with his PlayStation. His grades began to fall and he became irritable and aggressive. Eventually, he withdrew from his family and restricted himself to his room.
How to heal from the menace?
"Assistance from a professional group may prove to be helpful along with suitable therapy. Getting a hobby or an interest that doesn't involve any kind of technology or screens can help to a large extent. Participating in outdoor activities like sports, dancing, singing or exercising will have added health benefits. Restricting the duration of use of such addictive gadgets through alarms is a practical way to control over-use," advises Dafre.
"I remember a gay patient who sought psychotherapy. He was scared to admit that he was gay, and kept away from men in general. He had a fake profile online and spent hours interacting with other men pretending to be a female. We were able to work through this addiction when he finally accepted his homosexuality and started living it out in the real world," shares Pulkit.
Hence, it is important to be self-aware. One must understand why one is addicted to screens and the significance they hold in one's life. Once that is understood, it is easier to get to the root cause and by working on it, the screen addiction will fade out.
Here are some practical ways to cope with the issue: • Never use screens when feeling low; instead do something more active such as going out, talking to someone, or doing something creative.
• Work on strengthening yourself. Once you love yourself, you will love to spend more time in the real world than virtual world.
• Keep some 'screen-free' leisure hours. In a week try to keep a 'screen-free' day if possible. This will ensure that you develop other passions and interests.
• Time your use of screens. Do not spend unlimited time even if you are free.
• Disable all extra features, like any text message plans or ringtone download packages. This will deter you from craving to reach out for your phone every now and then.
• Switch off the phone at night and for small periods of time during the day to curtail excess use.
• Do some relaxation exercise daily.
As for me, well, I won't say that I don't get enticed by a screen anymore, but I have learned to press the pause button before indulging my senses. No more do I run like a ninja to check the phone at the sound of a notification. I am recovering.
See more articles on Personal Growth :
http://www.lifepositive.com/Articles/PersonalGrowth