Personal Growth - The Gentle Giant
by Abhishek Thakore
From extremely trying circumstances, Anthony Robbins turned his life around, and over the years has been helping people resolve life's issues and find peace and happiness

Download PDF Format
Some of Tony's key principles
Decisions are the pathway to power
-it's decisions that are the starting point of change
Mind-body link
– and how action creates emotion
Immersion learning
–
More >>
---
The Six Human Needs
Tony identifies six human needs that we all satisfy to live a meaningful life
Connection:
to connect with others Significance: to stand out as important and different from
More >>
---
A crowd of 12,000 people has gathered. There are lights, music and celebration. For over 12 hours, the audience is held in rapt attention. Just yesterday, they walked on a bed of hot burning coals. Today, many are taking decisions that will change the direction of their lives. It is a Tony Robbins workshop.

For over three decades now, Tony has directly connected with over 50 million people from 80 different countries. He has coached and worked with Andre Agassi, Princess Diana and Nelson Mandela. Accenture named him in the top 50 business leaders of the world list. He was sixth on the Amex list of coaches for entrepreneurs.

His book, Awaken the Giant Within has been translated in 17 languages. Personal Power II, his self-development programme, remains the best-selling audio programme in history.While this may sound like a commercial, these are facts about the phenomenon called Anthony Robbins.

The Origins

Tony was born in Glendora California in extremely challenging circumstances. His mother divorced and he took on the surname of his stepfather – Robbins. He recollects a time when it was Thanksgiving and his family did not have enough food to eat. A stranger dropped a basket of food anonymously in front of his home.

This influenced Tony so deeply that after making it big, he initiated the Basket Brigade – a programme that feeds over five million people in nine different countries on Thanksgiving.

As a teenager, Tony recollects living in a 400 square foot broken down apartment with a broken down car. He was 40 pounds overweight and financially broke. It was during this low that he made a decision – that his life will no longer be this. He raised his standards.

After this most people would have probably taken a few steps and perhaps got back into the rut. But not him. Taking what he calls 'massive action,' he moved forward – and happened to meet Jim Rohn who was his first mentor.

Tony went on to market seminars for Jim and became extremely effective at it. This is what inspired him to start his own workshop – which is today conducted across the world.

He learnt NLP from Bandler and went on to master it at the highest levels. Bandler also encouraged Tony to experience fire-walking, an activity that is today an integral part of his 'Unleash the Power Within' (UPW) weekend seminar.

The growth

Tony modified the technique of NLP to what he called NAC (Neuro Associative Conditioning). The distinction from NLP was that while NLP meant that someone external was programming you, NAC meant that the responsibility of change was entirely yours.

The initial years saw Tony appear on various infomercials – selling his trademark programme, Personal Power. A programme with 30 tapes and a workbook, this went on to be one of the trademark programmes, as US moved into self-help culture.

At one point of time, Tony was cheated by a close associate to the tune of $750,000, which effectively left him bankrupt. Instead of declaring bankruptcy, Tony chose to take a retreat – exploring deep questions about what guided the other person's actions. What emerged was Date with Destiny – an advanced programme where Tony leads participants to work on their values and identity.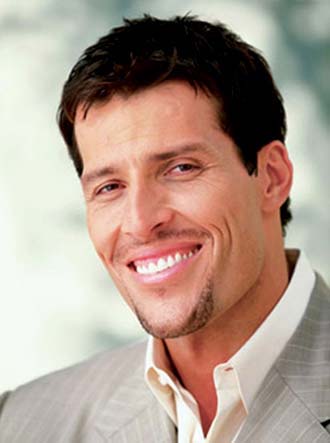 The programmes

Unleash the Power Within (UPW) is a weekend course that begins on a Friday evening – with fire-walking at the end of the day. Over the next two days, Tony shares life-changing strategies based on NLP and its related disciplines. As an engaging speaker who exudes energy and passion, Tony does a great job. Monday is on health and often handled by a junior trainer.

Apart from UPW and Date with Destiny, other programmes include the Mastery University. Programmes in this include Life Mastery and Wealth Mastery. In Life Mastery, Tony brings together some of the most famous names in New Age today – including Deepak Chopra and John Gray as they share their insights into living effectively and deeply. Wealth Mastery has sessions that are ideas into managing and making money.

Beyond this are the leadership versions of these programmes that help you take the knowledge further, and enable you to teach it.

Apart from this, there is one-on-one coaching, a series of nutritional foods and supplements, audio programmes and a few freebies. You can go onto www.tonyrobbins.com to get a life planner, and listen to his 30-minute talk at TED forum on www.youtube.com. Video recording of his seminars is strictly prohibited, so all you will be able to see are tiny clips of people celebrating.

A typical Tony Robbins seminar is filled with lots of feel-good factors – cheering, dancing, applause and fun – not too different from a rock concert. You will find yourself getting on your feet every once in a while, or screaming a loud 'YES!' with Tony. Around you will be people weeping and celebrating – resolving life issues and reaching new levels of happiness and purpose.

A life of accomplishments

Tony has worked with some of the most prominent leaders of the world. Aligned with the Democrats, he has been an active advisor to Al Gore and Bill Clinton. He has also run peak performance programmes for the US Army and Seals. Coaching Serena Williams and Andre Agassi as well as numerous US teams, he is an established authority on maximising performance.

From his modest origins, Tony today owns an island resort in Fiji called Namale. This 400-acre retreat is an ultra luxurious resort that serves as a location for his advanced programmes.

At one point of time, Tony was diagnosed with a dysfunction – a cancerous growth in the adrenal glands. He survived this, but growth hormones led him to grow to a giant – over six and a half feet and far larger than most of us.

Harvard Business Press acknowledged him in the list of Top 200 Business Gurus of the world.

With education up to the undergraduate level, Tony claims that he gets PhD results.

As an authority on negotiation, he is invited numerous times for conflict resolution, and is a part of major international bodies.

The underside

Tony is not without a downside to him.

While his earlier books often cite his wife Becky, the marriage ended in a divorce. An acclaimed 'expert' in relationships getting a divorce is not a happy thought.

He has also been accused of high pressure selling tactics to upsell his seminars. At a typical UPW weekend, you will be exposed to heavy selling and exquisite imagery for the next level programmes. These are also priced at a steep $10,000, and hence beyond the reach of most.

In conclusion

All said and done, Tony Robbins has been a major influence on the world's self-help new age scene. In a short span (he is only about 45 years old) he has created an important place for himself, rising from extremely trying circumstances.

Tony's work has helped millions all over the world – and attendance at his seminars bears testimony to this fact. His books prominently feature in bookstores, though Awaken the Giant was written in 1982.

By mastering and then simplifying concepts in psychology, and bringing them to the masses with a mix of entertainment, energy and passion, Tony stands as a beacon of hope for those looking to take their life to the next level.

Abhishek Thakore wears labels of author, consultant, entrepreneur, potential actualiser, speaker, seeker and poet over his normal existence as a living organism.

Contact: abhishek.thakore@gmail.com
We welcome your comments and suggestions on this article Mail us at editor@lifepositive.net