Personal Growth - The God gap
by Megha Bajaj
Could it be that the loneliness we feel can only be bridged by God, asks Megha Bajaj

Download PDF Format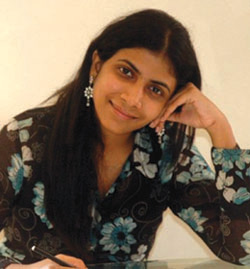 Megha is, above all, a seeker. These days she
is attempting to find herself in the role of a teacher
through the online writing course designed by her.
You can know more about her on
http://www.wonderofwords.org One aspect of life that scares many is loneliness. There is something so cold, so icky about this particular emotion that the very thought of it can send shudders down one's spine… And I was no different

In my years of growing up, I was always the odd ball. A raspberry in clusters of bananas, mangoes and apples! I didn't quite fit in with the 'intelligent' group as I really couldn't see studying as a hobby. I didn't quite fit in with the 'rich and pretty' group because neither was I conventionally rich, nor conventionally pretty with my curly hair and perpetually dreamy eyes. I didn't quite fit in with the 'rebels' either because I couldn't particularly see the thrill of piercing my belly button or inflicting pain on myself through tatoos. So I remained friendly with many and yet intimate friends with none.

I craved to share my thoughts, feelings and dreams with someone who would not hold them against me. I yearned to be me, just me, and not a 'socially accepted' version of me with someone. I wanted to be able to laugh loudly and weep noisily with someone who would love me with all my extreme emotions. And yet, somehow that one companion remained absent in my life.

Finding my passion for writing and teaching eased the loneliness to a large extent as I reached the 'profession' stage of my life. It thrilled me and certainly filled my hours with so many wonderful things to do that those sudden bouts of loneliness would burst forth only at nights, when my mind would empty itself of deadlines. Often I would sleep, happy, and yet acutely aware of my incomplete-ness.

The search for someone to complete me went on. I know I would have even entered into marriage to suck out that vacuum from within, however, fortunately before I could do that my guru came into my life.
| | | |
| --- | --- | --- |
| | | |
| | Instead of feeling repulsed by the idea of being alone, for the first time, I began to celebrate my alone-ness | |
| | | |
For the first time, I met Silence. And in one of those many epiphany moments, it struck me that the alone-ness within could never ever be fulfilled with anyone outside. That gap was the
God
gap, and Divinity alone could complete it. It was the innermost call of the soul to be united with its Source and nothing outside could ever help for long.
Instead of feeling repulsed by the idea of being alone, for the first time, I began to celebrate my alone-ness. It began with a few minutes each day – and grew into significant time with myself. Every now and then I would even take off to a new place, just by myself, so I could understand the beauty of 'Me' better. As the seeker within began to blossom, for the first time, I started noticing a growing sense of completion within. I didn't need anyone around to feel 'loved'. I no longer needed to fill my days with activities to feel 'whole'.
The journey of a seeker takes lifetimes. And I have only begun. Yet, so much about
life
has already changed. The moment I stopped looking for relationships to complete myself, but rather started seeing relationships as an opportunity to share my completeness with another, I found a soul mate in my husband Arun. Now that I am no longer searching for people to make me feel good about me, my
life
seems to be surrounded by so many wonderful people who add so much goodness to my life. Profound is this
life
– look and look for completion, and continue to feel incomplete; complete yourself by yourself, and without even asking all those relationships find a way into your life.
See more articles on
Personal Growth
:
http://www.lifepositive.com/Articles/PersonalGrowth