Personal Growth - The buck stops here
Responsibility is one of the most powerful indicators of our emotional and spiritual maturity. Indeed, our spiritual progress can be measured by the degree of responsibility we assume for our lives, and that of others

Download PDF Format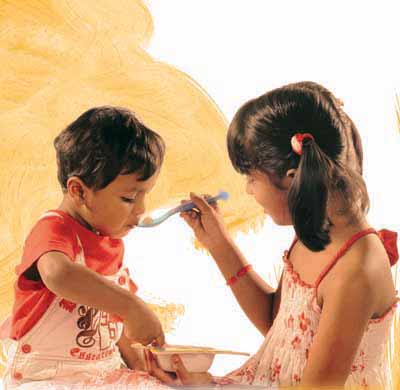 Rahul, pick up your toys before going down to play! Be responsible for your things," yells Pallavi, his mother, as my eight-year-old neighbour scurries to take his bicycle down to the compound to ride with the other children. Rahul obediently put his toys back into the closet with a long face, before scampering downstairs.

I smile. As adults, we too often look at responsibility with a sour face, and wait to run off to the more enjoyable task at hand.

Which of us has not neglected the urgent report and watched a movie instead, or ignored the diet and wolfed down a tempting morsel? There are other even more serious trangressions that are a routine part of the adult world – running up a credit card debt you cannot pay; bundling up old parents to an old folks home to avoid the onerous task of caring for them; blowing up money on a drinking spree that should have rightly been spent on the family… Indeed, it can often appear that responsibility is synonymous with being human. No matter who we are – man, woman, rich, poor, Caucasian or Indian, life equips each of us with a list of responsibilities, which seems to be the entry price to life. Recall the poet who wrote: "I slept and dreamt that life was beauty; I woke and found that life was duty."

A good question to ask here would be, what is responsibility? Is it limited to doing your job well, or taking care of your family, or being a responsible citizen? Or is there something more to it?

American journalist and satirist, Ambrose Bierce, jocularly defines responsibility in his Devil's Dictionary, thus "…a detachable burden easily shifted to the shoulders of God, fate, fortune, luck or one's neighbour. In the days of astrology it was customary to unload it upon a star." Jokes apart, responsibility is the capacity to care, to lead, to shoulder the burden, to do what needs to be done when it needs to be done. It is one of the most powerful indicators of emotional and spiritual maturity. Indeed, our spiritual progress can be measured by the degree of responsibility we assume for our lives, and that of others.

Maturity

As we move through life, we learn more, experience more, desire more and also become responsible for more. As a child the fulcrum of our responsibility rotates around picking up our toys, learning to behave well, and listening to our parents. However, even this is hard to do as indeed all responsibility is. For the first tenet of the quality is that one must learn to schooI oneself, to subdue unruly impulses, and to overcome the pull of resistance. We become responsible to the extent that we are able to cultivate self-control and will power and take charge of our lives. The next major responsibility for a child is studying by himself. Another onerous task which requires him to apply himself to what may be a difficult and, given our educational system, unappealing task.

Leaving school brings with it a set of new responsibilities. Studying the appropriate course, finding the right job, finding the right spouse are all major decisions with lifelong consequences. Further responsibilities of earning a livelihood, buying a house, the decision to have children are next in line. It seems that responsibilities are never-ending, complete one and another one comes along.

Why responsibility?

So why should we be responsible? Why not leave it all and follow the rishis into sanyas? It is only through a journey into responsibility that we find our passage to life. Only through accepting the challenges and duties of life do we grow in capability, in skills, in strength and endurance, in love and in understanding. The more we pour ourselves into our lives and its manifold duties, the more we get out of it.



A street child cares for her younger brother Recall the beautiful passage from the book, The Little Prince, when he understands that the reason his rose is so much more special than any other rose in the world is because he has looked after her. "You're lovely, but you're empty," he tells a rose he meets on his journey. "One couldn't die for you. Of course an ordinary passer-by would think my rose looked just like you. But my rose, all on her own, is more important than you altogether, since she's the one I've watered. Since she's the one I put under glass. Since she's the one I sheltered behind a screen. Since she's the one for whom I killed the caterpillars (except for two or three for butterflies). Since she's the one I listened to when she complained, or when she boasted, or even sometimes when she said nothing at all. Since she's my rose."

Our capacity for responsibility is in direct proportion to our dynamism, capabilities and levels of caring. The more we care, the more responsible we become for the things we care about. Exercising your responsibility muscle enables you to take on more tasks, move faster and go further. Success is heavily dependent on responsibility. An irresponsible person will never climb high up the ladder, as he keeps dropping what he holds. Raj Pandey, a courier delivery boy in Pune, had a tough time for the first few years at his job.

Being only 17 when he started, he knew little about taking care of packages and delivering them on time. He was constantly reprimanded for coming late to work, losing packages, damaging packages while travelling and failing to complete his daily route on time. Eventually, his manager handed him his payment and asked him not to come the next day.

Pleading for one last chance, Raj sought help, instinctively making a mentor out of the delivery person who was chosen as best employee of the month. He enforced discipline into his life and constantly followed the belief that his work enabled larger organisations to work smoothly and hence was a key element in many organisations. Showing responsibility, he gained the trust of his manager and today, eight years later, is in the manager's position. Being responsible can turn your life around and open up doors if you're willing to go the distance.

Neelesh (name changed), a young Mumbai-based healer has been responsible for his widowed mother's welfare since 16, after she developed a degenerative condition that deprived her of her job. With remarkable strength, he not only found a job to keep them going, but undertook a lifetime's journey to find a cure for her. Today, his mother is whole and well and Neelesh himself is a healer of remarkable compassion and insight. His hard tutorial in responsibility has made him a powerful and positive human being who can cope with any situation in life.

We can choose to look at our responsibilities as something that ties us down, a chain and shackle that weighs us down. Or, we can sit in the driver's seat and accept that we have taken these responsibilities upon ourselves by our own choice. A life without any responsibility would sound ideal, but living it would be bereft of meaning and purpose. Any goal or ambition would imply the responsibility of reaching it. No responsibility would imply not having anything that one has to do. Wandering aimlessly without a goal in life would be completely pointless and contradictory to life itself. Life beckons us to progress, grow, reach out and not sit still and stagnate.

Therapist Neena Kumar comes across several patients who break down dealing with the responsibilities of everyday life. "There is heavy stress and demands upon us today. I get at least two patients a week who break down bearing the responsibilities they have taken. There isn't any easy way out of such a situation. Most of them have lost hope and need to regain balance in their lives. Therapy with them needs to be slow and persistent. If you move too fast they might suffer another breakdown, which can put them in grave physical danger. Slowly through conversation, exercises, and group therapy, they regain that balance and understand the need for responsibility," says Neena.

She adds, "A recent patient could not deal with the repayments of the loan he had taken. He cried every week for almost two months. He then learnt to handle the payments, understanding that his house was his largest asset and biggest investment. He needed a lot of group support, morale boosting and people to talk to, after which he went back to his job and life a happy person."

Collective responsibility

There were four employees in a company, Everybody, Somebody, Anybody and Nobody. A task was assigned to them to complete. Everybody was sure that Somebody would do it, Anybody could have done it, but Nobody did it. We often see that work assigned to a group as a whole and no one in particular, is neglected, each thinking the other will do it. Responsibility is like a feather. If not attached to the bird it belongs to, it will float aimlessly, serving no purpose, depriving the bird of a better, more fruitful flight. A task needs an owner to do it. It cannot be idly kept by on a tabletop till it is dusty and is swept off.

Pradeep Kataria, the HR head in a major multinational organisation in Mumbai, says that he faces similar issues at work. "I often face issues and complaints about no one stepping up to claim responsibility for a particular task. When handed out to a group, the responsibility gets shared, and a shared responsibility is no one's responsibility. The only way to sort out this situation is to assign the task to a person. Hold him responsible for its completion, even specify a due date. This helps cultivate an environment which is healthy, and no one blames another. Even at home I have the same attitude with my children who have been deputed household chores," says the perky Pradeep. "'I must do something' always solves more problems than 'something must be done,'" adds Pradeep.

Collective responsibility is often the most neglected, as in the above story. The assumption that someone else will do it is harmful. Take the example of global warming, and the standoff between countries at the Copenhagen conference in 2009. The developed countries protected their way of life by saying they have already been established and cannot change, but the developing countries can prevent this, and the developing countries hit back with their stand that the developed countries have done their share of damage so now they should be responsible and that they had the right to develop at all costs. With no one willing to budge from their stand, the conference failed and the problem drags on, crippling the planet.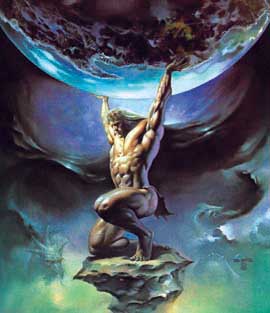 Atlas, who bears the burden of the world in Greek mythology,
is the epitome of duty However an alternative view is possible. Marvellously demonstrated in the movie, A Beautiful Mind, mathematician John Nash formulates a theory wherein a good outcome is ensured for all parties. At a pub, when John and his group are trying to get dates with a group of women, it strikes him that when each player acts thinking only of themselves, the outcome is dissatisfying for all, while when each one acts to the best of their own capacities while keeping the welfare of the group in mind, the results are astounding. Acting responsibly, keeping in mind that we aren't alone, and that what we do affects our environment is a realisation the race desperately needs right now. Going to war with other nations, siphoning away the resources of another region, and even instigating segregations and boundaries, are the working of a mind that has distanced itself from responsibility.

A higher plank in the responsibility ladder is to take responsibility for what is beyond the ambit of our own lives, such as the immediate environment. Taking responsibility for the cleanliness of the roads, development of our neighbourhoods, garbage disposal and other such duties, instead of fuming at the civic authorities and suffering the consequences of epidemics is a way of taking back our power and taking control of our lives.

Dependency

The flip side of being responsible is that sometimes those around you tend to become dependent. It is imperative that the responsible individual does not get his high out of retaining control over others. He or she has to strive to empower the other and encourage them too to take responsibility for their lives. The too-responsible mother who runs the lives of her children lifelong is a reality. On the other hand, the dependent one too has the obligation to cut the cords that bind.


"Let everyone sweep in front of his own door, and the whole world will be clean"
– Johann Wolfgang von Goethe
When Akash Gupta (name changed) had to quit his job because of a severe slip-disc problem at the age of 46, it was his wife Meena who bore the burden of running the house. Although he recovered in a year, he found it hard to rouse himself from his dependence on his wife. Making excuses such as not getting a job that met with his qualifications or matched his earlier pay, he sat at home for another year, which made further inroads into his self-esteem. Finally, under severe pressure from friends and family, he took on a less lucrative job, and freed himself of his inertia.
On hindsight, Akash comments, "I got used to the feeling of being cared for, and never wanted to get out of it. It was a very comfortable feeling, but not a positive one. I remember on my first day of
work
after the two-year gap, I could not keep my focus on an issue for more than 10 minutes. My mind was continuously distracted. If I had stayed home for a few more years, the dependency would have eaten away at my mind and I probably wouldn't have been able to get another job."
Bankim Chakroborty (name changed), was struck with polio when he was 24 years old. Fresh out of college and looking forward to a promising life, he was torn apart by the tragedy. Unable to commute, he sat at home doing nothing with his
life
and being supported by his parents. He only woke up when his father's retirement reduced the cash inflow, and compelled him to try out jobs that allowed him to
work
from home. Today, he manages to provide for his elderly parents and is gaining the confidence of managing his finances after they pass over.
Not all those who are looked after become dependent. John's mother passed away in 1996 when he was only 18. Living without a father, and with a younger sister to take care of, John needed to earn for the family. He dropped his studies mid-way and took up a job at a BPO. Making up his mind that his sister should get a better education than he did, he supported her through school and college. Through knowing a face of responsibility that few of us will ever see, the siblings have cultivated an unshakeable bond with each other.
Determined to support the other, John and his sister are now looking to move out of their rented accommodation and buy a house in Mumbai. "My sister wants me to complete the studies I had left incomplete, but I can't depend on her. I feel we have both reached a very stable place and I would like to remain there for a while. I don't want to put my sister through the struggle I have been through," remarks the big brother affectionately.
Being responsible for your self
 
 
"The difficulty we have in accepting responsibility for our behaviour lies in the desire to avoid the pain of the consequences of that behaviour."
– M Scott Peck, psychologist and author of The Road Less Travelled
 
 
The ever-so-popular book and movie, The Secret, stated what is the cornerstone of spiritual wisdom. We are responsible for what we create in our lives. This single thought can start off a whole new way of thinking, and can transform a victim to a creator. Simply put, through our thoughts, words, actions, feelings and attitude, we create our future. Feel
love
and you attract love, complain and that gets you deeper in the ditch you're in. Taking responsibility for your
life
is not easy to contemplate. In one fell stroke we abolish all scapegoats and place the onus for our
success
or lack of it,
happiness
or lack of it on ourselves. I've had so many people come and tell me that
positive thinking
is good, but that they did not attract this illness or that financial situation.
Everything that we have or experience starts off as a thought. Maybe a small infrequent thought that slowly builds up momentum and suddenly it pops up into your life. We are responsible for it, just not aware. I find a combination of this and Louise Hay's affirmations very effective. When I feel a cold coming on, I know it's not the weather or the dust – those are just external causes. The real cause is confusion inside me. I sit quietly, centre myself and then look for the probable cause. I try to clear this confusion, this blockage of energy and allow myself to think clearly. Whenever I have tried this, the cold hasn't lasted more than a day or two. Another example I can give is about anger and irritation. Whenever I feel these strongly, immediately my stomach region near my liver starts itching and paining. Looking up Louise Hay's book I understood the cause and whenever I find myself in such a situation, I try to calm myself, feel
love
and brotherhood and realise that I am harming only myself by thinking this way. Although I can't prevent the pain, I have found a very effective way to lessen it immediately.
Our thoughts, words, actions and
emotions
shape what we experience next. All of us have one friend or relative who is constantly sick or is at the receiving end of bad luck. Examine their attitude, their thoughts, and their outlook towards life. You will definitely see that this too isn't normal, natural or in sync with the natural order. Now observe someone who is the total opposite. Someone whose
life
is wonderful, who smiles away their troubles and is relaxed, no matter what. Examine their attitude and outlook and what do you find? Our reality is a mirror image of how we feel. If we feel happy and joyful, reality will reflect it. If we're eternally grumpy, reality reflects that back at us.
When one takes responsibility for one's life, monitors one's thoughts, expresses gratitude, feels joyous and abundant,
life
will give you many opportunities to keep feeling that way. Of course, it is not easy to be in control of one's thoughts or state of mind, for that requires deep and sustained spiritual work. Nevertheless, one can always make a beginning. I have friends who, stuck in a rut and depressed, ask, "What should I do now?" I find myself in the same place sometimes, and to this I suggest only one thing – affirm
love
and happiness,
peace
and prosperity.
Our capacity to take responsibility evolves ongoingly and it can bring us to a state of real power. Here we no longer depend on others or on
life
to give us what we want. We choose what we want and we take the responsibility to make it happen. If a
relationship
is not working out, one takes the onus of it oneself and inquires on how to heal; if
success
evades one, once again the responsibility for that rests on our shoulders. Says Usha Kiran, a Mumbai-based seeker, "Recently, I had a fall-out with a friend that hurt me considerably. I wanted to cut off the
relationship
but I decided that I would instead heal it. I introspected and found that there were many ways I had contributed to the misunderstanding too. I called her and apologised and that paved the path for her to apologise too. Today, our friendship is so much stronger because of our willingness to make it work."
Taken to its logical conclusion, one ends up taking responsibility for the whole world. It is through this that great men are born. Heroes such as Gandhi, Nelson Mandela and Martin Luther King took it upon themselves to stand up for their brethren, and strive for justice and freedom. They understood that their responsibility did not end with themselves, but extended further beyond that to their nation and to humanity.
Going beyond this level are sages and prophets who take upon themselves the burden of carrying humanity to a higher consciousness, to usher in light in eras of darkness, to return to the right path when lost. Many have taken on the responsibility of man's misdeeds upon themselves and cleared accumulated karmic debts. Of these, world gurus like Jesus Christ, Mohammed, the Buddha and Krishna stand out. Quite frequently, they were reviled and even crucified for their efforts, but that did not stop them from their mission, for such prophets truly loved the truth,
God
and their fellow men better than themselves. Looking at
life
on a grander scale, our planet is responsible for all the
life
on it. The earth spirit
Gaia
nurtures and nourishes all her children, even the ones that harm her.
Like all essential values of life, responsibility isn't something that can be forced down your throat. When the time and environment is right, the correct attitude will develop and help you to rise up to the situation. All that is required is to be open to life, and flow with it instead of opposing it. Understanding that growth comes only through responsibility, we need to look forward to taking on more. Every such opportunity helps us mature and balance our life, experiencing more as we go ahead. So let us embrace responsibility, instead of shirking it, Remember, responsibility is life!
See more articles on
Personal Growth
at
http://www.lifepositive.com/Articles/PersonalGrowth
Reader's Comments
Subject:
Response
- 15 October 2010
It is very well written, worthed reading and implementing in life
by:
Abhishek vats
Subject:
article to be re-written in positive content
- 3 October 2010
responsibility is not a burden, its a way of showing care, love and affection, if we were all not responsible then we would end up having a soceity similar to the western one, duty is very important as well.
by:
Kunal
Subject:
Responsibility
- 30 September 2010
The aricle by Sharukh Vazifdar goes in detailing 'responsibility'. Though well documented, it sees responsibility as a burden. Responsibility should be seen as the ability to respond in a given situation. Instead of thinking it as 'I have to', we can change it to 'I
More...
by:
Renuka , Bangalore