Personal Growth - The graduate
by Chitra Jha
How a lifetime of doubts dissolved into a celebration of knowing for Chitra Jha this October

Download PDF Format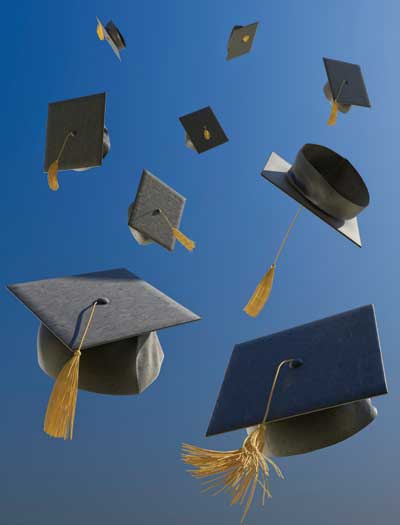 If someone had told me that I would be fitting in all the jigsaw puzzle pieces of my life by October 30, 2011, even on October 29, I wouldn't have believed it; but by the evening of the 30th, there wasn't an iota of doubt in my mind about my 'graduation'.

In Jan 2008, when I had come to Life Research Academy in Hyderabad to take my Past-life Regression exam, Dr Newton Kondaveti, its founder, had shared his vision of Life University with us, saying that some of us would become acharyas there. I remember muttering, "Oh, but we ourselves have to graduate first." Even his calm yet assertive reply, "We have all graduated," didn't allay my self-doubt. Who knew that within four short years I too would very calmly and assertively proclaim, "I have graduated."

The ball got rolling in February 2011, when Dr Newton finally (I had been asking him from about mid-2010) 'allowed' me to come to Hyderabad and offer my services to Life University. During that landmark visit, he not only offered me the privilege of writing 21 books for Life University, but spontaneously gifted me all his workshops as well. What more could I ask for?

Consciousness Heals was the first gift. It opened something deep within me and connected me to divine energies that took possession of me in my meditations. These energies included those of Shiva and Shakti and manifested as spontaneous dance movements that had a mind of their own, but were very distinct in their 'feel'. My body defied all physical barriers, and was beyond my conscious control. I knew something wonderful was happening...

This stage also coincided with my writing of the first book, The Art and Science of Meditation. I experienced what I wrote and wrote what I experienced. I am certain that the book carries that energy within it.

The second workshop on The Inner Child helped me release existential angst, connected me with my inner wisdom, and peeled some more layers of dross but the dance continued. My first partner Nisha casually termed it a cosmic dance! I noticed that I was slightly embarrassed by the loss of 'control' over my anatomy in the full view of others.

I repeated the Past-Life Regression Trainer's programme in June. This time I was working on a very personal deep issue of shame and guilt which was brought up through a spontaneous past-life recall at home. This particular lifetime helped me fit in a good many 'puzzle' pieces of my current life. This workshop made me acknowledge my inherent ease and finesse with energy work and Dr Newton said it in that many words as well, validating my growing confidence. The trademark 'dance' continued, especially in the Rebirthing session. My partner Umesh was more enthusiastic and appreciative of my dance and song than I was! Yes, now a new element of singing was added to my dancing; and
| | | |
| --- | --- | --- |
|   | |   |
| | These energies included those of Shiva and Shakti and manifested as spontaneous dance movements. My body defi ed all physical barriers, and was beyond my conscious control. I knew something wonderful was happening. | |
|   | |   |
as Umesh explained to me (as an observer she could see the cohesive connection between the notes of music and body movement) the body moved upwards with the ascending notes and downwards during the descending notes. The dance resembled a mating dance of two snakes. I felt a strange mixture of ecstasy, peace, and tender love.
After this particular session a fellow participant, Sridevi, asked me, "You must be aware of what is happening." I answered, "No, not really", though the words 'Kundalini awakening' flashed in my mind. She smiled a mysterious smile and said, "You will find out." Since I like to downplay these things, I didn't give it much thought.
Come September
, my favourite song in the 70s, a song I had danced to as a young girl, not knowing its true significance in my life, and my life turned around.
"Everything wrong
Gonna be all right
Come September
She's made her mark"
Yes, I made my mark in the Re-birthing Breathwork Workshop, the crowning glory of all the workshops that I have ever attended. (Or perhaps I was ready for the crown!)
On the very first day of the workshop, Sridevi told me, "I have a feeling that something very special is going to happen to you." When I looked quizzically, she added, "Well, it may not happen; but I have this feeling." This was unusual on Sridevi's part; but as the workshop unfolded I realised the truth in her words.
This time I literally stepped onto the Celestial Dance Floor and had a ball. Each session led to one after another 'High', until the final crescendo when my sahasrara opened. I do not have the right words to share my experience. All I can say is that I sang, danced, cried, laughed and a lot more, including yoga postures, mudras and various convolutions! All my workshop intentions of 'surrender, transmutation, transfiguration and sat-chit-ananda were fulfilled in those six days.
I had written these intentions 'automatically' without giving them much thought; letting my Higher Self write through me. So when my partner, Soumya, asked me, "What do you mean by transfiguration? It sounds like something out of Harry Potter," I actually had no answer. It was only recently that I looked up the word on the internet and this is what I discovered:
"In Christian teachings transfiguration is a pivotal moment. It is the point where human nature meets God. It is the meeting place for the temporal and the eternal, with Jesus himself as the connecting point, acting as the bridge between Heaven and Earth..."
After reading this information, I can say that in the Re-Birthing workshop, my 'Divine-human' reset button was pushed to start up the new operating system. I was upgraded and re-booted. My bio-circuitry was adjusted to download new star codes and I was left to re-orient myself.
I attended the Kundalini workshop just a few days after Re-birthing but it was a much gentler version of what I had already experienced.
Some crucial jigsaw pieces started fitting in during the recent Global Conference for Spiritual Scientists held at the Pyramid Valley, near Bangalore. There I discovered my personal gods (or should I say divine family?). I made connection with Mahavtar Babaji, who also revealed himself as Lord Shiva and my beloved Ram. I do not wish to go into the details but suffice it to say that for a No-God, No-Guru person like me, it was a major shift. Now I connect with Shiva as Baba (Father), Kundalini Energy as Ma (Divine Mother), Ganesha as brother, Lakshmi as a twin sister, and feel the Saraswati (goddess) energies within me. (And I feel brave enough to share this inner knowing so openly.) I have also discovered that my husband is my Ram, my Twin Self.
The final and most essential piece of the puzzle found its place on October 30 as I re-read Linda Goodman's Star Signs and came across this passage.
"When you are ready to become an initiate and be completely illuminated, you are given two gurus. Not always simultaneously, but never very apart in time sequence. One of these is kind, patient, gentle, mild and non-intrusive... He may not tell you anything or demand anything. He is only to quietly and continually demonstrate by his own behavior what you should imitate... When he is gone, your heart will break with your belated understanding of his mission – but you will have learned much, and you will begin to walk in his footsteps.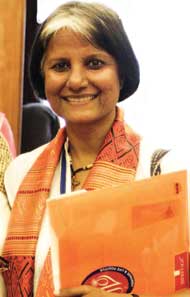 Chitra Jha is a life skills coach,
corporate trainer and verbal
ability instructor.
"The other one will anger you, frustrate you, and annoy you, but he will demand and receive your awed respect... His responsibility is to severely discipline you, and test your faith in him and yourself… in a number of ways. You will rebel until you submit. When he leaves, you would have learned the lesson of humility, the most necessary requirement for final initiation. Then he will appear again, when you least expect it, to lead you the rest of the way into enlightenment, no longer stern and deceptive (deception was only a test of your faith) ....with twinkling eyes and a demeanour that demonstrates the equality between you.
"Finally, your 'kind guru' will manifest again, and you will be so inexpressibly happy to see him, to at last understand the mission of both of them that your cup 'runneth' over.
"The divine plan for each person is to reach the point of evolvement needed for his/ her personal avatars to appear. And their mission is to teach you to reach 'at-one-ment' with the ultimate 'guru'..........your own Higher Self."
As I read the description of the first teacher, I had no doubt in my mind that it was Dr Newton. It was a great revelation and my cells started tingling, but the greater revelation was when I read the description of the second teacher, and again had no doubt that it was Som, my husband. This revelation shook me so much that I sat down with Som along with Linda Goodman's
Star Signs and Gooberz
and my daily journal and explained the entire concept to him. And he patiently heard me…with a 'knowing' smile.
It is the most humbling as well as empowering moment for me. I do not know what lies ahead. All I know is that I will march hand in hand with my personal teachers and they will help me reach 'at-one-ment' with the ultimate guru – my own Higher Self.
Gratitude flows.
See more articles on Personal Growth :
http://www.lifepositive.com/Articles/PersonalGrowth