Personal Growth - The marriage manual
At a time when the marriage institution is cracking up, four couples share the secret of their happy marriages, says Suma Varughese

Download PDF Format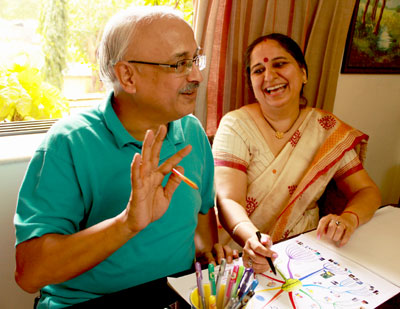 Ankur and Aarti Gupta: Committed to loving , giving and growing It's no secret. The institution of marriage is in trouble. All over the world and yes, in India too. Can it be otherwise at a time when society is in a vortex? The old structures on which marriage stood are rending apart – defined roles for each gender, compliant women who bore the burden of adjusting and adapting irrespective of abuse and loss of dignity, limited choices and opportunities to meet the opposite sex or to explore life, powerful religious credos and sexual taboos.

Today, life has never been more of a party. Women are discovering their freedom and economic power for the first time. Both sexes are tasting the heady pleasures of the sensory life. Choices on lifestyles and careers abound. Mobiles, facebook, the workplace and the gym offer many opportunities for the sexes to mingle. The result? Extra-marital relationships, wide ranging conflict and divorces. The shadow of pain is abroad in marriage land and it is no longer possible to look away.

Says Samadarshini, faculty at the Chennai-based spiritual organisation, One World Academy, "Right now there is a struggle within marriages. Both partners are feeling controlled by the other and are getting stifled. There is a greater need for freedom. That is one problem. Another problem is of hurt. Both partners are hurting. And they do not know how to deal with the hurt. Thirdly, very often the reason why people enter marriage is faulty. It could be because of power, duty, money, pleasure or status. It is okay to start the relationship on this basis but unless it evolves to accommodate friendship, gratitude, a shared vision, love and compassion for the other, it will not last."

But what may appear to be a disaster can also be a great opportunity. If there is no extrinsic reason to keep a marriage going, can we discover intrinsic reasons to do so? Let's face it. We need the institution of marriage. There is no other substitute for raising children and setting up the foundation unit of the family, which after all, is what civilisation is based on. Perhaps as the planet evolves and consciousness levels peak, we will emerge with alternative ideas such as communes. But for the moment, let's make marriage work.

Updating marriage

However, corrective measures are urgently called for. The fact of the matter is that humanity has evolved and marriages have not. Women are working both at work and at home and yet it is the rare husband who takes equal responsibility for raising the kids, cooking meals, and running homes. Women bring in money into the family almost as much as their mates do, and yet the concept of dowry continues to plague Indian parents looking to marry off their daughters. Men may want to stay home and take care of the family for a spell or follow their artistic pursuits, but find themselves forced into their business suits and corporate persona by wives who prefer to see them as money-making machines.

Marriages need to also have an inbuilt flexibility to embrace the essential nature of the partners involved and not impose outdated rules and regulations on them. Girls today are leading emancipated lives but post marriage still have to comply with the familial need for propriety and wear saris or churidar kurtas instead of the jeans or skirts that define them better. They are often forced to take on an identity that does not belong to them, such as doing puja everyday or going to church every Sunday despite a lack of religious convictions. Men must be allowed to stay home and take care of their family if they choose to do so.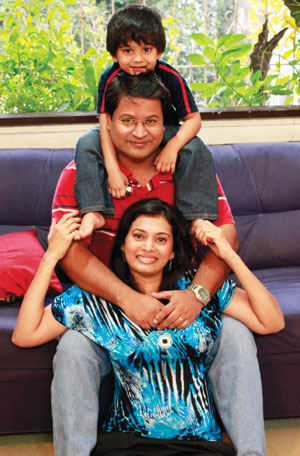 Vanita and Neil with their son Mark: cocooned in love A friend carries an air of repressed ferocity within her. Raised as a son by her doting mother and feted for her many achievements, she was shell-shocked when that same mother married her off as soon as she came upon a good match. From being the man of the house, she was forced into being a bride and a mother. "All my life I have only fitted myself into various roles. In all this, where am I?" she cries.

Perhaps couples entering marriage need to create a vision and mission statement for themselves. Most of us would find it hard to define why we are getting married. We drift into it like cattle in a pen, because it is the done thing – the next step following education and a job.

Nor do we have a clue what we want out of it. Happily ever after is a hazy concept and we have no idea how to get there. No road map, no plan, perhaps not even an intention. Only making the choice of marriage a conscious one will enable us to inject the necessary commitment into it. For there is no doubt that without commitment a marriage will flounder, especially in these volatile times. It is commitment that can keep a couple together even when rent apart by discord or when love, trust and other factors have dwindled. A committed couple can go through any amount of turbulence without being tossed apart.

A three-legged race

Marriages often appear to have the inbuilt clumsiness of a three-legged race – two people of different genders, backgrounds, upbringing and perhaps even cultures, yoked together to canter through life. How can such a bondage accommodate each other's essential being? The changes that they experience as they go through life? Emerging aspirations and interests? How can the knot be loose enough to ensure freedom and yet strong enough to ensure commitment? How can it accommodate the new man and woman whose sacred duty is to realise their highest potential?

To explore these ideas we interviewed not just therapists and seers but also people who live the solutions: couples who can confidently claim that their marriage is a success. For surely a happy marriage is a great blessing? I am not married, nor do I intend to, but as one committed to intimacy in relationships, I am enthused by the possibility of a partnership that grows ever closer and more attuned with the passage of years. A relationship that is formed out of a beautiful tapestry of loving, giving, sharing and supporting.

Dr Pinakin and Dr Rekha Shah are Mumbai-based surgeons who have been happily married for the last 30 years. Says Rekha ebulliently, "We are enjoying our marriage very much. With each year, the fellowship is more joyful. I can say anything to my husband and he will still love me. Acceptance has come. I don't have to impress him. There is no fear." Dr Pinakin Shah adds, "We asked each other the question once if there was anyone we would have been happier with. We have still not found anyone."

Mumbai-based Ankur and Aarti Gupta, who have been married for 34 years also share the rare blessing of a wonderful and harmonious union. Ankur, a computer whiz who runs his own business, says, "The bottom line is love. Between us we vie for how to give more to the other." Aarti, an intuitive counselor and therapist adds, "No matter what, I know that he loves me more than anyone else, he will do what I say and he will always be there for me. There are no insecurities at all."

Younger couples too echo the same commitment and devotion. Vanita and Neil Mascerenhas are a 30-something couple working in Mumbai as graphic designers. Says Vanita, "At one point our relationship slackened and we started taking each other for granted. Both of us felt that something was going away and that if we did not catch it, it would go out of our hands. We sat down and decided to put more into our marriage. I began to acknowledge everything he did for me and so did he. Our relationship absolutely blossomed. I want to spend the next 50 years with the same guy!" Adds Neil, "The minute I saw her, I knew that I wanted to live my life with her."

Aruna and Santosh Joshi are a Mumbai-based couple in their 40s. Santosh is a past-life therapist while Aruna is an interior designer. Their marriage had its fair share of turbulence but today the couple has emerged with a strongly supportive bond. Says Santosh, "When I am with her, I can be myself; and she can be herself. Not a single thought is hidden. There is no need to pretend at all." Aruna agrees, "There is an open space to communicate."

A happy marriage is possible. Despite the times, despite the temptations, despite the odds. Perhaps that is the mantra that any couple needs to chant as it enters the deep and difficult task of bringing together two bodies, two minds, and two hearts and soldering them into oneness. And when they manage to accomplish this humongous task, they will have given the world a precious gift because their example will kindle hope, courage and aspiration in the hearts of all those they touch.

Bending gender roles

Naushir Engineer, a Pune-based spiritual teacher who also holds workshops on relationships says, "It is important to understand the other's gender. The critical difficulty lies in the fact that one gender does not think like the other. Generally speaking women are emotion-centric and men are libido-centric. Unless they are educated about each other's patterns, they stumble through marriage. Today marriage is successful by default, not design." Our model couples resonate with this thought.

Says Ankur Gupta, "I have developed my feminine side and Aarti her masculine side, and that has added flexibility to the relationship. At age 18, I could cook a complete meal. I was good at stitching and knitting, because my mother ran a knitting unit and I was forced to chip in. She often used to go out of town and leave me to take care of my dad for 15 days at a stretch."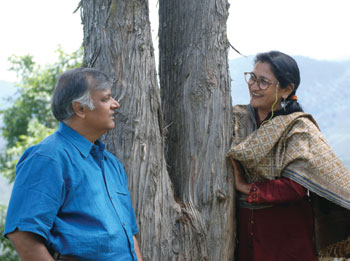 The desire to make each other happy is the cornerstone of the strong
marital bond between Drs Pinakin and Rekha Shah He adds, "Twelve years back when she opted to become a counsellor, she had to go outstation for her education. It was a major change but we adjusted fairly well. I simplified my needs, made my own tea and introduced sprouts at the breakfast table." Today, he often cooks breakfast for his working daughter-n-law and revels in the soubriquet of 'rockstar father-in-law'! Aarti's masculine energies were channelised into taking charge of their finances, and even in running the administration aspect of their office. Aaarti's career as a healer and cousnsellor are peaking and Ankur supports her fully, "At this phase in my life, my passion is my work. I feel I am all this because he has allowed me to be this. He has been my teacher," acknowledges Aarti.

This same resilience and capacity to bend gender roles is reflective in the other couples as well. Says Dr Pinakin, "Each of us has equal opportunities within the marriage. We give each other total freedom and support each other in all things. Rekha studied abroad for three months and has travelled for conferences all over India. We do not try to possess each other."

Vanita shares that Neil takes on a lot of household and child care responsibilities (they have two children, Eden, 8 and Mark, 5) Apart from feeding the children at night, he makes breakfast for her every Saturday and Sunday.

Communicate

Naushir also advocates a high level of communication. "Realisation has to come that things cannot be swept under the carpet. Bring up issues with the intention of resolving rather than blaming and bring them up here and now." All the couples interviewed scored high on this front. When conflict enters the picture, Aarti and Ankur fight it out. They may have a cold war for the length of the day but they always sleep together and resolve their issues "The sulking phase is over," says Ankur.

Drs Pinakin and Rekha take a pro-active stand towards conflict. "They dissolve very fast," says Pinakin. "We never carry forward anything and instead discuss it. In about 45 minutes all the anger and grievances have dissolved. No matter how big the issue, we get over it after a day or two."

Says Vanita, "There is a lot of communication in our marriage. If anything goes wrong between us, I would never share it with anyone except my husband." Neil adds, "We never let fights last. We finish it off by talking it out. Quarrels never last from more than four or five hours." Shares Aruna, "Initially, when we first got married there was a lot of friction, but we worked it out."

Tough times come to every couple but the successful ones make it work for them. Says Aruna, "I was not able to conceive and that was a big challenge in the marriage. I was under a lot of pressure from my family, and I became very depressed. The marriage would have broken had it not been for Santosh who stood behind me like a rock. Our difficulties have strengthened our bond."

Dr Pinakin echoes the sentiment, "When we got married, we were both studying surgery. She got pregnant just before the final exams. We decided we would have the baby and complete our exams. Not having much money, we left Mumbai where all our relations were and got jobs at a small hospital in Vapi where cost of living was less and therefore we would be able to sustain the baby. That year we came much closer. Living away from parents, taking care of a baby brought up many crises and they all enriched our intimacy."

Naushir also advocates the old-fashioned Indian virtue – compromise (or adjust as we say in popular lexicon). "If you go into marriage wanting your way in everything, it will not work. There will be issues where you will have to give in," he says.

Adds Samadarshini, "Learn the art of awareness. Learn to dissolve destructive states of mind. Secondly people must realise that so many of their problems can dissolve if their relationship with the other and with themselves gets deeper."

Love one another

And finally, the non-negotiable factor: love. "If love is absent, the marriage will not last for long," says Naushir. Samadarshini agrees, "The only way to make a marriage or any relationship work is to bring love back. Nurture gratitude, compassion and connection with each other. Ask yourself if the person is important to you. If he or she is, then choose not to make the hurt important. Dwell on the many beautiful moments shared together, go to a place of gratitude and then take some steps to correct any imbalance."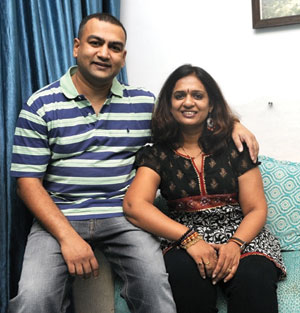 Aruna and Satosh Joshi: till death do them part Rekha defines the secret of their marriage as the willingness to make the other happy and to be happy too. She expands, "Each of us comes from a different background and possess a different set of genes. That may seem to be a challenge but it is actually the most important thing to learn from each other. We have to take an interest in each other's passion and learn from them. My husband is essentially an artist. I cultivated my own artistic leanings because of him. He is passionate about architecture so I have kept myself informed about it. I love nature and travelling and my husband joins me in this. I am an extravert and my husband is an introvert. Today I am more introverted and my husband is more extraverted. I was fond of walking; he was not. Today he walks more than I do. I believe we have really enriched ourselves hugely by learning from the other."

What could have been wedges have been converted to opportunities for growth. Why would not her marriage be successful?

Others too cite their common interests as their bonding factor. Says Vanita, "We both share the same interests in travelling, nature, animals and photography."

A spiritual infusion

But it is their capacity to accommodate each other's spiritual aspirations that gives these couples strength and flexibility in their relationship.

"We would attribute the success of our marriage to spirituality. We are not the doers. A higher energy is running our marriage," says Ankur. Says Aarti, "Things get taken care of without us needing to speak about it. Our communication is through silence." Even the fact that the two keep evolving has not put a spoke in the marriage. "I am conscious that I am evolving all the time and so is he and that our needs and interests will keep changing too," says Aarti, "but we have the same values, inclinations and are moving in the same direction."

Says Aruna, "Spirituality was the turning point in our relationship. My friend Saroj told me, 'You cannot change others, only yourself, If you change the other will change.' Our whole relationship changed when we realised this."

Spirituality can well be the magic potion that can keep a marriage functioning if both couples are so inclined. For one thing it helps create more space in the marriage by enabling couples to work on the emotional, physical and psychological needs that keep them in dependency. Secondly, since both parties are growing and changing, there is a constant rediscovery of themselves and each other that chases away staleness and boredom. It might be worthwhile for couples to ask each other periodically, "Who are you?". The answer might surprise them.

Vanita and Neil admit that although not spiritually inclined, participating in a retreat for engaged couples run by the Catholic Church helped them to see the realities of marriage square in the face. "One of the things I learnt there was that marriage required a lot of hard work. I have never forgotten that," says Vanita.

Noshir also points out that renouncing a marriage arbitrarily instead of working on it can mean that the same problems may arise in the next marriage.

In his book, Soul Stories, Gary Zukov makes a similar point. Positing the concept of spiritual partnerships, he says that since all partnerships are here for growth, we would be justified in dissolving it only if we arrive at a place where we have outgrown the partnership. But how do we determine this? Clearly not at the level of the mind or ego but from a deeper knowing. When partnerships are so dissolved both parties move on without bitterness or blame.

Zukov is merely echoing the karmic point of view which explains that one of the main reasons we take birth repeatedly is to work out our karmas with each other. Therefore, it makes sense to view the partnership as an instrument for growth and to use every conflict and dispute as an indication that one has still not completed the learning.

Outdated?

Samadarshini gives a rather novel angle by stipulating that evolution is leaving behind the concept of marriage. "We are evolving from the era of the individual to the era of teams. There is no more need for families, only for relationships," she boldly declares. She also maintains that it is high time it was recognised that marriage is not everyone's destiny. Unmarried herself, she says, "It was a personal decision not to marry. I did not feel the need for it. I feel full and complete within myself." So here's a thought. Maybe marriage is not for everyone and the reason why so many couples part ways is because they were not meant to be married. In India, parents all too often consider marriage to be the panacea for all kinds of problems their children may be suffering from, ranging from addictions, mental or physical ailments and even homosexuality. This must cease. Many of us are unfit for marriage and when we do so, we create suffering for the whole family. There are others like Samadarshini who have a different dharma – perhaps to serve society, perhaps to further their own self-realisation. Society must cease to impose marriage on such members and allow them to freely follow their own inclinations.

Making a marriage work is excruciatingly hard. And no matter how much sage advice you get, only you know the reality of your marriage and the endurance capacity of you and your partner. All we can say is, save your marriage if you possibly can for it will bring about a happier world. Good luck and Godspeed.

See more articles on Personal Growth : http://www.lifepositive.com/Articles/PersonalGrowth