Personal Growth - The middle path
by Megha Bajaj
Megha Bajaj discovers the peace that resides between the highs and lows of the emotional rollercoaster ride

Download PDF Format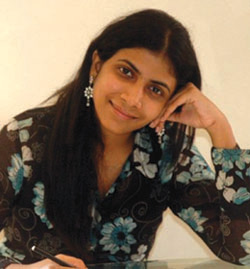 Megha is, above all, a seeker. These days she
is attempting to find herself in the role of a teacher
through the online writing course designed by her.
You can know more about her on
http://www.wonderofwords.org Yes, we are emotional beings. Emotions definitely make life exciting – and make life look like an adventure – rather than a series of days and nights, flowing one into another. For anyone who has been in love, that rush of blood to the face when you meet that 'special someone', the skipping of heartbeats – clichéd as they sound –complete the experience of being in love.

People who have ever spoken before a large public, can relate with the emotions one goes through–the nervousness, the adrenaline, the rush when something goes off well. Mothers go through a hundred emotions a day when a child is born, isn't it? Sometimes frustration, sometimes love, sometimes celebration, other times depression… aha, the coming of a child is such a big deal. All the corporate boys and girls reading this can relate with the rollercoaster of emotions they face day in and day out. Promotions, meeting deadlines, dealing with competition – life is one emotional overdrive, isn't it?

Yes, emotions are an integral part of us. I think, for me, it makes me 'feel' closer to myself. It makes me 'feel' me. For, if emotions weren't there – what would be the thrill of life, right? Just a few days ago, I was forced to re-think this life-long belief.

I was sitting in my garden, watching the Buddha fountain. Somehow the expression on Buddha's face was one of deep peace. It appeared like he was in such a deep state of silence, that all he felt was 'nothing'.
| | | |
| --- | --- | --- |
| | | |
| | It is in this middle path that using minimum energy, maximum work can be done | |
| | | |
Somehow, this made me wonder – are constant highs and lows really required in one's life – or is it in the middle path that one finally starts feeling peaceful and experiences the 'divine flow' of life?
I realised then, for the first time, that any emotion – be it positive or negative – overwhelms you and makes you lose control of yourself. Be it rolling on the floor with laughter, or crying like the world is coming to an end – in both cases the emotion completely 'takes over'. It is difficult to maintain high levels of happiness or sadness at all times – a balance, a neutral, somehow seems more energising.
Ask a happily married couple if they are still in love – and chances are they will say yes. However, for most, all the earlier signs of love mentioned before evolve into a sense of 'quiet love' – one that is more of a subtle presence than an overt expression. Of course, expressions are needed and come, every now and then, but the point is both the people concerned reach a state of equanimity with each other whereby they know, even without being told again and again, that the other loves them.
I have just about started realising that there is a middle path – between extreme emotions. A path where one feels a 'quiet sense of happiness' which may not be too overt – but it's one that makes a person feel extremely calm and at peace. I have realised that while there will be moments of extreme joy and sadness, a large part of my life should be steered along the middle path – because this is where the greatest clarity exists. It is in this middle path that using minimum energy, maximum work can be done. It is in this state of 'neutral' that the elusive spiritual state of 'detached attached' can be reached.
I love my emotions. But I am learning to use them sparingly – I am learning to feel the bliss in a smile, and not just in booming laughter. It feels good.
See more articles on Personal Growth :
http://www.lifepositive.com/Articles/PersonalGrowth