Personal Growth - The mother of all loves
by K Gitanjali
K Geethanjali believes that if you view the experience of motherhood from a higher point of view, you will see that you are the one who is indebted to the child

Download PDF Format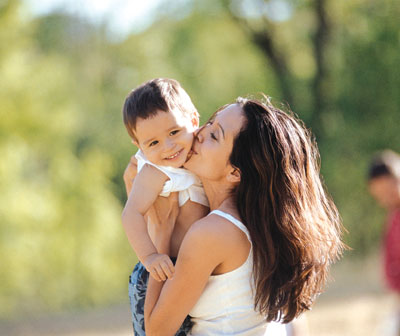 The word love is synonymous with the word mother. Mother's love has been portrayed as the highest expression of love possible in our world.

Once a woman becomes a mother, various energies that resided as potentials inside her, bloom out. The deep love she develops for her offspring seems to open up her heart, and suddenly she finds that though she holds her own child closest to her heart, something else springs up in her, and almost all children become her own. A girl who considers children a nuisance develops a new sensitivity, and finds various doors to the chambers of her heart opened, once she has a child of her own. The wells of love, understanding, and compassion, pour forth, warming every bit of her life.

When I took up the profession of teaching, my promise to myself was, "I will be the kind of teacher I wish my son had," and my yardstick while dealing with errant children has been, "If it was my son in this child's shoes, how would I want his teacher to deal with this situation?"

Though I had always had a connection to God, the connection to my gurus, Mahavtar Babaji, and Mother Mary, deepened only after my son was born.

Spiritual journey

The immense task of being responsible for another tiny vulnerable piece of life was too much for me to handle in my early 20s, and the only way I could do it was by praying to my guru Babaji, and by making frequent visits to the Velankani church at Besant Nagar. I knew instinctively that the Divine mother and father were the real parents, after all, but it took a while before I could surrender to them. My faith in my gurus grew as my son grew, and the prayers, which until now had been centred around myself, now took on a new hue. Now my prayers centred around the tiny piece of life taking his first steps in the world. There was a time when he started school, when I would nag Babaji about keeping my child safe. Maybe the Mahavtar has many other important things to do, but he never ignores a mother's call, and in my meditations, I received a clear message that my son was taken care of. Various synchronicities followed, like feeling a comforting hand on my shoulder one anxious morning, when I was seeing my son off. In short, whenever I have been overwhelmed, Babaji has always reached out to me, and slowly I began to realise that Babaji meant what he said, that my son was taken care of. From then onwards, a deep peace and a sense of letting go welled up in me, and from an anxious overwrought parent, I turned into a stable one who was able to spend her energy in gratitude, and to enjoy the different stages of her son's life. This may seem like a personal experience, but surrender is a universal state of consciousness we come across in our spiritual journey. If surrender becomes a part of our life, while our children are growing up, life would be more beautiful for our children and us.

Deepak Shinde of Alma Mater said something very profound in one of his talks. "When a mother intends something for her child, God just has to listen." With the energy saved from worrying, if one intends the best outcome for one's child, the images created with a strong energy of love and faith cannot but come to pass.

Children too come to their parents with a purpose. They can often bring a transformation in their mothers. Many mothers of disabled children have lost themselves, and found God through service to their children. Saraswathi was known as a hard taskmaster, and a rude rough lady, a person who was feared rather than loved. After many years, a daughter was born to her, a frail and gentle girl, who was born with a physical disability. She had come with her frail body and dazzling smile to soften the sinews of her mother's heart. The Saraswathi that people met after her daughter's birth was totally transformed.

The path of motherhood has been in my life a path to God, and though much has been made of the sacrifices of a mother while bringing up her child, if you view the experience from a higher point of view, you see that you are the one who is indebted to the child. As Osho says, "A woman is born as a mother only when the child is born."
| | | |
| --- | --- | --- |
| | | |
| | If surrender becomes a part of our life, life would be more beautiful for our children and us | |
| | | |
Few people realise the amount of growth of the soul a mother has because of the child. Lessons like patience, forgiveness, and faith are easily learnt, and are easier to practise with one's child with whom one feels the most oneness. Once these virtues have become a part of one, one must not stop with one's children, but expand one's family to include all children everywhere. In my own experience I found it easier to love children because of my own child, boys because they remind me of my own, and girls because I do not have a daughter.
As Robert Brault has written on his website, "There is an instinct in a woman to love most her own child –and an instinct to make her own, any child who needs her love." Mothers should cash in on their instinct, and use it to expand their consciousness. Bringing home chocolates for your child, should also translate into bringing home chocolates and cakes for your maid's child.
Letting go when the time comes
It is sad to see that motherhood can be turned into business. How many mothers have told their children, "I have given up the best years of my life for you and now it is your turn to sacrifice your life for me." Such mothers have sadly missed out the chance to allow earthly love of give and take, to blossom into the unconditional love of higher realms. They hold on to and parrot their sacrifices, little realising that it was those very sacrifices that allowed them to lose the sense of a petty needy self, and expand to incorporate the child as part of oneself. Of course, it is any mother's dream that her children should be a major part of her life forever, but though good mothers really give their children stable roots that make them fly back home, many of them do have to fly away too far. Instead of expecting them to cater to her every need, a wise mother will let go, especially once the child gets married. This does not mean that the child should not be taught responsibility and accountability, but once it is instilled, intend, and surrender.
Sister Shivani of the Brahmakumaris puts it this way, "Mothers, you have only given all your life. Why do you stop, once your child gets married? Keep giving till the end."
Acceptance of a new way of life should replace expectation, and the new mother-in-law, instead of mourning the loss of a child, should celebrate the gain of another offspring. I really wondered if a mother-in-law could become a mother, and the example of my own sister whose son got married two years back gave me my answer. She never had a daughter, and the close relationship she has with her daughter-in-law reminds one of the bond between mothers and daughters. It is heartening to see that in a society where saas-bahu serials still hold sway, many such new age mothers-in-law are being born, giving us a preview of how life in the New Age will unfold.
Some children are born not in their mother's womb but in their mother's heart. Take the case of all the children who are abandoned by their biological parents, only to be welcomed into the wide arms and hearts of their foster parents. "Biology is the least of what makes someone a mother," said Oprah Winfrey. Oprah herself is known for mothering her puppies, and taking underprivileged African children under her wing.
My own colleague was such a wonderful teacher that children flocked to her. The day she left, grownup children crawled under the table lest others see their tears. What made her such a wonderful person? Having no child of her own, she opened her heart to all the children who came her way. Thus, there is a mother waiting to be awakened in every woman, as she is a replica of the divine mother. It is up to her to choose the way to manifest the potential of the divine mother in her.
Finally, let us not forget that it is our mothers, who make a house a home and a city our hometown. When my own mother, at the age of 80 plus, made her first trip overseas, I was overwhelmed by an emotion of joy I never knew I would experience. However, I sure was glad when she came back home, and I could pick up the phone every once in a while to talk to her. I could now relate to the little girl I had heard about, who, when asked "Where is your home?" replied simply, "Where mother is."
See more articles on Personal Growth :
http://www.lifepositive.com/Articles/PersonalGrowth