Personal Growth - The night love happened
by Megha Bajaj
The thirst for an all-pervading love, led Megha Bajaj to discovering that the reservoir of its inexhaustible supply lay within herself

Download PDF Format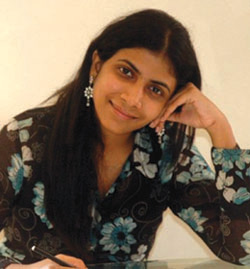 Megha is, above all, a seeker. These days she
is attempting to find herself in the role of a teacher
through the online writing course designed by her.
You can know more about her on
http://www.wonderofwords.org One of the deepest human cravings is to be loved. Let's face it – no matter how old we grow, how high we climb the corporate ladder, or how far we have reached in our spiritual journey – at the end of the day, we are all looking for love. A little more… somehow…

Ironically, the law of life says – "If you are looking for it – you must not be having it." No wonder, the more we 'look' for love – the more it chooses to ignore us. Like a dog trying to catch its own tail – we keep going round and round in circles, not realising that perhaps, we already have that which we are looking for.

For me, the quest for love has been a lifetime's search. Even after being a part of some beautiful, intimate relationships – somehow that wonderful, unconditional tidal wave of love that great mystics speak about, seemed to be missing in my life. Love was always around – but somehow it never seemed enough, leave alone 'more than enough'.

A little bit of giving, a little bit of taking – like everything else about life, there seemed to be a barter going on in relationships. Sometimes obvious – sometimes not so – and yet, that is what it was. With eyes filled with yearning – I wondered, if someday, I too would be drenched… if I too would drown… would the avalanche ever happen – or was I to be content with the gentle snowfall?

Nights, I write. There is something about the moon that soothes the tides of my thoughts and allows me to be 'just me.' As I was writing a story, out of nowhere a tiny breeze lifted the edges of the curtain, and unannounced, the moonlight burst into my drawing room. Silver spilled over. Everything came alive for just a moment...

And just like that, the curtain fell once again and all was dark. That's when my epiphany happened. Love, like moonlight, was always around.
| | | |
| --- | --- | --- |
| | | |
| | Love was always around – but somehow it never seemed enough, leave alone 'more than enough'. | |
| | | |
Always. It was we who blocked it out with curtains of fear, curtains of expectations and curtains of ignorance. While we experienced a little breeze lifting the veil every now and then, we somehow didn't allow the flooding to happen. Why? For me, the answer probably is that I thought that all I deserved was that little glimpse… here, now and gone. However, it was time to change…
I stood up and threw the curtains apart – allowing my entire being to surrender itself to the moon blaze. I felt bare. I felt vulnerable. Tiny. Foolish – and yet, I refused to give in to the temptation to shut the curtain and resume my writing. As I stood there, for minutes, hours, (eternity?) a part of me that had only known darkness, lit up. Love was always around. What a feeling it was to know – that love was always available – it was I who was not choosing it enough. The dearth was not of love, but rather of my capacity to drink into love…
Somehow if each of us can see love as a silver ocean – and realise that whenever we need some, we can just go to that inner love space and gulp to our heart's content… how much easier life would be! The endless quest would end – and the dissolving would happen. So beautifully Rumi captures, in a line, "Your task is not to seek love, but merely to seek and find all the barriers within yourself, that you have built against it." And when the barriers break – all that is left is love. And more love.
See more articles on Personal Growth :
http://www.lifepositive.com/Articles/PersonalGrowth