Personal Growth - The transforming word
This is the era of the self-help book, a genre that more and more are turning to for help and advice on how to get wealthy, stay happy, cultivate relationships and know God

Download PDF Format
Fast-paced lives, busy lifestyles, nuclear families, waning health, failing relationships, intense competition, have all created immense levels of stress in our lives. Earlier, we may have sought succour in the guidance of a wise elder or a guru, but today more and more are resorting to books to hold their hands and boost their spirits. Spiritual and self-help books offer hope, cures, suggestions and a different perspective designed to get you back to life and living. Little wonder then that many publishers are gung ho about the growth prospects of the self-help or self-improvement genre of books. Penguin India, for instance, recently emerged with their Ananda imprint, devoted to spiritual and transcendental literature.

The growth

Sohin Lakhani of Embassy Book Distributors, Mumbai, points out that the demand for spiritual and self-help books is definitely growing. "More and more people are looking for material to help them grow as individuals," he says.

According to Dinesh Sinha, publisher, Byword, not many new Indian publishing houses have capitalised on the trend, but definitely a lot of Westerners have intensified their spiritual activity, as a result of which books by many Western self-help gurus, spiritual writers and life coaches are now available in the market. The fact that the literacy rate has gone up and salaries are rising is also helping the growth of this segment.

Another reason for the increased sales in the spiritual or self-help genre, is the lack of support, spiritual or otherwise, from the immediate surroundings, which makes readers reach out for these do-it-yourself guides.

Gautam Sachdeva of Yogi Impressions, which publishes only spiritual and holistic books, feels that though the number of books being published haven't increased drastically, the readers are certainly getting younger and younger, as a result of which new readers are being added to the numbers on a regular basis.

Guru or guide

Disha of Jaico books, feels that these books are certainly a guide to lead a good life, but cannot replace a guru. Agreeing with her, Swati Chopra, Editor, Spirituality and Wellness, at Wisdom Tree, says, "I see books as being complementary to gurus, simply because a guru's role is not only to teach, but also to provide space for questions and counter-questions. The guru clears the student's doubts, and offers comfort and practical advice directly
| | | |
| --- | --- | --- |
| | | |
| | We yearn for peace and happiness but when things do not go our way we become depressed. Self-help books offer insights that can transform our worldview and change our lives. | |
| | | |
related to the student's life. I don't see books as taking over this role. All that you can get out of a book are guidelines, but for everything else, you need interactions with an actual person. It can be with the author of the book, as happens in the case of a lot of self-help books, usually written by gurus or motivational teachers."
Naturally, the more the author reaches out with his ideas, the more the strength of the book and its following.
Different needs
A few months back, my husband and I went to visit our son at his hostel. Before we left, I picked up
Tough Times don't last, Tough People do by Robert Schuller
. At that time my health had dipped, and the book seemed to address me, giving me just the strength I needed then to pull through. Just as my answers came from a book by this acclaimed Christian author, different books play varied roles in catering to the needs of its readers. Sri Mohan, a chartered accountant in a private firm in Delhi, says that he had been curious about the presence of God since he was 12 years old and had recited the Gita without understanding the meaning of the verses, in his childhood. "But I am a seeker and my thirst for that unknown spiritual being was satiated when I was introduced to the world of Sufi literature. I began reading Bulleshah, Fareed, Meera, Nanak, Sultan Bahu, Ameer Khusro, Jalaluddin Rumi, and Kabeer."
Anand Mishra, a bank employee in Delhi, says, "I was able to view my life much better when I laid my hands on Manifest Your Destiny by Wayne Dyer and since then I began collecting several self–help books. Some of them are Mind Power by Tony Buzan, Capitalism by Ayn Rand, 100 Percent Mind Power by Ensign Adington, Games People Play by Eric Berne, The Life of Gandhi by Louis Fischer, Unlimited Power by Anthony Robbins, Secret Of the Heart and Prophet by Khalil Gibran.
Princy Thomas, a human research executive at a multinational company in Delhi, though not sure how the phenomenon works, says "As far as I am concerned, whenever I have questions and doubts in my mind, I try to look for solutions in such self-help books and to my amazement, it always works," she says.
Commenting on the growing popularity of self-help books, Mohammed Yusuf Ansari, a PhD scholar in Aligarh, says, "We yearn for peace and happiness but things do not always go our way. People end up being depressed, impatient and at times blame others around them. Self-help books offer insights that can transform our worldview and change our lives."
Barkha Singh, a retired psychology lecturer in Delhi, says, "I lost my mental equilibrium when my brother died of prostate cancer. My cousin sent me Eat, Pray and Love by Elizabeth Gilbert. This powerful book helped restore my faith in friends, family, God, and above all, my own being."
What next
The rising popularity of these books may result in the matter being available in other formats too such as eBooks, audio books and tablets, something which Gautam Sachdeva vouches for.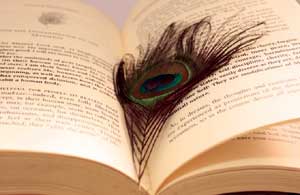 N K Verma, chairman, Diamond Pocket Books, says, "Spiritual books are a powerful resource for those who wish to grow in life and to achieve peace and calm. So if they are available on audio and video books, we can listen to it while doing mundane chores."
"I think video or audio books are more communicative, tutor and explain everything in an easy to understand language while being demonstrative as well," says Ankit Gupta, a graduate student from Delhi.
Publishers themselves are not beyond spiritual books and most have their personal favourites. For Gautam Sachdeva, it is I Am That, by Nisargadatta Maharaj and Consciousness Speaks by Ramesh Balsekar. Deepak Sinha says, "My spiritual readings have had a leaning towards Buddha's teachings. I liked The Art of Living by William Hart which is on vipassana meditation and What the Budhha Taught by Walpola Rahula as well as Old Path, White Clouds by Thich Nhat Hanh. As a novel, my all-time favourite is Siddhartha by Herman Hesse."
Sonavi Desai, who manages Indus Creed, says she often reads and gets strength from Sri Sai Satcharita by Dr Indira Kher, The Power of Now by Eckhart Tolle, the Autobiography of a Yogi by Paramahansa Yogananda, A Search in Secret India by Paul Brunton and Ramakrishna and His Disciples by Christopher Isherwood.
Swati Chopra says, "For me the inspiration has come from books that are more to do with a practical and personal experience of spirituality, like the Dalai Lama's Freedom in Exile, Satish Kumar's You are Therefore I Am, and Cave in the Snow about the years Tenzin Palmo spent in solitary retreat in a cave in Lahaul. Also books that give insights into the spiritual process, like Nisargadatta Maharaj's I Am That, and books by masters like Thich Nhat Hanh, Dilgo Khyentse Rinpoche, the Dalai Lama and, Osho, among others. More and more people are looking for material to help them grow as individuals," she says. In sum, books may not be gurus, but they can change your life.
With inputs from Nipun Augustin Jacob
See more articles on Personal Growth :
http://www.lifepositive.com/Articles/PersonalGrowth