Personal Growth - The wisdom of waiting
by Megha Bajaj
A chance meeting with a pregnant friend awoke Megha Bajaj to the learning that lies in waiting

Download PDF Format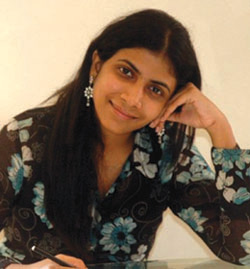 Megha is, above all, a seeker. These days she
is attempting to find herself in the role of a teacher
through the online writing course designed by her.
You can know more about her on
http://www.wonderofwords.org Somehow, many of us do not like the word 'waiting.' It brings images of long lines, red signals, unnecessary delays, and what not. The emotions it draws are restlessness, frustration, and irritability. When something we want is delayed for long, it also changes to despair. Being someone who loves quick results, waiting was nothing less than a nightmare for me – be it on the road, or at the various crossroads of my life, where I was not given what I wanted immediately. However, it all changed when I met my friend Nikki about two years ago. She was happily pregnant, and radiating with life, when I saw her for the baby shower. I asked her, with a big grin, "Waiting for the little one?" She immediately touched her full tummy and replied, with an even bigger grin, "Loving every moment of this phase as well – it will happen when it will happen!"

Waiting can be educative

Her peace with the moment, her bliss, was palpable. It was then that I realised that sometimes 'waiting' can be so beautiful. After all, things do 'happen only when they happen,' and the time gap is not because life wants us to suffer – rather it is needed for us to grow, to learn, and to understand.
| | | |
| --- | --- | --- |
| | | |
| | After all, things do 'happen only when they happen,' and the time gap is not because life wants us to suffer | |
| | | |
The nine months when Nikki was carrying Aarit in her womb, would have taught her so much about patience, about priorities, about just 'being,' and not always being involved in 'doing.' Those nine months were needed as a preparation to the years of joy to follow.
I started looking at life from the new wisdom that there can be a joy in waiting. I had started a new venture with my sister, and we thought that the moment we would launch it, we would be flooded with people. When that did not happen, I went through my fair share of wondering, which shifted to doubting, and became disappointment at some points. I kept thinking, "Why aren't things moving faster?" However, for the larger part of the phase, I held on to the faith that "It'll happen when it'll happen!"
I now know that each day that things did not happen for us, we worked at purifying ourselves further. Each day that the expected people did not show up, our faith in ourselves got questioned, and then reiterated. Each day that everything did not move the way we wanted it to, we got the time to review our systems and improve on the overall efficiency of our working. Each day – my love for the centre grew – and I felt personally responsible to ensure it becomes a space for many to feel a little healthier, and a little happier. As time passed by, the miracle began to happen, and the centre started to attract people. I then knew, experientially, just how important waiting was.
Waiting for a relationship to blossom gave me the chance to grow in love – to give without expecting. Waiting for my health to be in excellent shape gave me the chance to love myself as I was – to develop patience.
Not just in all these tangible spheres of life – but even in matters of God and guru and spiritual experiences, life had often made me wait. Today I realise that every awaited breath has only helped add value to the 'glimpse of silence'; every moment of wanting has added meaning to the happening – it has been a preparation.
There is no more negative connotation in my mind to waiting – rather, I accept it with love, with patience, knowing – it will happen when it will happen.
See more articles on Personal Growth :
http://www.lifepositive.com/Articles/PersonalGrowth