Personal Growth - There is always a reason
by Megha Bajaj
Everything that had seemed like such a challenge at a point, had in turn, left me transformed

Download PDF Format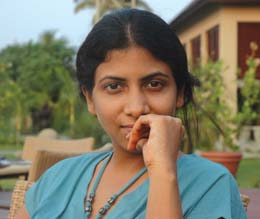 Megha bajaj is above everything else a seaker. At time
she tries to find herself through words. At other times,
she attempts to understand herself by being with childern.
contact:megha83@hotmail.com Life, at times, can appear quite cruel. Just when you think that all is well, suddenly, everything falls apart. Last week, everything that could go wrong with my life, did. My father was down with malaria, my mother-in-law with typhoid and my brother-in-law with a viral infection. Weakness, vomiting, fever, and fainting were the only words spoken in both homes. As if life wasn't challenging enough, I had a small argument with the secretary of the society who threatened to throw us out of our home. I felt like an amateur gymnast walking precariously on the rope of life – one wrong move and I would go down.

I remember coming home one of those afternoons, completely exhausted. I collapsed on my sofa, put my hands over my eyes, and kept repeating to life, "I can't take this anymore. Life is just too much for me. I can't take this anymore." I told myself to have faith, I told myself to think positively and do what the millions of self-help books tell me to, but I just couldn't. I didn't want to think, I didn't want to fight, I just wanted to let go. And I did. Slowly, sleep took me in her arms. She soothed me. She comforted me. I felt that answers to unasked questions were unfurling from within, effortlessly. I realised that if I am in a situation, it is because the situation is needed for me to grow. A conviction seemed to gain ground that life makes no mistakes, it gives the right test to the right student because it will help the student grow and reach the next level. I felt like the answer to any problem lay in going with the flow – to laugh, to learn, and to live and then – life would take care of itself.

Although nothing had changed when I woke up, everything had. From seeing myself as a victim, I began to see myself as a student. From falling asleep mistrusting life, I woke to faith. From resisting life, I awakened to the freedom of surrender. Just knowing the fact that life cannot make a mistake, made all the difference.

So often, in certain situations, I had asked, "Why me?" Finally, I knew. Life thinks I can handle it. Could I? As I looked back, I realised, truly, everything that had seemed like such a challenge at one point, had in turn, left me transformed. Health issues had only made me healthier. Relationship problems had only deepened relationships in time. Financial insecurity had only made me wiser. Death too appeared like nothing but the beginning of a new life. Mistrusting God also, ironically, over time only brought me closer to God because I kept asking, I kept searching. Every question had come with an answer, every lock with a hidden key. What then is success? And what is failure? Life just is a continuous, uninterrupted flow. But can I flow along?

I don't have the answer right now. But, for the first time it doesn't matter. If the question has come, the answer too must be on its way. For, if I am here, this is where I am supposed to be, in the grand scheme of things. However, for now I am content. Free. Happy being where I am. After all, I am here for a reason.