Personal Growth - Tomorrow's mystics
Agnostics and atheists are on a higher spiritual plane than many believers locked within the confines of creeds and customs, says Jamuna Rangachari

Download PDF Format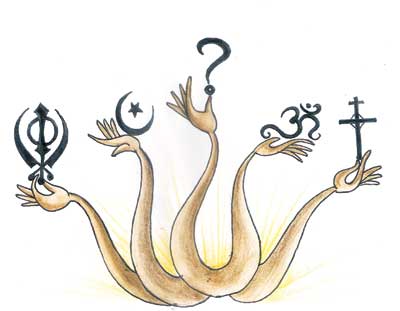 What do Charlie Chaplin, Winston Churchill, Bill Gates, Stephen Hawking, Charles Darwin and Sean Penn have in common, apart from their fame? The answer is agnosticism. When it comes to matters of faith or divinity, the agnostic has no stand. Unlike an atheist who is convinced that God does not exist, an agnostic considers that it is not possible to know whether God exists or not.

So why would a magazine focusing on spirituality write about agnostics and atheists?

The point is that the agnostic and the atheist are also on a path, whether they know it or not. They are, in fact, on a higher plane than the blind worshipper, who goes to a temple or a church because he has been brought up to do so but has no direct relationship with God. In contrast, the agnostic and the atheist have begun the process of crafting a conscious understanding of God, by first of all freeing themselves of the burden of inherited creeds and belief systems.

In the West, particularly, churches have emptied out as more and more have begun to question the faith that was handed down to them.

Nisha George, born into a Syrian Christian family, shares that she lost faith in God when she was about 14, after coming in touch with Charles Darwin's Theory of Evolution. "It simply did not gell with the Biblical tale of God making the world in seven days," she says. Her agnostic period lasted until she was 33, when an authentic spiritual experience put her directly in touch with Divinity and enabled her to resume her relationship with God. "I now have a wonderful relationship with God who I perceive as the nameless and formless entity behind all of creation." She adds, "Today, I do not believe in God, I know God."

I too did not believe in a 'Hindu' God, as I did not believe in the caste system. Visiting temples or attending pujas, were a chore I performed unwillingly. It was only later I learnt that I was an agnostic.

Doubt has always existed in mankind as questioning is a part of human nature.

In fact, in Greece, much before the advent of Christianity, Pythogoras said, "Concerning the Gods, I have no means of knowing whether they exist or not or of what sort they may be, because of the obscurity of the subject, and the brevity of human life."

Committed to humanity

At the same time, non belief in God in no way topples the ethical foundation of the lives of this breed. Being, in general, better educated and with more independence of mind, most of the atheists or agnostics one has encountered have been remarkably committed to the service of humanity.

Long ago, when I visited well-known lyricist Javed Akhtar, in Mumbai, for his help in publishing a book on religions of India, he thought it was a wonderful idea and did extend his help but did not write a testimonial as he did not believe in God, and it would be inappropriate for him to write the testimonial. He did, however, write one on my other book that highlighted the human values we should all have.

Sandeeep Pandey from Lucknow, who I had interviewed earlier, had photographs of Jesus, Buddha, and Mahatma Gandhi in his ashram, but said clearly that he admired them as social reformers and not as gods. An ex-IITian, he now devotes all his time to strengthening the development in his own city in the area of health and education.

Ashok Mahadevan, the ex-editor of Reader's Digest from Mumbai, also an atheist, has covered many humanistic people in the magazine. Three generations of Mahadevans have been involved with Mumbai Mobile Crèches (MMC), the non-profit organisation that looks after the children of construction labourers at worksites. He gets his support and strength from family, friends, and aims at making this world a better place to live in.

Andrew Carnegie [1835-1919] was a noted American industrialist, businessman, and philanthropist. He identified himself as a positivist, and kept away from organised religion, due to his distaste for sectarianism. Carnegie preferred naturalism and science, saying in his autobiography, "Not only had I got rid of the theology and the supernatural, but I had found the truth of evolution."

Avram Noam Chomsky is one of the most notable American philosophers of any age. Professor Emeritus of Linguistics at MIT, he is considered a father of modern linguistics. On his views of religion, Chomsky said in an interview in 2002, "If you ask me whether or not I am an atheist, I wouldn't even answer. I would first want an explanation of what it is that I'm supposed not to believe in, and I've never seen an explanation."

Warren Edward Buffett, an American businessman and CEO of Berkshire Hathaway, was rated by Forbes as the richest person in the world (in the first half of 2008, before the Wall Street meltdown). He is noted for adherence to the philosophy of 'value investing,' and for accepting an annual salary for himself of less than $200,000. He describes himself as religiously agnostic. He says he adopted his father's ethical underpinnings, but not his belief in an unseen divinity.

If we need proof that man does not need to fear hell or covet heaven in order to lead a useful and productive life in the service of humanity, we need to look no further than at the atheist and his comrade in arms, the agnostic.

The principles

Khushwant Singh, author and well-known journalist from Delhi, follows a regular diet, exercises to the best of his ability, and remains creatively engaged even today, at the age of 90 plus. His credo, "Never lose your temper, it takes a heavy toll and jangles one's nerves. Never tell a lie. Always keep your national motto in mind, Satyamev Jayate, only truth triumphs. Give generously.
| | | |
| --- | --- | --- |
|   | |   |
| | Funnily enough, people often feel insecure about the stage three people, the sceptics, though they are quite harmless, just because they do not conform to norms. | |
|   | |   |
Remember you cannot take it with you. You may give to your children, servants, or charity. You will feel better. There is joy in giving. Drive out envy of those who have done better than you in life." As far as visiting temples are concerned, he would rather do something more constructive and sermonises, "Take up a hobby like gardening, growing bonsai, or helping children of your neighbourhood, with their homework."
He can also speak about the Sikh scriptures with complete authority and promotes its core values, yet is a self-confessed agnostic.
He has even adopted a
meditation
practice: "A practice which I have found very effective is to fix my gaze on the flame of a candle, empty my mind of everything, but in my mind repeat Aum Shanti, Aum Shanti, Aum Shanti. It does work. I am at
peace
with the world." Mrigendra Pandey, a mathematics tutor from Delhi, who teaches people in India and overseas, became an agnostic after the Babri Masjid demolition, when he saw members of both the communities dying because of communal strife. He says he believes in himself and does his best, never harms anyone and continues doing his best. Subscribing to the law of attraction, he practises positive thoughts and affirmations, which will inevitably lead him to the zone of spirituality.
Shishir Kumar Verma, a retired government official from Gorakhpur is an agnostic who says he has the courage to overcome any difficulty which
life
may throw at him. He stoically faced a recent
heart
surgery, telling himself that irrespective of the outcome, one must have courage, as that is the only factor that helps in the face of adversity.
The agnostic and the atheist are therefore self-made and self-sustained, clearly on a higher level than the millions who go to temples and bargain with
God
for material and other fulfillments.
Spiritual evolution
Scott L Peck, the author of the book, The Road Less Travelled, ranks the agnostic accurately when he explains the processes of spiritual development in four stages. In the first stage, people are chaotic, antisocial, and sometimes pretend to be loving and pious, while actually covering up their lack of principles. In stage two, we have formal, institutional, fundamental believers. Usually, they do not yet understand the spirit of the law and consequently become legalistic, parochial, and dogmatic. In stage three, we find the sceptics that include atheists, agnostics and those scientifically minded who demand a measurable, well-researched, and logical explanation. Although frequently 'nonbelievers,' people in stage three are generally more spiritually developed than many content to remain in stage two. Although individualistic, they are not the least bit antisocial. To the contrary, they are often deeply involved in and committed to social causes. Of course, in stage four, we find the mystics, who out of
love
and commitment to the whole, using their ability to transcend their backgrounds, culture and limitations with all others, reach toward the notion of world community, and the possibility of either transcending culture or creating a planetary culture.
He explains further that perhaps, predictably, there exists a sense of threat among people in the different stages of religious development. Funnily enough, people often feel insecure about the stage three people, the sceptics, though they are quite harmless, just because they do not conform to norms.
If one analyses all pathbreakers even in faith, all change has come from stage three people. Buddha questioned some practices of the then prevalent Hinduism, Jesus challenged the priests in the Jewish synagogues, and even Mahatma Gandhi, questioned himself all the time, studying and applying only the principles he connected with, be it of any faith.
The step towards faith
In my case, I soon realised that the answers were all there in my own faith, through the answers of many gurus who speak on the essence of Oneness in all beings. I read about the time Adi Sankara, the Hindu seer, and his disciples had gone down the ghats of the Ganges for ablutions. Returning, they were faced with a chandala, a low-caste pariah, leading a pack of four dogs. The seer asked the lowly man to step aside from their path. Instead of obeying, the chandala is said to have responded with the wise words, "Like your own, my body too is made up of the material food that is consumed and performs the same biological functions as any Brahmin's. My atman or consciousness too is identical to the Supreme Brahman which is omnipresent and forms the composition of your soul as well and is totally unaffected by the bodily aspects. So which part of me do you ask to step aside, the body or the consciousness (Chaitanya)? And why do you do so, learned Brahmin?" The seer was dumbstruck and awed with the
enlightenment
of a lower-caste man. Adi Shankara prostrated to the chandala and conceded that he had erred. He composed the ethereal shlokas, Manishapanchaka, the purport of which is to concede that the only man who may claim to be illuminated is one who has learnt to see the world and all its beings as part of the Self, and not in the form of individuals belonging to various castes. Reading this, I realised that it would help if we were to understand the core concepts in the faiths, for only then can we move towards true enlightenment.
Neeta Sharma Kumar, founder of a wholistic wellness centre, Delhi, says during one of her visits to her native village in Bihar, she came across untouchables who were not allowed to go to schools and temples, and hence became an atheist. Later, she attended a
reiki
and
yoga
class.
Initiation
into
reiki
made her visualise, as well as experience, light entering her body. She is now clear that it is compassion,
love
and forgiveness, that is true spirituality and not faith in a particular religion or adherence to its customs.
Sadhguru Jaggi Vasudev, the founder of Isha
Yoga
in Coimbatore, was the youngest of four children. He never really felt God's presence in temples and shunned visiting them, as he felt people never became joyous after visiting any place of worship. To him,
enlightenment
came in a flash. At the age of 25, he suddenly felt the entire surroundings around him, become a part of him, until there was no him and no other. Today he guides many people in recognising their inner potential, as he firmly believes that we all have the power to create the world we wish to manifest.
For all of us who believe in evolution, non-belief, it is clear, is one more step in the evolutionary process. The next step is agnosticism where we have the courage to accept openly that we do not have all the answers. Finally, the sceptic has a direct spiritual experience and becomes an authentic lover of God.
Today's nonbeliever is tomorrow's mystic.
See more articles on
Personal Growth
:
http://www.lifepositive.com/Articles/PersonalGrowth