Personal Growth - Trading in love
by Chitra Jha
Chitra Jha experiences collective compassion through head, hands and heart at the three-day retreat hosted by the volunteers of Moved by Love

Download PDF Format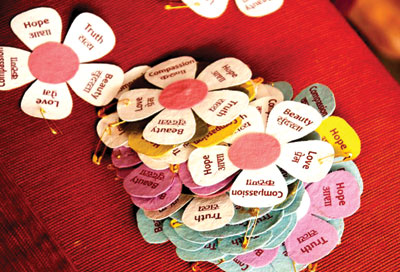 While living in Bangalore, I came to know (and became a part of) the Seva Café movement. My dear friend and restaurateur, Susheel Nair, along with his dynamic associate, the butterfly girl, Anupreet Dhody, had recently attended a retreat in Ahmedabad, which had inspired them to experiment with this concept in Bangalore.

I was not new to the concept of 'giftivism' or gift economy as I was offering my own healing sessions and workshops based on this principle: "I offer my services as a gift to you, and gratefully receive whatever you offer as a gift to me". However, the idea of running a restaurant on this principle was new to me.

I enjoyed meeting new people at Seva Café. Their stories, responses and reactions to the concept of seva (service) as gift moved me. I also met two stalwarts of the movement, Nipun Mehta and Sheetal Sanghvi. Nipun's name was synonymous with his famous 'Paths are made by walking' speech at University of Pennsylvania; and Sheetal's with the vibrant Urban Ashram at Pune. Meeting these real-life heroes (who are humbler than humble can be) did something to my heart and I could feel the flow of love – both ways! I wanted to know more about these gift-love-warriors, and that is when Anupreet chimed, "You HAVE to meet the Ahmedabad people – Jayeshbhai, Gopal dada and others." She also told me about www.dailygood.org – a portal dedicated to sharing inspiring and positive news from around the world. This portal opened a new world to me. I was so moved by their inspiring stories that I spent hours reading and sharing them with others. One day, while browsing through this site, I was led to www.movedbylove.org – a holding space for experiments in generosity, and learnt about their bi-monthly three-day retreats, which is hosted by Moved by Love volunteers on the outskirts of Ahmedabad, Gujarat. I noticed that their next retreat was in June (28, 29, and 30), and immediately filled up the application form and submitted it online.

In the meanwhile, my husband and I had relocated to Jaipur. I was not too sure if I would be able to get away for three days while we were setting up our new home. Then I learnt that my younger sister Pratibha would be visiting us during that time. While I could leave my husband to fend for himself at home, I could not possibly do that to my sister, who had come all the way from Botswana, Africa. Since I did not even know whether I would be invited for the June retreat or not, I left it all to the Universe, with a 'que sera sera' approach!

The day Siddharth Sthalekar (an IIM alumni, who along with his wife Lahar and several other enthusiasts has initiated the Moved by Love space and the retreat) wrote to me, "It will be a pleasure to host you at the retreat", I wrote back, "Thank you for your kind invitation, but I can attend this retreat only if my sister can join in."

The magic of love wove its thread from that moment on. Very graciously, Siddharth facilitated Pratibha's inclusion in this sojourn. And both of us are happy that it happened that way!

We hired a taxi from Jaipur to Ahmedabad, and what a perfect drive it was. A comfortable car, a polite driver, wonderful roads, great scenery, colourfully attired lovely people, and the great company of a sibling-cum-friend; we could not have asked for more!

However, as soon as we entered the gates of Environmental Sanitation Institute (ESI), Sughad Gaon, Ahmedabad, (the venue for the retreat) we were welcomed by a lot more!

Loving welcome

The place is amazingly beautiful and aesthetically pleasing to the eye. The architecture, the interiors, and the open spaces are all very well appointed. One can easily fall in love with the place itself! However, the real value is added by the ever helpful and smiling inmates. The coordinators (young, bright, intelligent, efficient, courteous, and loving people) welcomed us with open arms. When Sheetal said, "Welcome home," it truly felt like homecoming! My sister and I grew up in Gandhian environs, with a Gandhian ethos, in a place called Kasturba Rural Institute at Rajpura, Punjab, where our father was a leading stalwart. We left that place in 1985, when he opted for retirement and shifted back to his village in Western Uttar Pradesh, to take care of his agricultural land. But once a Gandhian, always a Gandhian; our father remained true to his roots until his dying day.

We siblings often reminisce about our beautiful, simple and yet abundant growing-up years with great fondness; and here in the premises of ESI, the very same spirit of Gandhi had come alive for us. There were his famous (and not so famous) quotes all around. His photographs and sketches created a familiar environment. And when we met 89-year-old Gopal dada, who had spent time with Gandhi and Vinoba, we could not help but remember our 80- year-old mother, who had also grown up under Gandhi's shadow, and who too never tires of telling stories of those days.

Connecting with each other

We connected with some of the wonderful people (36 in all) who had gathered for this retreat in the spirit of listening, learning, and serving together. (My throat chakra had begun playing up two days prior to the retreat, and has continued with that play even a week after the retreat, making me listen more and talk less!)

We also connected with many aanganwadi helpers from Gujarat, who had gathered there for a five-day workshop. We learnt that ESI provides the training space for all of Gujarat's aanganwadi workers, and developed a new respect for the state and its administrators. They had identified just the right place to strengthen the backbone of their 'Integrated child development services programme'.

In ESI, the day begins with a Prabhat Pheri, which literally means a 'morning procession'. This is a tradition we had grown up with. In our father's institute, the morning was always welcomed by the sounds of dholak, cymbals and bhajans – a musical morning awakening, until the ritual got lost in the façade of modernisation, late nights, and morning hangovers. I enjoyed joining the aanganwadi behns in chanting bhajans while taking several rounds of the centre, covering every nook and corner and welcoming the morning with wonderful positive vibrations. The Prabhat Pheri was followed by sitting in a circle and doing innovatively guided physical exercises.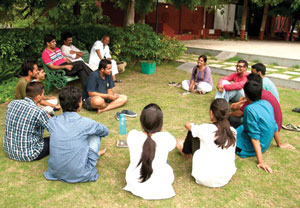 A circle of love: Participants commune For the retreat participants, there was a choice, whether to sit in a silent circle or to clean the compound. Since sitting in silence is my comfort zone, I chose to sweep a portion of the compound. That simple act transported me back to my childhood (yet again) when sweeping the compound was one of our daily chores – the one I resented the most. However, at ESI, the external cleaning is done in complete awareness that the action is helping us clean internally. In fact, this insight is one of the founding principles of the institute.

Unforgettable experience

I do not want to spell out all that happened at the retreat because I would like each one of you to experience it for yourself; but I can tell you that this retreat made me experience collective compassion through head, hands, heart. Jayeshbhai, a great humanitarian, whose father Ishwarbhai Patel (popularly known as 'Mr. Toilet') had founded ESI, very poignantly said, "The person who uses only his hands is a mazdoor (labourer), the one who uses both hands and head is a kaarigar (craftsman), but the one who uses hands, head, and heart is a kalakaar (artist). Be a kalakaar."

During the three days of this retreat we met with or heard of many such kalakaars, Jayeshbhai and his wife Anarben, founders of Manav Sadhana, an NGO based in Gandhi Ashram, Ahmedabad, which is dedicated to the upliftment of the underprivileged; Udaybhai, who drives his auto-rickshaw on gift-economy; Raju, who follows Gram Swaraj model in the village of his birth; Jesus-ji, an architect from Spain, who redesigns schools in the slums; Vandana Agarwal, who has designed projects like Saree-library (rent-a-saree service), and Akshay-Patra in which you put a part of your daily income and use the money to perform random acts of generosity; Raghu, who despite being paralysed from waist-down, runs a tiffin service for the extremely under-privileged (Pratibha was fortunate enough to ride Raghu's scooter and be a part of his work for a day), Padamshri Kantibhai Patel, a sculptor par excellence for whom external wealth is worth little but internal wealth knows no bounds; and many more. All these kalakaars are fondly called Lok Mitras, who create heart connections in their loving interactions with the world.

In short, the three days of the retreat were about bringing generosity in our lives, and serving through our hands and our hearts and much more!

Bangalore-based Seva Café volunteer Tharanath summed up the collective mood with his words, "It was not just a retreat but indeed a re-treat. Treat for the body, treat for the mind, treat for the heart, and treat for the soul." My sister Pratibha headed back to Botswana determined to help build systems for generosity by making generosity an integral part of her life.

I am left with an acute awareness that the shift the planet and all its inhabitants are currently experiencing, is definitely making me move away from helping/fixing paradigm to serving/offering paradigm.

The Moved by Love experiment promises that frequent random acts of generosity creates inner transformation in people, which leads to lasting external impact on the society and the world; helping us shift from transaction to trust, consumption to contribution, scarcity to abundance, and isolation to community.

For three days, we were part of a community in which everyone sees beauty in what others are offering, thus creating a collective abundance mindset, and reaffirming Gandhi's words, "The fragrance always remains on the hand that gives the rose."

See more articles on Personal Growth : http://www.lifepositive.com/Articles/PersonalGrowth