Personal Growth - Transcend the public gaze
by Punya Srivastava
Fear of what people will say is one of the most restrictive and damaging forces that we have to deal with. How can we liberate ourselves from this malaise, asks Punya Srivastava

Download PDF Format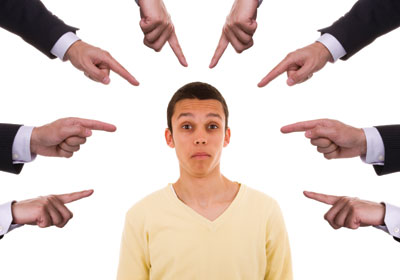 "Sabse bada rog, kya kahenge log."

Let's face it, the proverb speaks truth. Is there anything we fear more than what people will say? Every time we face a milestone moment, such as wanting to marry a person belonging to a different religion, seeking a divorce from an unhappy marriage, losing a job, or not getting admission to a renowned college, our dilemma is further complicated by our fear of public opinion. In a conformist society like India, this fear can assume mammoth proportions and the subsequent suffering can be immense.

Ask Delhi-based Ashutosh, 51. "I have had an unstable professional life, and consequently a humiliating social life," he says. He was married at 25 and had a comfortable job at BHEL, Bhopal. But within a year, circumstances, and, to an extent, some wrong decisions, marked the start of a life of struggle which began when he quit his job. He switched many jobs, worked in different fields, dabbled in business, but could never find a foothold. He became the black sheep of the family and a target of gossip for the whole clan. "I felt humiliated sitting at home while my wife slaved away. I feared meeting people because everyone kept asking me what I was planning to do next. Life was already difficult, and the constant jibes of relatives made it hell. Even a simple thing like buying a CD player needed the approval of my dear ones, because I was always afraid of what people would say about my seeming indulgence," he shares.

Like Ashutosh, most of us live in terror of society's strictures and willingly sacrifice our very happiness to placate the monster. Loveless marriages, meaningless jobs, conventional lifestyles, and a destruction of the human spirit are some of the fallouts of this malaise.

Why do we do this?

According to Pulkit Sharma, Clinical Psychologist and Psychoanalytical Therapist, Delhi, "The desire to gain acceptance and love of others is the main reason behind this syndrome. Such a person thinks that not following social norms would make him an outcaste. Enhancing self-esteem through the approval of others is another reason. The more approval they get from people, the more their sense of popularity and self-worth."

I had also been plagued by this syndrome while in school. I was always worried about my appearance as I was stick thin. I feared going on stage or speaking in front of the whole class and being judged by others. My fear of not looking as healthy as others, marred my self-esteem and I found ways to avoid being in the limelight. I avoided attending family gatherings as people would continuously ask me to put on weight. I constantly struggled to make myself look presentable. I was terrified of going to college, anticipating the humiliation I would go through because of my appearance. I spent almost all my school life wallowing in self-pity, hating my appearance, ducking from the critical gaze of people around me.

Anupama Dafre, an alternative healing therapist and facilitator from Mumbai, echoes Pulkit's thoughts. "We are always looking for acceptance, the need to feel worthy and be loved. This is what drives us to become a part of the crowd. Our fear of being ridiculed or ignored is another compulsion. And finally low self-esteem always feels the need for validation," she says.

Unfortunately, the more we pander to the societal monster, the greedier it gets.

"What irked me most were the prying eyes. Whatever happened in my life was my problem but people took it as their responsibility to give unsolicited advice. Constant judgments and snide remarks over my capabilities pulled me down. I was apprehensive of even coming out of my bedroom on festivals like Holi and Diwali to greet neighbours. Once a relative even asked me when I was going to lose the current job I had bagged. Such experiences brutally crush your confidence in your own abilities. I started developing serious confidence issues and often vented my frustration on my kids and wife. That, in turn, made me feel miserable. It was a vicious cycle of emotions and I was stuck in a vortex of guilt and fear," shares Ashutosh.

The price we pay

Swati Bhasin, a 25-year-old working professional, always wanted to learn dancing. But being shy and introverted, she could never muster the courage to enrol in a dancing school. "But, one day something just motivated me to take the plunge. The first day was BAD! I couldn't even catch the rhythm. This had never happened when I used to dance by myself in front of the mirror earlier. I realised I was subconsciously thinking about people too much. What would my friend think if I looked stupid while dancing?" says Swati. Her fear of dancing was less to do with her capacity to dance, and more to do with what everyone around would think about her.

Says Gyandev or GD, a psychic empath and life coach from Pune, "Wow! You are amazing!'" is what we all want to hear all the time. 'Give me some love, give me some attention, appreciate me, please look at me!' is what we keep begging always."

He adds, "When you want something from someone, you are never at ease. The false 'you' is always uneasy with people because of this subconscious need. This need insists that I be seen as a nice human being, a loving human being, a worthy human being.
| | | |
| --- | --- | --- |
| | | |
| | "Many people prefer to live in pain rather than risk change. You need to develop inner strength to deal with this fear." | |
| | | |
And in order to have this need met, we start behaving in ways which we think others will like. When we want approval from others, we instantly lose our honesty, our ease and our naturalness. This begging-mode is a very uncomfortable place to function from. But most of us are so habituated to this state that we don't even notice it."
Vikram Karve, a retired Naval Officer who is now a full-time writer and blogger, adds, "By your constant need to seek approval of others, you tend to lose control of your life. Your habitual worry about the opinion of other people will make you indecisive. This, in turn, causes anxiety and generates stress. It ruins your happiness and health in the long run."
"It blocks our creativity. It confines our abilities to doing only what we perceive to be acceptable by everyone. Our true potential remains untapped as we remain chained to our fears," shares Dafre.
The way out
For Swati, it was only when her dance teacher sat her down and cleared away her fears that she could free herself of her self-binding thoughts. "He told me that it was I who was judging and analysing myself when no one else was even bothered. He explained that I needed to have the 'heart of a child', to let go of myself. Gradually, he helped me come out of my self-consciousness. I am happy to be dancing today and have grown beyond the thought of what will people say, because as a dance enthusiast, you cannot afford to think like that," she concludes.
Pulkit suggests a few ways to overcome the syndrome. For him, self-awareness is the first step which would include understanding the various ways in which you seek and depend on external validation. Dealing with resistance is also necessary, because even when we acknowledge there is a problem, it takes us time to address it. This is because we have a resistance to change as we fear re-experiencing the trauma in the process. "Many people prefer to live in pain rather than risk change. You need to develop inner strength to deal with this fear. As you are in the process, learn to nurture your true self by acknowledging, respecting and appreciating it," he says.
"I came out of the syndrome with the support of my wife. She stood like the Rock of Gibraltar beside me without making me feel guilty. In moments of despair, she would remind me of my positives and strengths, filling me with confidence. She never made our kids aware that their father fell short of his duties. My children, all grown up now, never disrespected me for the mistakes I made and the decisions I took. Their respect reinstated my confidence in myself," states Ashutosh.
"My mantra to free the self from the log kya kahenge syndrome is to be your own hero," says Vikram Karve. He advocates exploring one's abilities and beliefs and seek out one's inner strengths. "Every time we act originally and decisively, we reaffirm our identity and increase our self-esteem," he says.
"I made my share of mistakes but also accepted them. This acceptance gradually rid me of my guilt. Now I am learning to work on myself and enhancing my self-esteem. I no longer allow my fear of what others will say to stop me from being guilt-free and happy," Ashutosh shares.
"Everyone needs approval. Approval is one of the strongest rewards. Unfortunately, if you have low self-esteem you depend excessively on the approval of others. If you reward yourself for what you do, you will experience that self-evaluation and self-reward produce a shift from being other-directed to being inner-directed. This will enhance your self-esteem," concludes Karve.
When you want nothing from anybody, finally, you are free to be yourself. When you are yourself, you are – regardless of the situation – simply present, open and playful. And when you are 'you', it doesn't matter what people say. As for me, my constant self-motivation and self-acceptance has enhanced my self-esteem to such an extent that I recently got tattooed without bothering about what people would say. And while I was getting it done, the one song that played in my head was Kishore Kumar's "
kuchh to log kahenge, logon ka kaam hai kehna...
".
See more articles on Personal Growth :
http://www.lifepositive.com/Articles/PersonalGrowth