Personal Growth - Upanishads of the New Age
Contemporary workshops are today's equivalent to the archetypal paradigm of the Buddha surrounded by seekers under the Bodhi tree, says Jamuna Rangachari

Download PDF Format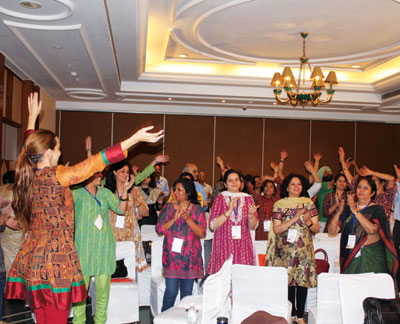 What weekend holidays at Phuket or Bangkok are to the yuppie, workshops and retreats are to the modern seeker. If the yuppie basks in the holiday's R&R (rest and recreation), the seeker too enjoys the workshop's R&R (rejuvenation and restoration).

Workshops work for a lot of seekers because they are conveniently short and held mostly over weekends. They are more democratic and freer of hierarchy than traditional learning environments like classrooms or even ashrams. Importantly, they allow New Age seekers to adapt, integrate and deepen their spiritual practice in short spans of time. The reasons for the ever-growing tribe of seekers queuing up for workshops are many but the shared goal is one – the unveiling of self-knowledge in the seeker with the help of a facilitator. In that, the workshop is not different from an Upanishad. The teacher, the seeker, the transforming knowledge, the probing questions and the illuminating answers are as common to the Upanishads of old as they are to contemporary workshops.

"I joined Isha Yoga in 2010 to learn physical asanas. I have always kept myself fit with sports and gradually developed an interest in yoga. At the Isha Yoga workshop, I learnt that the core of yoga was union of the body, mind and spirit. Practising the kriyas I learnt there daily has become a way of life for me. It has helped me enjoy life to the fullest.
| | | |
| --- | --- | --- |
|   | |   |
| | After an advanced course in kriya yoga, I became keen to spread the message that yoga is an experiential reality." Dr Shanti Radhakrishnan, Mumbai. | |
|   | |   |
I went ahead and completed the advanced course in kriya yoga. This has made me keen to spread the message that
yoga
is an experiential reality," says Dr Shanti Radhakrishnan, a doctor from Mumbai.
The earlier Shanti would often get stressed by the need to do justice to the many roles she had to play as a senior executive's wife and a professional in her own right. Now, post the Isha
Yoga
course, she says she feels empowered to play any role
life
presents to her, without attaching any labels to her self. She swings effortlessly from being a doctor to a mother, from a spouse to a hostess.
Spiritual mooring
"I have attended three and five-day residential workshops by my
guru
Shri Shri Nimishananda in his ashram and at venues away from Bangalore. The presence of my spiritual master, the lush green setting, the deep silence, the seclusion and the freedom from routine make these workshops effective. In this environment, I find it easy to slip into meditation," explains Purnima Coontoor, a seeker and writer from Bangalore.
Mumbai-based Mallika Vyas, a senior vice president, HR, Tata Capital, considers that one of her most meaningful experiences came from a workshop on astrology conducted by Greenstone Lobo, banker and weekend astrologer! "I was surprised to know that I do not belong to a particular
zodiac
sign because every person is shaped by the combined influence of the Sun, Mercury and the Moon. The placement of the Sun rules the soul, Mercury, the thought processes and Moon, the emotions. He showed me how we are all different thanks to the permutation and combination of these three planets. I applied what I learnt during the workshop to the people I interact with in the office and it helped me understand their particular quirks and motivations. Irrespective of the roles people perform, Greenstone's Know Your People workshop helped me realise that people are individuals with independent perspective," she explains.
Says Kabir
Chintan Girish Modi, a Mumbai-based educator, speaks highly of a workshop on Kabir, jointly facilitated by Shabnam Virmani of the Kabir Project and Ravi Gulati of Commutiny. "The most significant of my journeys happened around a workshop called Learning with Kabir, a four-day gathering of artists, educators and
community
workers. It was an immersive experience built around the poetry,
music
and ideas of Kabir, a 15th century saint-poet whose voice invites us to break down walls we erect between self and other, to meet fellow beings in a space of
love
and compassion. While I had read and listened to Kabir's verse as a child, the workshop opened up the depths of Kabir to me like never before. It urged me to examine the various identities I hold on to; to see what is received, and what chosen; to be aware of how holding on to identities is a potential source of disharmony. "
He adds, "The workshop also explored issues surrounding caste oppression, communal strife, oral traditions, and questions about faith and history, the sacred and the secular. This experience brought forth with searing clarity the realisation that we often think of 'change' as something that 'others' need to undergo. The workshop ended, but my
relationship
with Kabir continues. Through this, I have come to appreciate how crucial it is for us to engage in self-examination. This awareness, when it comes, does not remain restricted to one area of work. It manifests everywhere,"
An engineer converts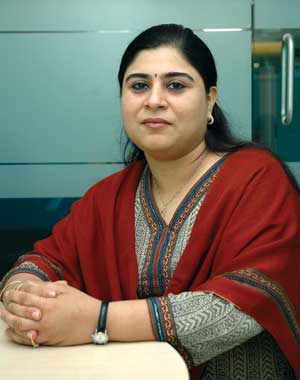 Mallika Vyas credits her honed managerial skills to a workshop
Always interested in exploring, Santosh Joshi (42) from Mumbai, a past-life regression therapist in Mumbai, attended a Siddha
Healing
workshop by Baba Shivananda in 2003 and practiced
meditation
that he learnt during his participation there. A mechanical engineer with a multinational back then, Santosh got bitten by the spirituality bug. Soon, he attended Swami Sukhobodananda's
Life
workshop and the fascination with
personal growth
and spirituality increased. Several workshops later, his search finally took him to a past-life regression therapy workshop by the doyen in the field, Hyderabad-based Dr Newton Kondaveti. So impactful was the workshop and its learnings that Santosh finally took the plunge and decided to part with the corporate world and become a past-life therapist himself. Today, he claims to be blissfully happy doing what his soul had always aspired for – to be of service to people. "All these workshops helped me uncover my purpose and gave me the insights I needed to find my path," he says.
Writer Megha Bajaj from Mumbai attended TT Rangarajan's workshop in Pune in January 2006. She says, "The most empowering workshop I have ever attended is something called Top Gear that my guru, Rajan, conducts. In an eight-day programme, I underwent a multitude of experiences from silence to the bliss of dancing under the stars, from
God
to guru. All I know today is what I learnt there. This workshop took me within mysel. It was a purifying experience. It made me intimate with this person called Megha, and this presence called God," she says.
One of the main reasons why workshops are effective is because we choose to attend them voluntarily. In fact, if they are thrust down our throats they are no more effective than any other mode of conventional learning. A few years ago, I learnt about a programme, Jeevan Vidya, a course on
peace
and
life
skills training, from Sandeep Pandey, a Magasaysay awardee.
 
 
"It is important to identify what works for you and what does not rather than giving yourself up completely to just any process."
Ajay Kalra, Mumbai
 
 
Intrigued, I attended a workshop on the subject in a school in Hyderabad in 2009. There were many participants, mostly teachers who were upset because they had been forced to forego a holiday to attend the programme. Only three of us had chosen to attend voluntarily. Unsurprisingly, we were the ones who benefitted the most. My key takeaway, which has enriched my
life
hugely, was the realisation that trust and relationships are the core of a meaningful life.
Back when I used to be a software professional, I noticed that most people who attended workshops sponsored by their companies never really made the effort to imbibe what was being offered. I remember once a young man from another smaller firm asked us if he could attend our workshop. Later on, we found that he was the only one who had not just learnt substantially from the workshop but also kept in touch with the facilitator after the programme was over.
Often, participants take their learning further and turn facilitators themselves.
Megha Bajaj now conducts online teaching courses. "It's so wonderful to conduct these workshops. I truly believe that all we can be is mere facilitators. Everything happens to a person and through a person – with me as the context. Receiving mails of gratitude, knowing that something about one's
life
is a little more beautiful is such a wonderful feeling. It completes me. It gives me a reason to live," she says.
Democratic choice
Ajay Kalra, an organisation development consultant in Mumbai, attended many workshops, including those organised by the Art of Living and Landmark foundations and the Indian Society of Applied Behavioural Sciences. Most have been impactful, he maintains. He, however, emphasises that one should decide what works for one. "It is important to identify what does and does not
work
for you rather than giving yourself up completely to just any process," Ajay says.
Today, Ajay is a facilitator himself, and says, "I believe that as a facilitator I can simply create a safe space for exploration and reflection with self and others. I make it a point to tell all involved beforehand that what I initiate is a voluntary process, both for them and for me. So, we have made a conscious choice to
work
with each other. While I challenge people in my workshop, based on my experience or intuition, I never enforce my views on others. Even though it is simple, it works remarkably well," Ajay adds.
Santosh Joshi has helped many people through his meditations and regressions. "Ailments such as headaches disappear and many have an insightful experience," he says.
Storehouse of power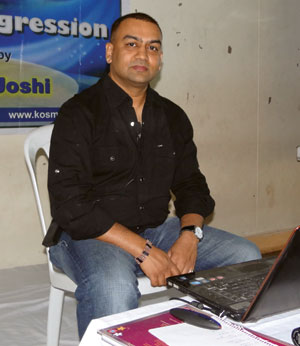 Santosh Joshi's onward growth through workshops inspired a switch in career
I have felt that workshops tend to be more powerful than other forms of learning because they engage all our senses, unlike a book or teaching which is only visual or aural. Further, one learns more when one participates with a group that shares a common goal – learning. If we have issues, so do others. If we wish to improve, so do others. We see that it's not only us, but a lot of people, who wish to connect within. The relationships one forms in workshops are always deeper than the one usually forms in social circles, as workshops making us go within. It is an unparalled experience.
Making ourselves better from within improves relationships both at
work
and within the family. The point in attending workshops, is that it is an investment in our self. When we spend millions on a house, clothes or jewellery, and none of it helps us become better human beings, it makes much more sense to spend time, effort and energy on improving our inner being. What we learn during these workshops, after all, will always be with us, unlike our material possessions that crumble with age.
Come to think of it,
life
is the biggest workshop in itself– one episode among many in the soul's eternal journey towards the Light.
So, are you attending?
See more articles on
Personal Growth
:
http://www.lifepositive.com/Articles/PersonalGrowth