Personal Growth - War and peace
by Shivi Verma
Conflicts arise in all relationships. It is our capacity to resolve and transcend these conflicts that help us forge lasting and intimate bonds, says Shivi Verma

Download PDF Format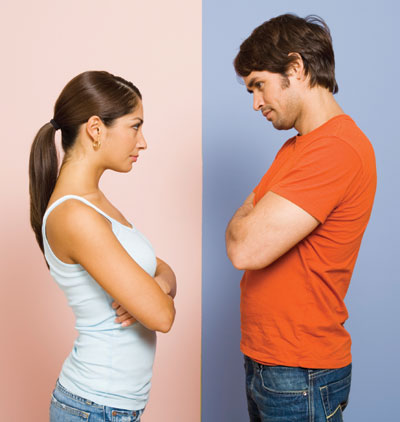 As a young girl I felt hugely misunderstood by those around me. I was sure I was right, but others found fault in my behaviour, habits, thoughts and action. Constant comparison with those supposedly better did not 'improve' my conduct; instead I began to bitterly resent them. Eventually I became pugnacious, ready to take offence at the smallest provocation, and still believed that the other person would like me for my honesty, fearlessness and uprightness. Sadly, I became lonelier and nursed a string of broken relationships with my family, friends and colleagues.

When the backlash became too severe, I gave serious thought to my own reactions and started to concede that others may be right. However, the more I deferred to them, the more they tried to impose their views on me, without regard for my own views. Somewhere, I had still not reached a balance. Then like an epiphany it struck me that both could be right in any given situation and as long as the relationship was more important than our need to be right, any relationship could be saved and any conflict could be worked out, method notwithstanding.

Life is all about relationships and relationships, like difficulties, are meant for our growth. The sooner we see the bigger picture, the faster can we come to terms with people who we love and dislike at the same time, because our life depends on them. Relationships are our mirror to our personal growth as human beings. Nowhere is this truer than with people who live closest to us. Their happiness and contentment, as well as our own, is the index of our evolution as human beings.

It is easy to love the people far away. It is not always easy to love those close to us. It is easier to give a cup of rice to relieve hunger than to relieve the loneliness and pain of someone unloved in our own home- Mother Teresa

Why conflicts?

Explaining why conflicts occur, Sister B K Shivani of the Brahma Kumaris, says, "We think that if our behaviour is perfect our relationships shall be smooth sailing but people forget that even though they may do things correctly, if they carry the vibration of negative thoughts they can never have a positive outcome. Conflict originates within the mind when you think negatively and expect positive results."

She adds, "When two people sit together to resolve a conflict with the premise that the other is wrong, then even if their methods are soft and gentle all efforts at resolving conflict fly out of the window because maintaining that the other is wrong amounts to disrespecting the individual," says Shivani.

"A wife may feel that her husband is utterly wrong in cheating on her and may think that treating him icily will make him feel guilty and force him to mend his ways. On the contrary, the husband finding negativity in the wife may shrink from her and go to the other woman where he finds love and acceptance. Instead, if the wife focuses on giving respect to the husband's point of view she may come to have a great understanding of herself. Using this incident for her personal growth she may even win him back," she ends.

Expectations hurt

Parent-child conflict is so commonplace that we tend to dismiss it as a generation gap. Ritu Khullar 48, a schoolteacher living in Gurgaon, was a harried mother. Despite her admonitions, disciplining and explanations, her teenaged daughter was simply not willing to give up her wayward friends, cockiness, revealing clothes, MTV, smoking and late hours. She feared that if she became stricter, her daughter may flee from home. Swami Bodhananda, spiritual head ,Sambodh Foundation, Tiruvananthpuram, says, "Conflict or clash arises because we relate to a person on the basis of the mental image we have created of him/her. There is more mental relationship than actual relationship. This image demands validation and hence the struggle."

When Ritu dropped her expectations ...she came to have a perfect understanding of her child who was doing what she doing because at that age she felt that it was the 'right' thing to do. Tension dissolved and she found that her daughter came to value her mother's apprehensions more when she spoke with a warm understanding, rather than with resistance.

Inability to listen, communicate effectively or oblivion to the other's feeling can also impede the resolution of conflicts. Consider this; when a person is shouting or angry, it means that either she has not been given a good hearing or she is erupting after suppressing resentment for too long. People have conflicts because each wants to be understood and both are convinced that their way is the only way. When we listen deeply, it becomes clear that the other's expectations can also be the springboard for our own growth. A mother's expectation that her child should perform well in school or develop character, can be an opportunity for the child to evolve.

Go beyond words

One day an accident got averted in my house due to sheer good luck after I forgot to turn off the knob of the gas pipeline in my kitchen. My husband was livid. When I argued that slips can happen, he thundered that in certain matters mistakes were simply NOT allowed. I protested that I was not God.
When we operate from the quality of satva or purity, we control the mind instead of trying to control people and situations.
- Swami Nimishananda
I concluded that staying away from the kitchen permanently was the only way I could fulfil his impossible condition. He was stumped. For a day I stayed away from the kitchen and the family sulked in silence.
Soon, I realised that just because mishaps happen does not mean human laxity should be condoned, Since then, turning the gas knob off has become a bigger priority for me than cooking delicious meals for the family. I also recognised that my attitude was born in my parental house, which was careless in matters of safety and security, without ever suffering a major mishap. My husband, Ravindra's insistence, on the other hand, came from working in the stock market where fortunes get unmade and lives of millions get affected due to one minor mistake made by a person sitting in a responsible position. I understood that his raised voice was less out of anger and more out of concern for the safety of his loved ones which he felt was at risk because I never seriously considered mishap to be a likely possibility.
Deal with differences
Maa Gyaan Suveera, renowned healer, tarot reader and spiritual guide-mentor who heads the Ki Research and Training Institute in Rishikesh, says, "Conflicts happen because of the conditioned ego. People have different past- and present-life conditioning patterns and there are further added new complexities of expectations, fear, doubt, possessiveness and stress which become a natural breeding ground for conflict. Also love and care go hand in hand...if either of them is missing, conflict creeps in. Having once a week outing, sitting together to hear each other in an unbiased way and not letting anything accumulate helps resolve a conflict. If people hold onto a common faith in complete surrender, be it religious, cultural or spiritual which binds them together, a 'third dimension' takes care of the whole matter."
Swami Sukhbodhananda, well known corporate guru and chairman of the Prasanna Trust, Bangalore, adds his perspective, "Conflict happens when one party becomes insensitive to the needs and feelings of the other and communication breaks down. Conflict is unavoidable when two unique beings live together in a relationship. Ideas and perspectives differ, tastes and values vary and energy levels too."
Leena Verma, 30, homemaker living in Virginia, was an extremely shy girl who e would meekly do the bidding of elders. She gained commendation for her obedience, maturity and selflessness from relatives and friends until she married. She found that the more she submitted, the more arrogant and dismissive her in-laws became. Eventually. she stood up for herself for the first time in the face of authority and mustered courage to speak her mind.
Not only did the insensitive treatment vanish, she became better aware of her inner strengths. Now she thanks the very people she found hard to cope with. "We were people from different backgrounds, values and outlook. Before meeting them I never felt any need to change myself. Had it not been for my obstinate and insensitive in laws I would never have sought the true meaning of life," she reflects.
"Every person individually must put in effort to evolve as a better human being and broaden their outlook towards relationship. A relationship in which two unaware 'mechanical beings' are involved is bound to falter," says Swami Sukhabodhananda.
Swami Nimishananda, Bangalore-based guru and founder of Nimishananda ashram says that conflict occurs because we unconsciously try to control people and situations all the time. "All of us have different ways of doing this. If we have more inertia, we cling to our own mindsets and feel that everybody should fall in line with us. If we have greater proportion of aggressiveness our expectations make us volatile," he explains.
Conflict in identity
When two people sit together to resolve a conflict with the premise that the other is wrong, all efforts at resolving conflict fly out of the window because maintaining that the other is wrong amounts to disrespecting the individual.
- Sister BK Shivani
But at the root of conflict lies the fact that the human being is essentially in a state of conflict. Anu Mehta 38, Meta healer from Mumbai, argues, "The final layer of the brain, the cortex, wants things like love, understanding, compassion and higher goals for a happier life. Conflicts in any relationship arise when an incident occurs involving one or more layers of the brain. On the one hand, our basal instinct is to react primitively to our irritants and on the other is the desire to not hurt others and upset the apple cart."
.Being aware of the reasons makes it easier to arrive at solutions. Lisa Mishra, psychotherapist based in Mumbai, says "People with low self-esteem have more conflicts in life. They feel a constant need to validate themselves by provoking people and then winning the battle of ego with them. When two people with low self-esteem meet, sparks are sure to fly. A stronger person, on the other hand, has a smaller ego which leads to better relations."
How to resolve a conflict
The more a person works on himself, the less the chances of getting into a conflict or staying too long in it. Sri Nimishananda suggests a nice way to heal relationships, "When we operate from the quality of satva or purity, we control the mind instead of trying to control people and situations. This gives us great stability and we stay peaceful. When family members, friends or colleagues attack us with criticism our purity gives us the capacity to look at comments objectively. If we find any truth in them, we should immediately apologise and correct ourselves, otherwise calmly we should explain our stand. If criticism continues, we should ignore it completely, continuing our activity unperturbed. To attain this state of equipoise distance yourself from the scene of discord, close your eyes and chant 'Om' softly till you gain calmness. In a few minutes, the irate person shall come to us apologising for his or her behaviour."
Anu Mehta, who facilitates inner healing of relationships, recommends a wonderful exercise. "In a three-position exercise we ask one of the conflicting parties (A) to look at the issue from the other person's (B) perspective and get insights. Then we ask A to look at himself from B's perspective. This would enable A to understand why B behaved or reacted in such an unacceptable way to them. Thirdly we tell them to detach themselves from the drama, get out of the picture and look at the whole issue from a third person's perspective."
Pursue your higher purpose
But the article would stay incomplete if we did not factor the greatest conflict we suffer in our lives. The majority is united in their conviction that life or God has not given them a fair deal. Many have an issue with God when suddenly the bounties stop and their faith is shaken to the core. Thankfully, the solution to this and other conflicts comes from this very domain. When life, people and situations become inexplicably beyond control and God stops fulfilling our expectations of Him, we are forced to take an inner journey. As we go in, gradually insecurity drops, ego dissolves, hurts fade away, answers sprout and perfect union, and harmony is achieved with our inner selves. When we realise that all life is a mere divine drama meant for our entertainment and conflicts are nothing but an attempt by the Divine master to make us realise our essential inner oneness through the maze of maddening duality, we achieve the perfect relationships we yearn for so deeply.
See more articles on Personal Growth :
http://www.lifepositive.com/Articles/PersonalGrowth